February 28, 2023 · Written by Foodtolive Team
Wheat Berry Salad with Feta and Cherries
This Hearty Wheat Berry Salad is filled with sun-dried cherries, feta cheese, greens salad blend and mixed seeds, and topped with a simple Dijon vinaigrette! Perfect for nutritious lunch!
Prep Time: 10 min | Cook Time: 50 min | Total Time: 1 hour | Servings: 4
Calories: 318 | Total Fat: 8.1g | Sodium: 197mg | Sugar: 12.2g | Protein: 12g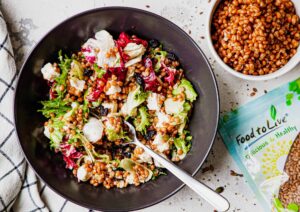 INGREDIENTS:
For the Dijon vinaigrette:
⅓ cup olive oil
1 tbsp lemon juice
1 tbsp white wine vinegar
2 tsp Dijon mustard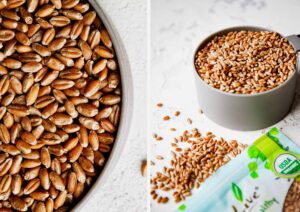 For the salad:
INSTRUCTIONS:
To make the vinaigrette:
Add all the ingredients to a mixing bowl and whisk together until emulsified.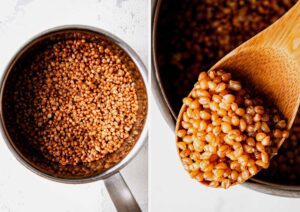 To make the salad:
Combine rinsed wheat berries, 2 cups water, and salt in a saucepan, cover and bring to a boil. Reduce heat to medium and cook until tender, for about 45 min.
In a skillet, heat the butter over medium high heat. Add the onion and cook stirring occasionally until golden brown, for about 5 min.
In a large mixing bowl add the cooked wheat berries, sautéed onion, dried cherries, feta cheese, greens salad blend, and mixed seeds.
Drizzle with desired amount of vinaigrette. Toss to combine and enjoy!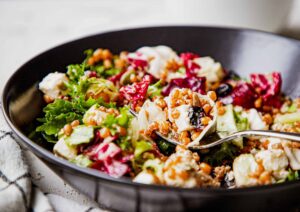 Find more whole grain recipes in our previous posts:
This recipe inspired by Simply Scratch
Video recipe: