November 23, 2018 · Written by Foodtolive Team
Tangy Mandarin Orange Salad with Cranberries and Walnuts
This festive salad is perfect for holiday gatherings. It combines mandarin oranges, cranberries, and walnuts, all dressed in a flavorful mix of orange, lemon, and Dijon mustard.
INGREDIENTS:
For salad:
5 oz organic mix of radicchio, green lettuce, and kale
2-3 mandarin oranges, peeled and segmented
1/2 cup dried cranberries
1/2 cup walnuts
For dressing:
1/2 cup oil (preferably flavorless like grapeseed or safflower)
1/4 cup orange juice, fresh squeezed
1 tbsp lemon juice, fresh squeezed
1 tbsp white wine vinegar
1 tsp Dijon mustard
1/4 tsp salt
1/8 tsp black pepper, freshly ground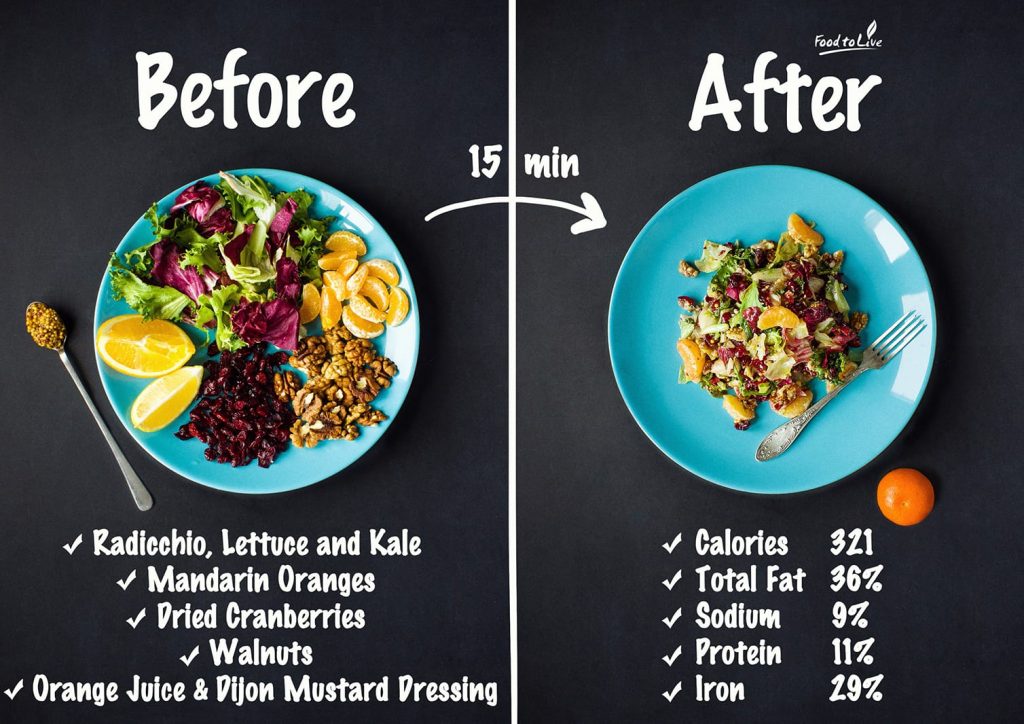 INSTRUCTIONS:
For dressing:
In a medium bowl, whisk together the oil, orange juice, lemon juice, vinegar, mustard, salt, and pepper until the dressing is well combined.
For salad:
Place mixed greens in a large salad bowl.
Add the remaining ingredients on top.
Drizzle some of the vinaigrette over the salad and toss to coat. Serve right away.
This recipe adapted from Chelsea's Messy Apron
Video Recipe