September 27, 2022 · Written by Foodtolive Team
10 Homemade Salad Dressing Ideas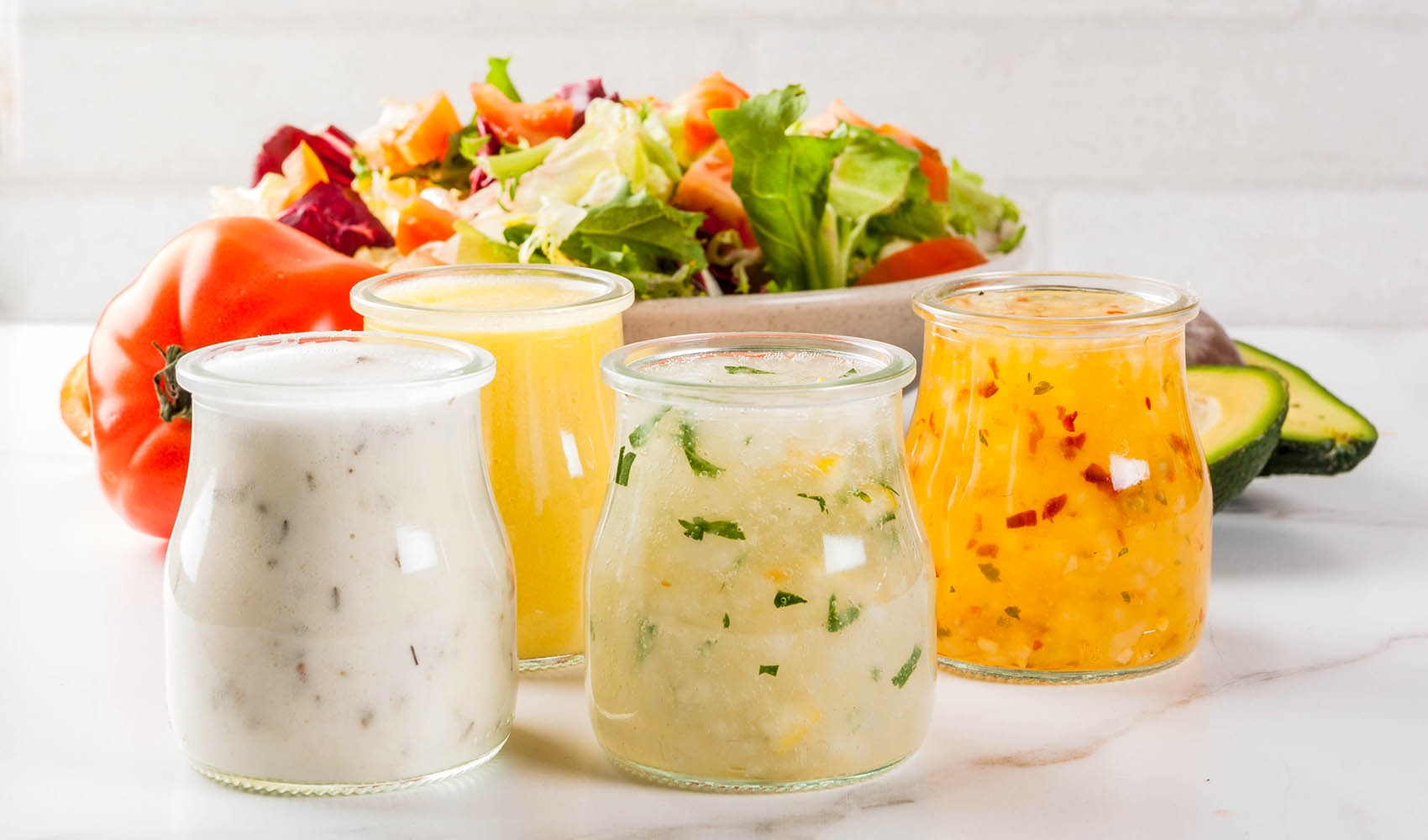 Looking for delicious and fun salad dressing recipes? We've got you! Because, behind every great salad stands an even greater dressing.
Making salad dressings at home is one – super easy, and two – a great skill to have, as it will save you lots of money. Try it once, and you'll never buy a premade dressing again!
Tasty, low-calorie, and healthy salad dressing is a good addition to any balanced diet. In this blog, we will explore non-traditional homemade salad dressing recipes, which will give your traditional salads a phenomenal flavor and a boost of nutrients. Before we begin, it is worth to mention that we recommend storing all homemade salad dressings in the fridge, in a wide-mouth half-pint mason jars; this way your product can be kept fresh for longer.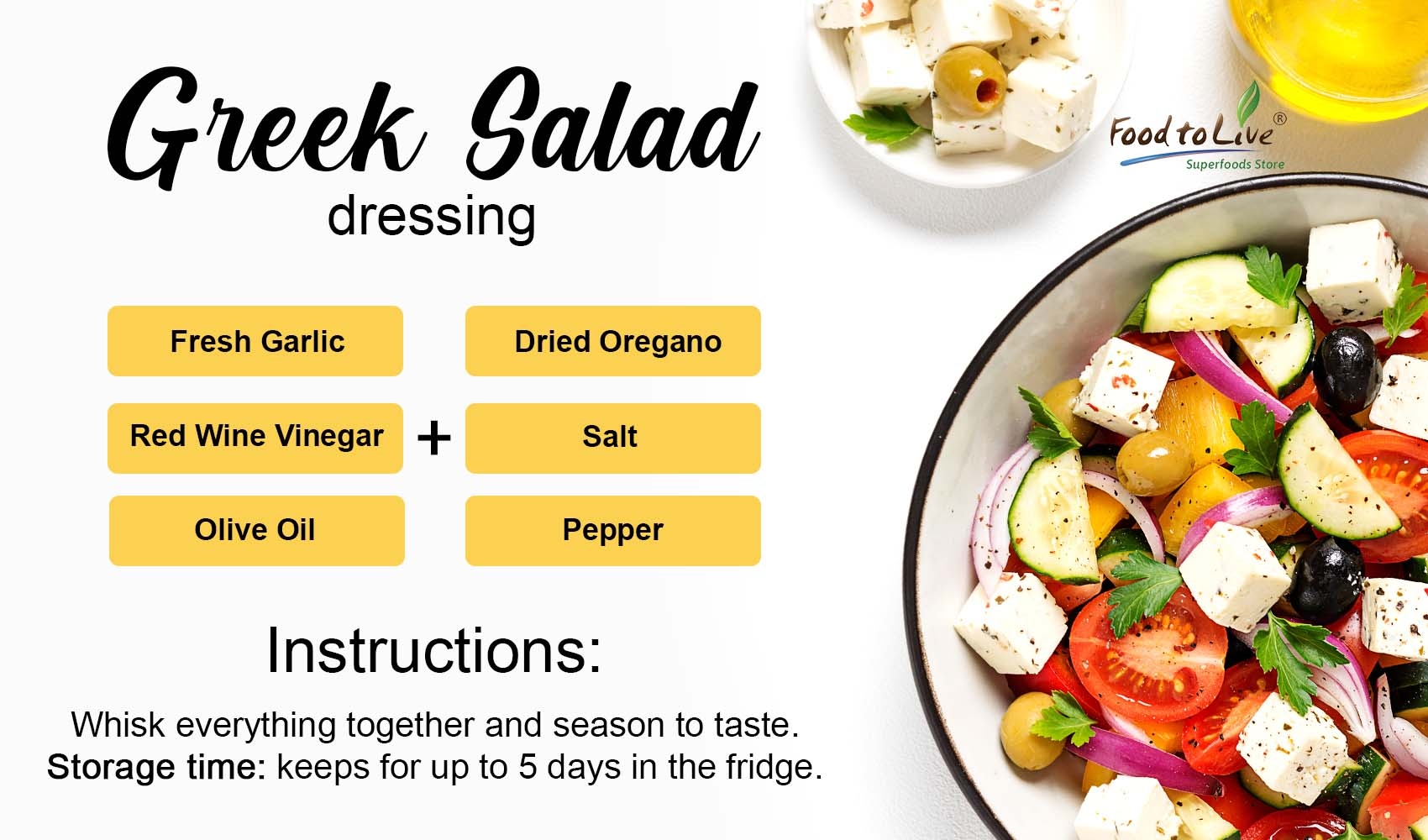 #1 Greek Salad Dressing
All you need is 6 ingredients: fresh garlic, red wine vinegar, olive oil, dried oregano, salt, and pepper. Whisk everything together and season to taste.
Storage time: keeps for up to 5 days in the fridge.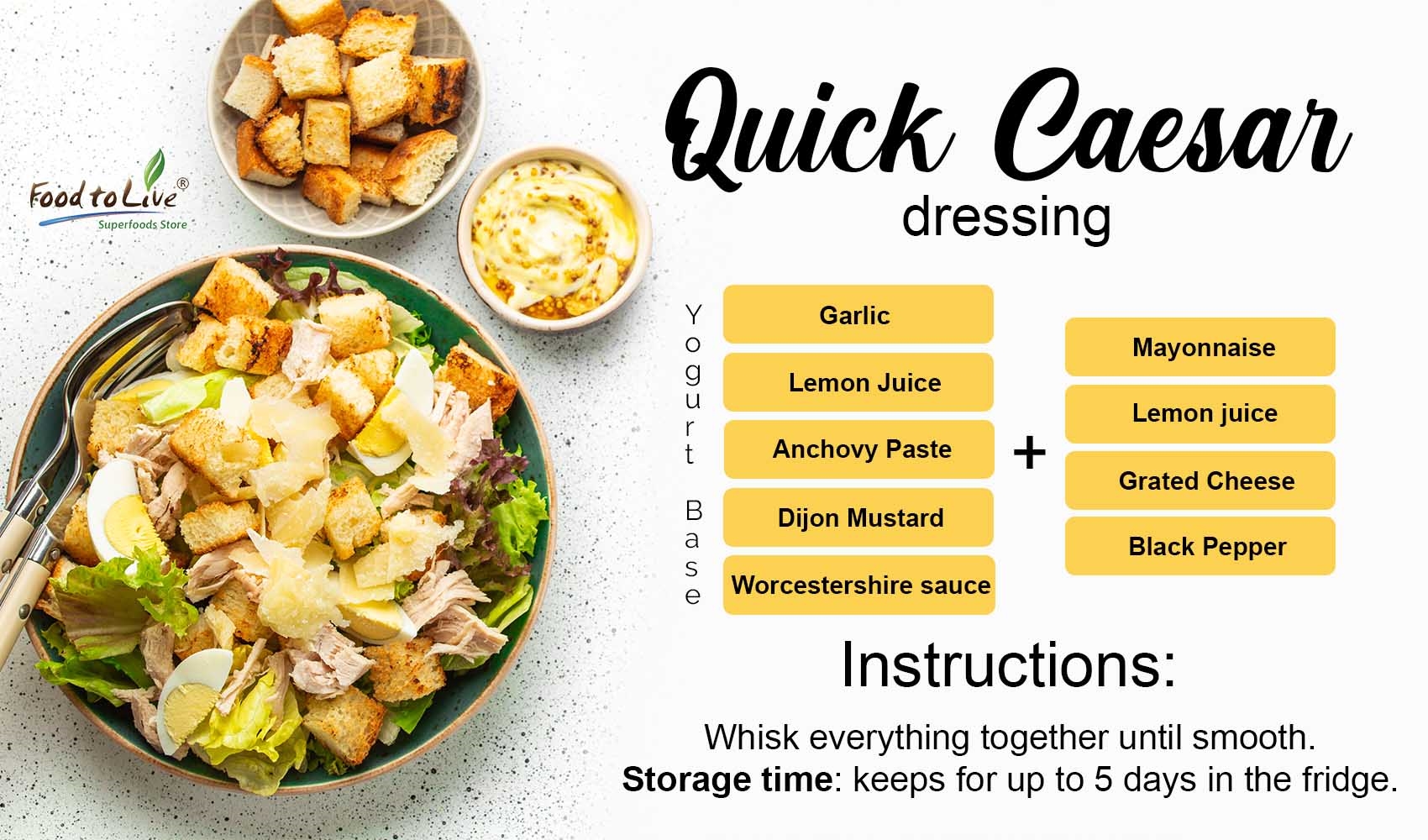 #2 Quick Caesar Dressing
To make a creamy yogurt base, begin by whisking garlic, lemon juice, anchovy paste, Dijon mustard, and Worcestershire sauce.
In a small container, mix mayonnaise, lemon juice, grated cheese, ground black pepper and blend all the ingredients until smooth.
Gradually pour olive oil into the simple Caesar salad dressing. Add salt and mix again until smooth.
Storage time: leftover dressing will keep well in the refrigerator, covered, for up to 5 days.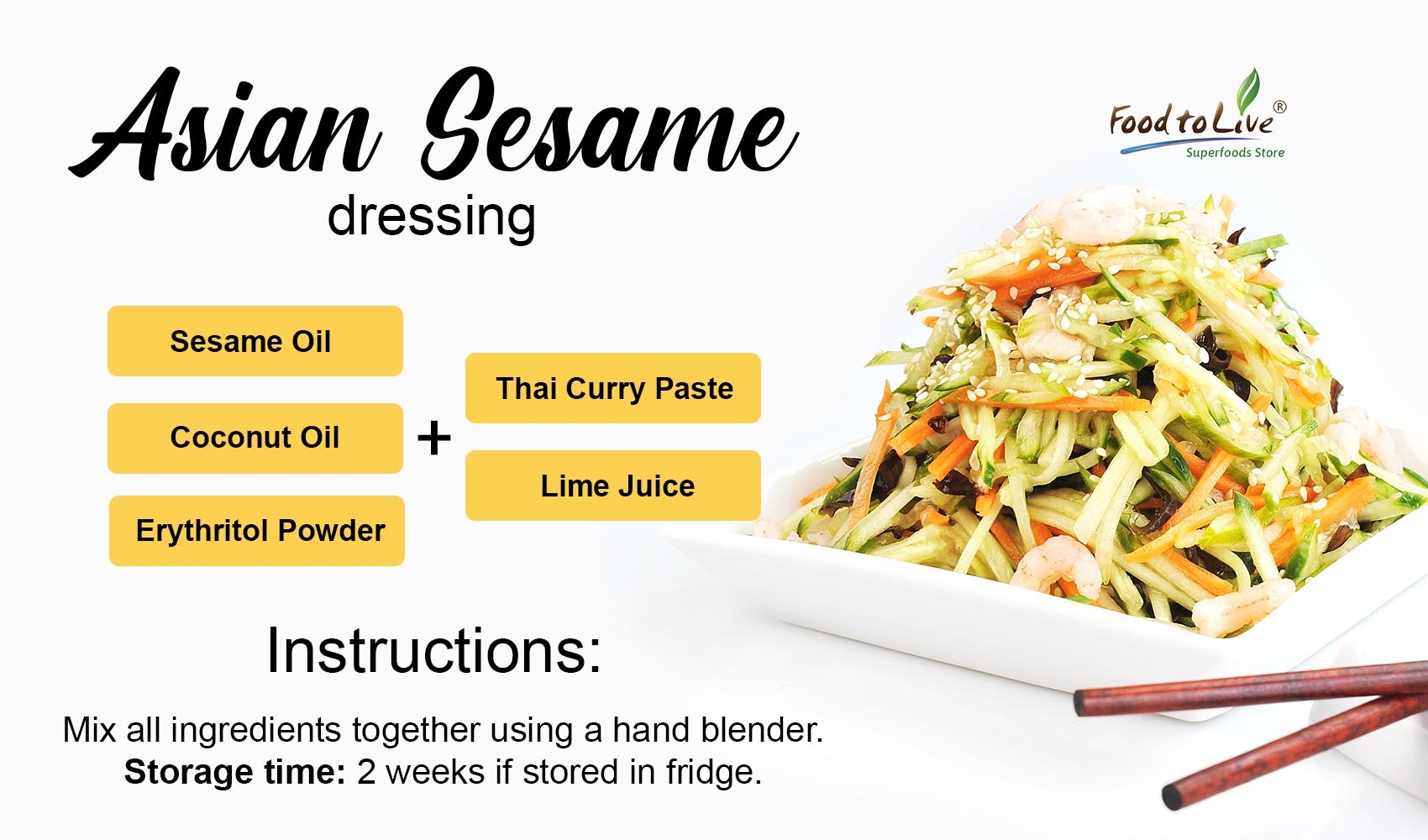 #3 Asian Sesame Dressing
Sesame oil is an essential part of Asian cooking and is also perfect for Keto.
Rich sesame aroma combined with Thai curry paste and lime juice create wonderfully fresh, extremely delicious taste.
Ingredients:
15g Sesame oil
15g Coconut oil
10g Erythritol powder
1/2 tsp Thai curry paste
20g Lime juice
Mix all ingredients together using a hand blender or whisk. If you are dressing by hand, we recommend pre-sifting erythritol powder to prevent lumps.
Storage time: 2 weeks if stored in fridge.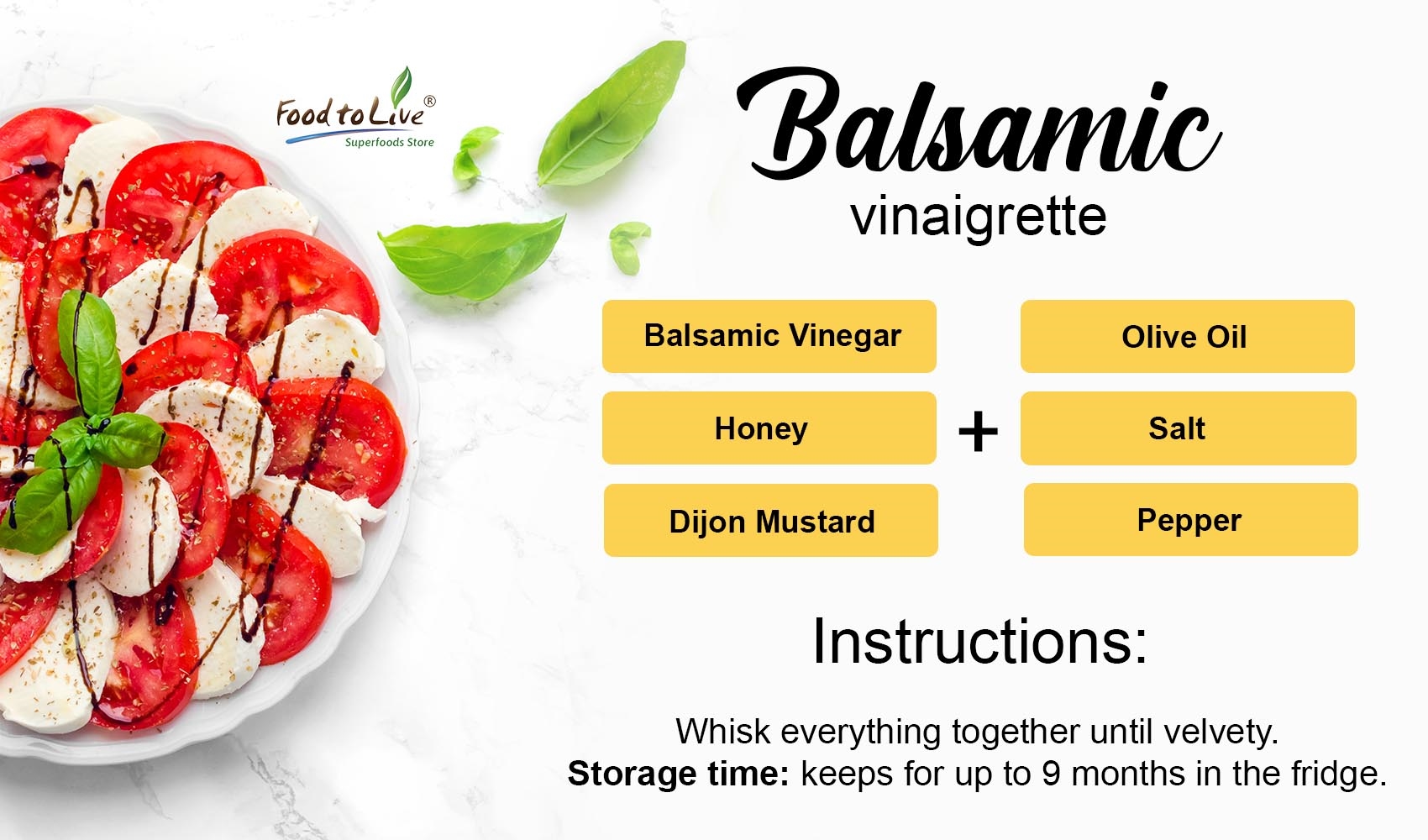 #4 Balsamic Vinaigrette
Ingredients:
Balsamic vinegar
Honey
Dijon mustard
Olive oil
Salt & pepper
Add all of the ingredients to a mason jar, or other airtight container.
Close the lid tightly. Shaking the dressing vigorously will emulsify and thicken it to a really nice, velvety consistency. [1]
Storage time: Balsamic vinaigrette salad dressing that has been continuously refrigerated will generally stay at best quality for about 6 to 9 months.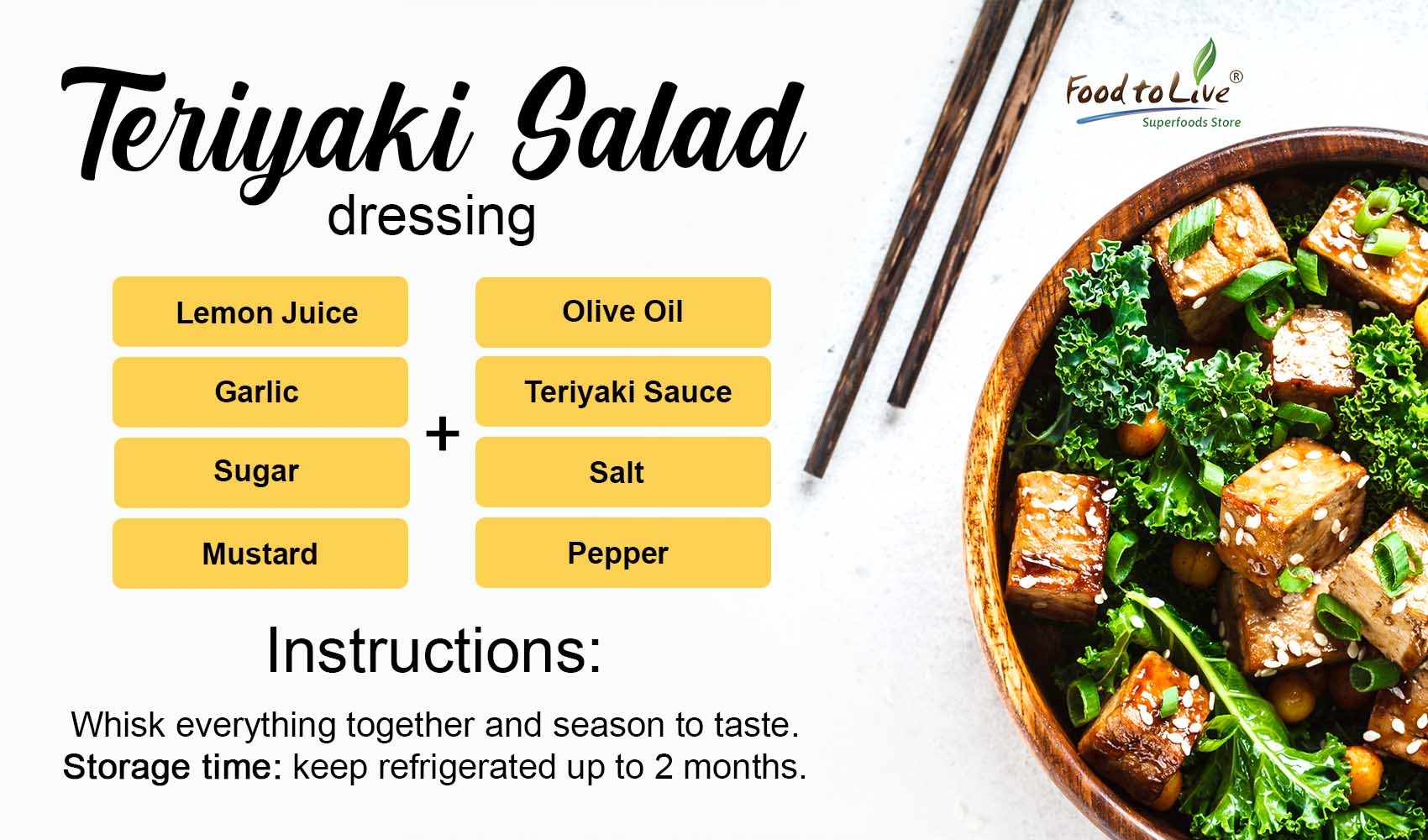 #5 Teriyaki Salad Dressing
It will add Asian notes to the salad. Goes well with vegetable salads and salads with chicken or turkey, fish or seafood.
Ingredients:
1-2 tbs lemon juice
1 clove garlic
1 tsp sugar
0.5 tbs mustard
100 ml olive oil
2 tbs teriyaki sauce
salt and pepper
Storage time: Unopened jars of mayonnaise and salad dressing may be stored in the pantry. After opening, keep refrigerated up to 2 months.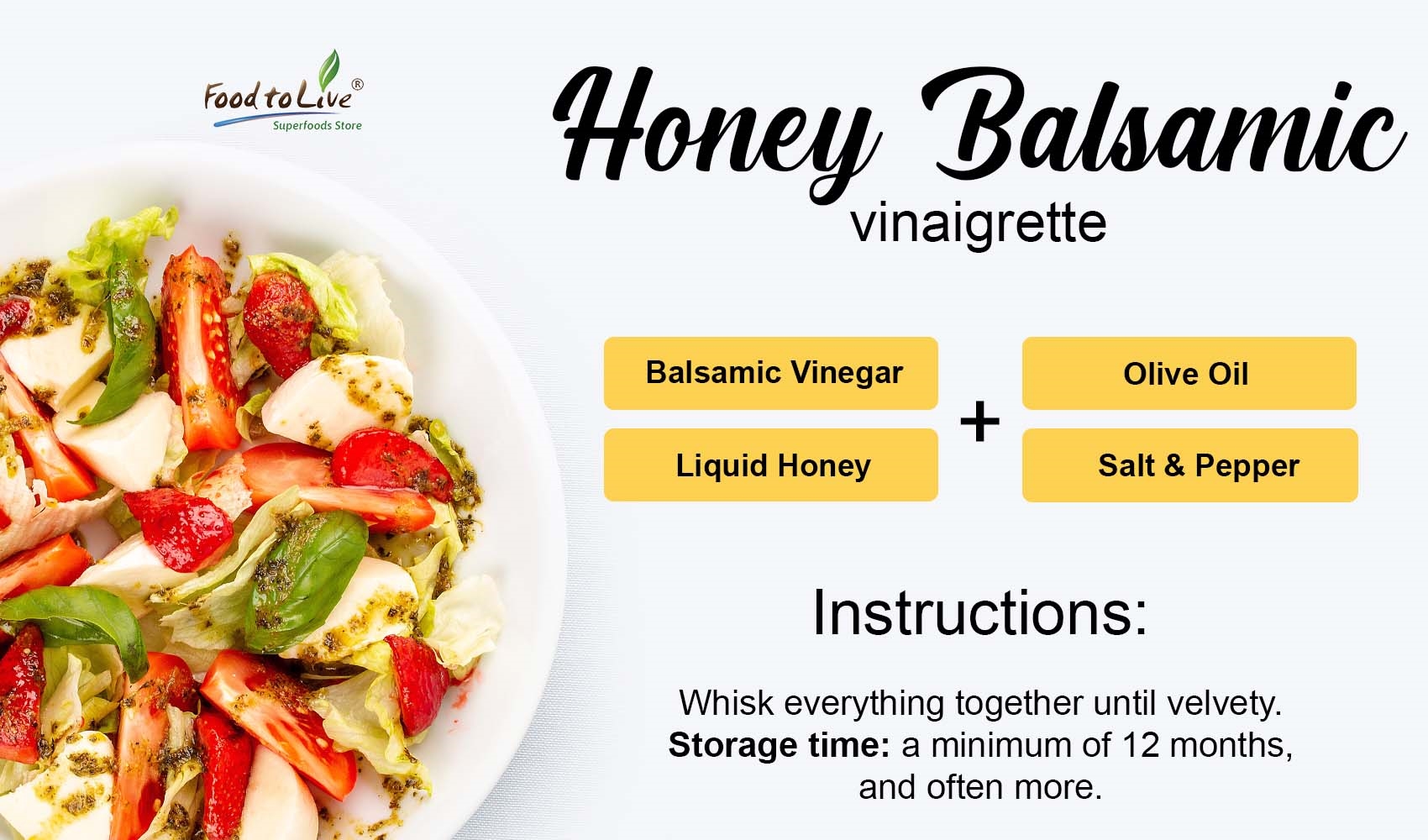 #6 Honey Balsamic Vinaigrette
For salads with meat, cheese, and vegetables.
Ingredients:
50 ml olive oil
1 tbs balsamic vinegar
1 tsp liquid honey (preferably light)
salt & pepper (preferably a mixture of peppers) to taste
Storage time: a minimum of 12 months, and often more.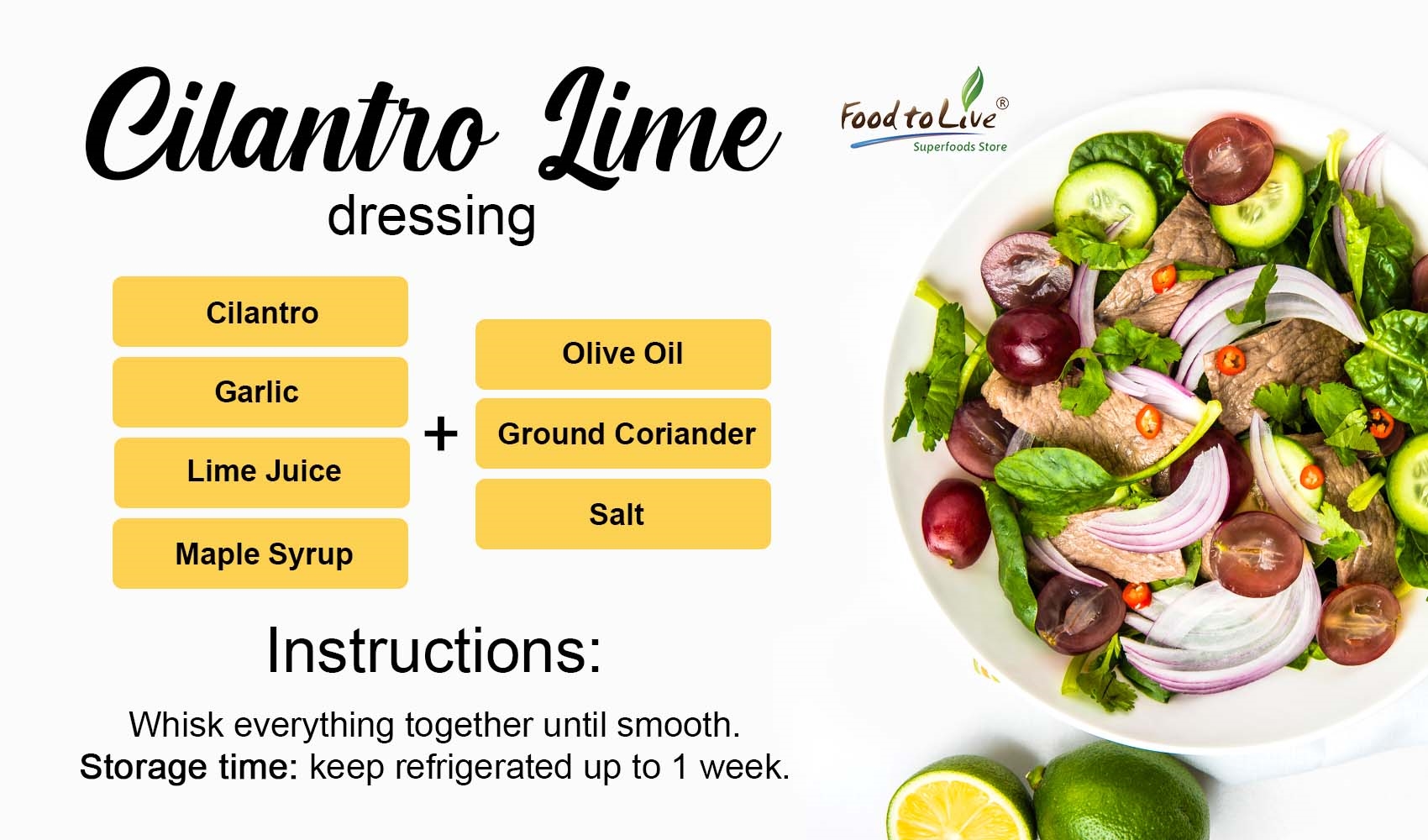 #7 Cilantro Lime Dressing
Ingredients:
Cilantro
Garlic
Lime juice
Maple syrup or honey
Extra-virgin olive oil
Ground coriander
Sea salt
Just pulse it and your dressing will be ready for salads, burrito bowls, tacos, and more. [3]
Storage time: will keep in the refrigerator for up to 1 week.
How to Make Yogurt-Based Salad Dressings
All dressings recipes below are prepared on the basis of sour cream or yogurt without additives.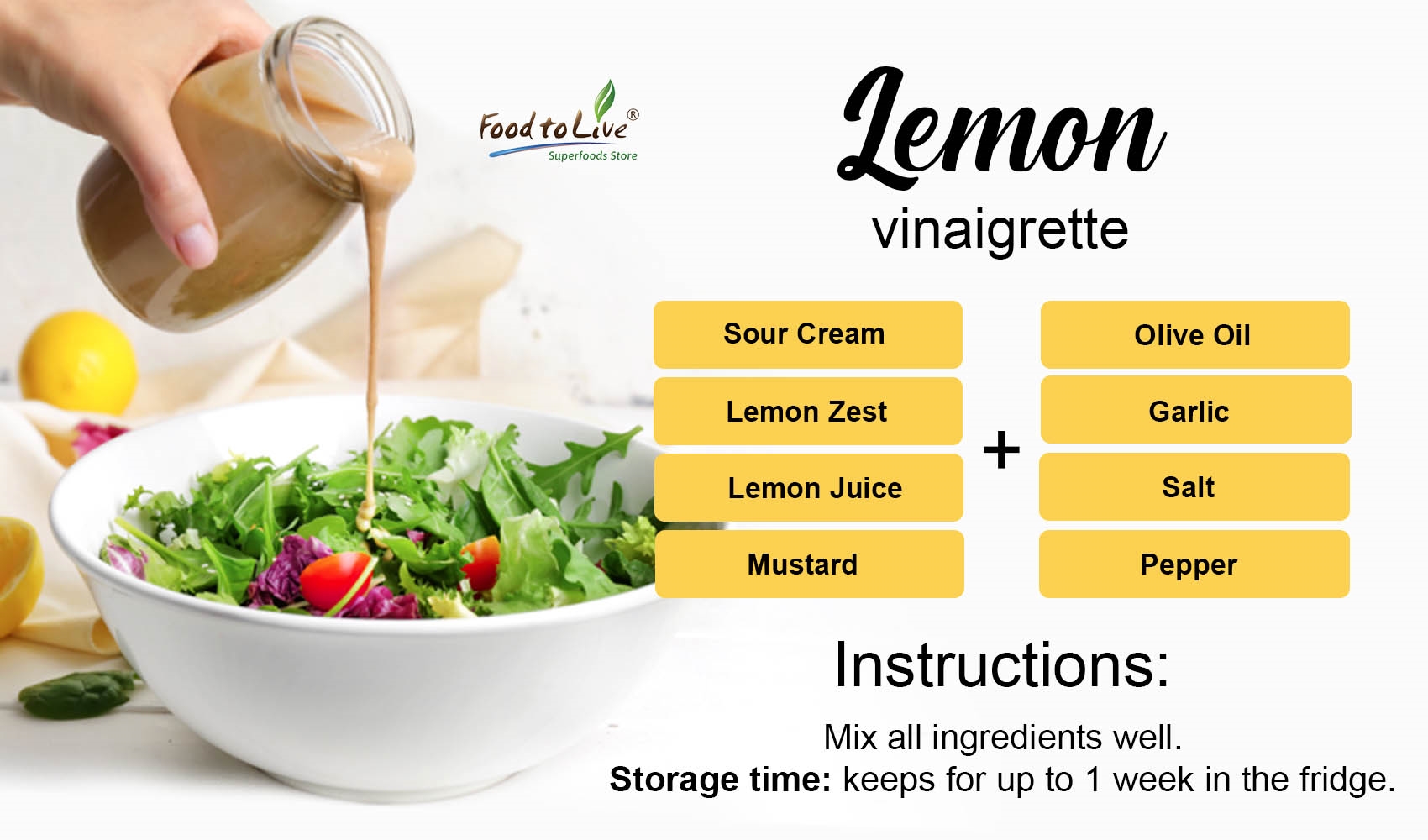 #8 Lemon Vinaigrette
Ingredients:
0.5 cup of sour cream
0.5 olive oil
2 tsp mustard
2-3 cloves garlic
2 tbs lemon zest
1/3 cup freshly squeezed lemon juice
Salt & black pepper to taste
Mix all ingredients well (except sour cream and olive oil). Add olive oil, sour cream and mix again. Put the sauce in the refrigerator for several hours. This dressing is perfect for salads with cucumbers, tomatoes, and green leafy vegetables.
Storage time: up to 1 week in the fridge.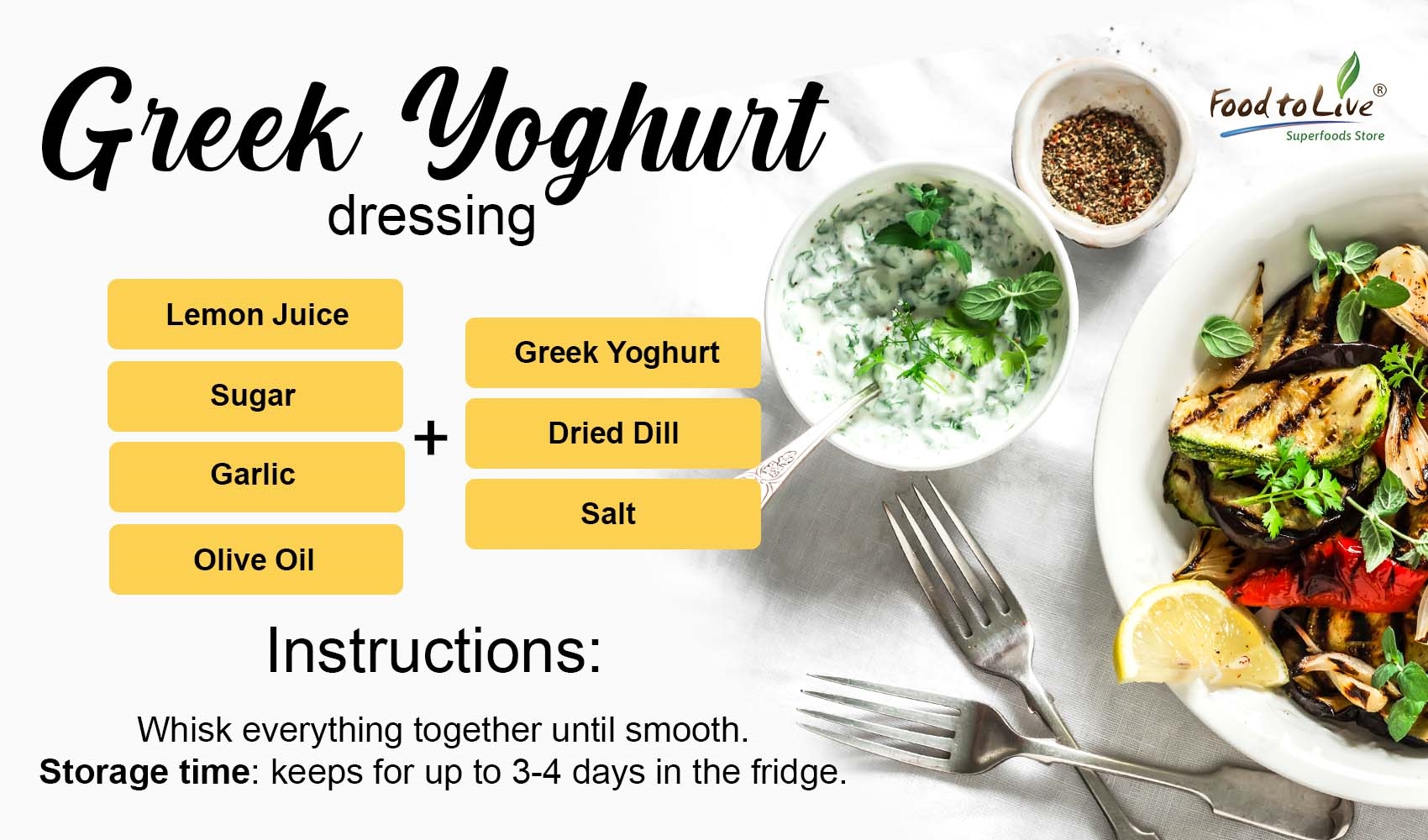 #9 Creamy Greek Yoghurt Dressing
Ingredients:
1 tbs fresh lemon juice
1 tsp sugar
1 tsp minced garlic
1 tsp salt
1/3 cup extra virgin oil
½ cup whole milk Greek yoghurt
½ tsp dried dill
Combine all of the ingredients in a bowl and whisk to combine. Refrigerate until ready to serve. The dressing keeps well for 3-4 days. [2]
Storage time: within 3-4 days to be safe. As long as it is stored in an airtight container, such as a mason jar with a tight lid, this salad dressing will keep fresh for up to 3 days in the fridge.
#10 Sour Cream Dressing
Ingredients:
70 g sour cream or yogurt without additives
1.5 tbs white wine vinegar
2 tbs cold-pressed olive oil
2 tsp mustard
1 crushed clove garlic
Put all the ingredients in a blender and grind well. The sauce is ready! You can serve this sauce with any dish.
Storage time: Sour cream usually lasts for one to two weeks past its date. Once you open the container, it retains freshness for up to two weeks.
Getting better control of what we're putting on our plate makes us healthier and improves our eating habits. Homemade salad dressings are super quick and super easy as many store-bought dressings are loaded with processed ingredients, preservatives and sugar. Making your own dressing is much healthier and cheaper.
References