July 16, 2020 · Written by Foodtolive Team
Rainbow Greens Salad with Black Eyed Peas
A healthy power greens salad packed with organic black-eyed peas and super nutrients. Easy to make and full of flavor!
Prep Time: 10 min (+8 hours for soaking) | Cook Time: 2 hours 10 min | Total Time: 2 hours 20 min | Servings: 2
INGREDIENTS:
1 cup cooked organic black-eyed peas
2 cup chopped purple cabbage
3 cups chopped kale
2 tbsp oil
1/2 of chopped shallot
1 tsp minced garlic
1/2 tsp sea salt
1/2 tsp freshly ground black pepper
1 cup shredded carrot
1/2 cup cooked quinoa (optional)
Lemon juice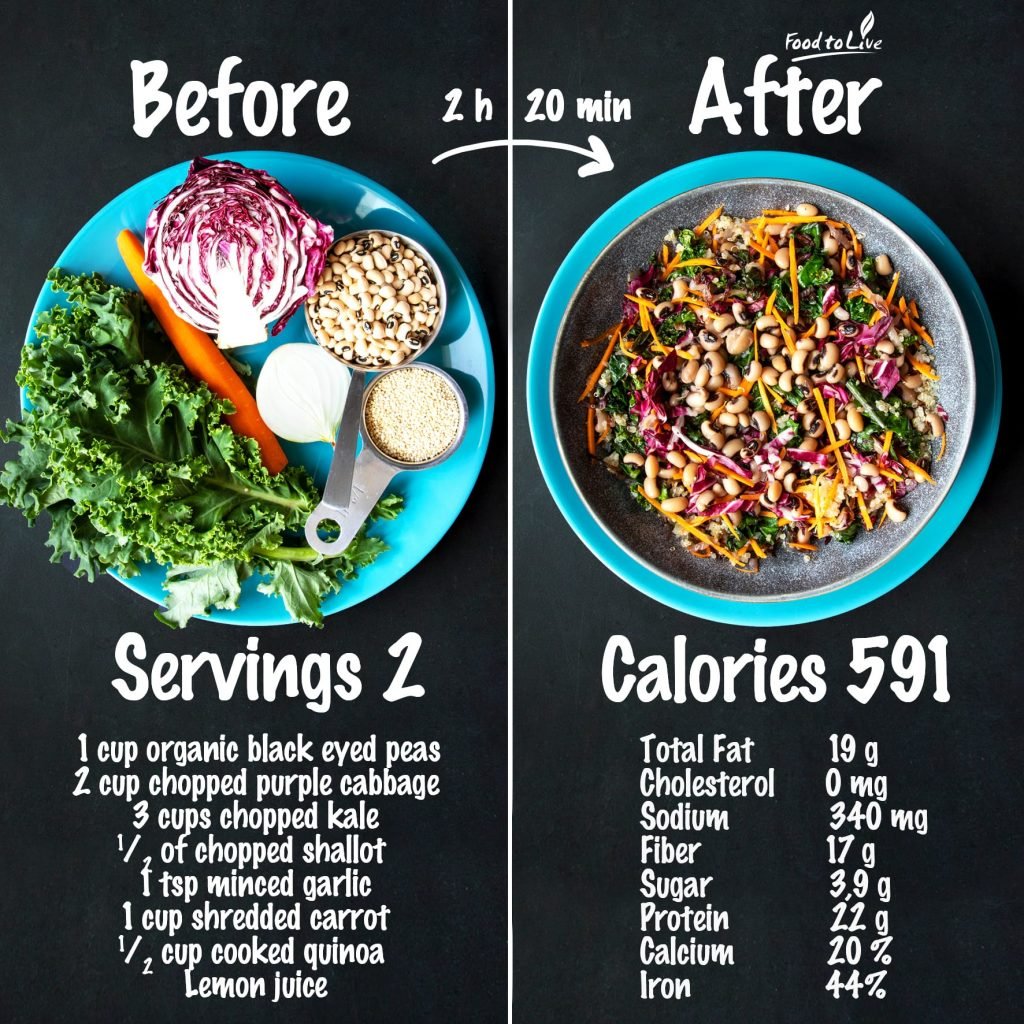 INSTRUCTIONS:
First place 1cup of peas in a pot and cover with water. Let it soak for at least 6 hours or overnight.
Rinse then refill the pot with water, a dash of salt, and simmer peas for 2 hours on medium.
Rinse chopped kale and cabbage.
In a medium pan, add 1 tbsp oil, shallot, garlic, and cabbage. Saute for 1-2 minutes on medium heat.
Next add in kale, 1 more tbsp oil, and sea salt. Cover for 3 to 4 minutes on medium heat or until greens is wilted.
Remove from heat and place all the ingredients from the pan into a large bowl.
Add in shredded carrots, cooked quinoa (optional), cooked black-eyed peas, and a splash of lemon juice.
Season with more salt/pepper if desired.