January 20, 2023 · Written by Foodtolive Team
Top 3 Whole Grain Freekeh Recipes
Just when you finally got familiar with quinoa, freekeh exploded onto the food scene. Once again, you're asking how to serve yet another grain into your family's healthy meals. We finally feel like it is familiar enough that most American customers can track it down without too much trouble. So the time is right for an excellent heart-to-heart to chat about this latest health-food friend.
What is Freekeh?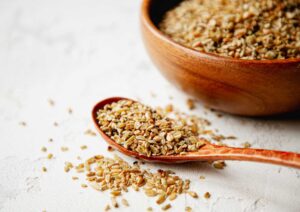 Freekeh (pronounced free-kuh or free-kah, by the way, the name is fascinating!) is an ancient grain, many times noticed right alongside other superfood heroes like spelt, quinoa, and farro. It's a type of wheat harvested early when the grains are still young and developing. The kernels then dried, roasted, and rubbed. Technically, the term freekeh is the process of grain preparation and not what you call a particular grain variety. Yet, it typically refers to wheat, and commonly to durum wheat. So, although the freekeh process is applied to other grains, what you find on American shelves is generally wheat and should be clearly labeled as such.
The Benefits of Freekeh
Freekeh is a super nutritious grain. First, it is an outstanding source of plant protein which makes it great for a vegan diet. Second, it contains good amounts of dietary fiber, and many nutrients including Calcium, and Iron. Finally, it is very low in cholesterol, sodium, and saturated fat.

Ideas on How to Use Freekeh
Freekeh has a chewy texture and a nutty taste. Freekeh is a handy super grain that cooks thoroughly in soups and makes great pilafs. Have you tried salads, stir-fries, and stews with Freekeh?! You'll fall in love! Whether you are looking for a plant-based vegetarian or vegan alternative or feature a unique grain in your culinary masterpieces, this product is the smart choice. This grain cooks just like rice.
Whole vs Cracked Freekeh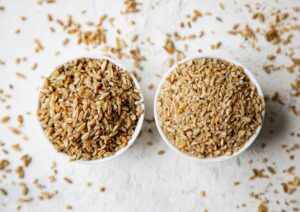 This grain sold as a whole and as cracked. It might be complicated, but primarily, "cracked" freekeh broken into smaller pieces. It helps to cook this grain faster and also gives it a slightly different texture.
Top 3 Freekeh Recipes
Freekeh Pomegranate Salad
Prep Time: 5 min | Cook Time: 15 | Total Time: 20 min | Servings: 2
Calories: 221 | Total Fat: 6.8g | Sodium: 144mg | Sugar: 5.3g | Protein: 7g
Whole freekeh is combined with pomegranate seeds, fresh herbs and mixed nuts for an easy grain salad packed with protein and flavor!
INGREDIENTS:
1 cup whole freekeh, rinsed and drained
4 spring onions, finely chopped
handful flat-leaf parsley, roughly chopped
seeds of 1 pomegranate
2 tbsp mixed nuts, roughly crushed
salt and freshly ground black pepper to taste
5 tbsp olive oil
1 tbsp lemon juice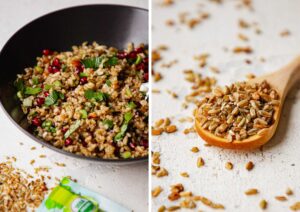 INSTRUCTIONS:
Put the freekeh and water in a pan together with 1 tsp of salt, bring to a boil, then turn down to a simmer and cook for 15-20 minutes until just tender. Drain and allow to cool.
When cool, mix together the freekeh with the spring onions, parsley, pomegranate seeds, and season with salt and pepper. Dress the salad with olive oil and lemon juice. Serve topped with mixed nuts.
This recipe inspired by Happy Foodie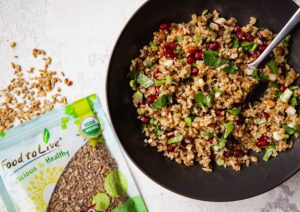 Freekeh Mushroom Risotto
Prep Time: 5 min | Cook Time: 40 min | Total Time: 45 min | Servings: 2
Calories: 169 | Total Fat: 5g | Sodium: 328mg | Sugar:1.3g | Protein: 7.3g
This beautiful risotto is made with freekeh rather than rice. It makes a lovely creamy version with seared mushrooms, fresh herbs, and lemon.
INGREDIENTS:
1 cup cracked freekeh, rinsed and drained
3 tbsp butter
1 tbsp olive oil
1 yellow onion, diced
8 oz shiitake mushrooms, sliced
1 tbsp fresh thyme leaves
3 cups vegetable broth
1 tbsp lemon juice
½ cup grated parmigiano reggiano (skip if vegan)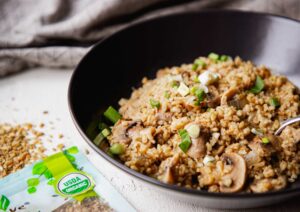 INSTRUCTIONS:
Heat butter in a Dutch oven or stock pot over medium heat. Add yellow onion and cook until softened, for about 3 minutes.
Add the mushrooms and thyme and cook, stirring periodically, until the mushrooms begin to lightly brown. Add a pinch of salt.
Add cracked freekeh, and cook, stirring constantly, for about 5 minutes.
Stir 2 cups of broth into freekeh, reduce heat to medium-low, cover, and simmer for 10 minutes, stirring once.
Repeat the process of adding broth, simmering, and stirring until all broth has been used and freekeh is tender and creamy, about 30 min.
Stir in Parmesan; season with salt, and pepper.
Serve and enjoy!
This recipe inspired by The Whole Serving
Freekeh Tomato Soup
Prep Time: 5 min | Cook Time: 40 min | Total Time: 45 min | Servings: 4
Calories: 160 | Total Fat: 4g | Sodium: 123mg | Sugar: 4.2g | Protein: 7g
A simple and healthy soup made with whole freekeh grain. It's hearty, thick, and crazy flavorful! It's an easy soup recipe for any cooking skill level.
INGREDIENTS: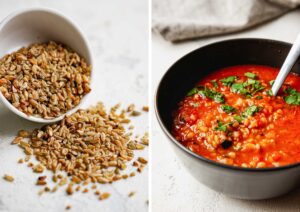 INSTRUCTIONS:
Stir vegetable broth, water, and olive oil together in a large pot; bring to a boil. Stir freekeh, can tomatoes, paprika, cumin, turmeric, salt, and black pepper into vegetable broth mixture; bring mixture to a boil.
Reduce heat to medium-low and simmer, stirring occasionally, about 40 min. Remove from the heat and enjoy!
This recipe adapted from Taste Of Beirut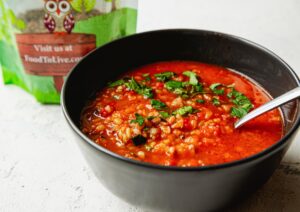 Basic Cooking Instructions for Freekeh
Place 1 cup freekeh grain and 2 cups of water in a pot. Add salt.
Bring it to boil and reduce heat to medium. Cook for 15-20 min or until the water is absorbed.
Remove from the heat, cover with the lid and let it sit for another 5-7 min. Ready to serve.