October 03, 2022 · Written by Foodtolive Team
Top 3 Whole Grain Sorghum Recipes
Between salads, soups, veggie dishes, and even baked goods, the uses for sorghum are endless. Learn how to cook sorghum perfectly and enjoy our top 3 recipes with this super nutritious grain.
What is Sorghum?
Sorghum grain, also called durra, broom corn, and milo seeds, is a cereal crop that originated in Africa but is now grown and used all over the world.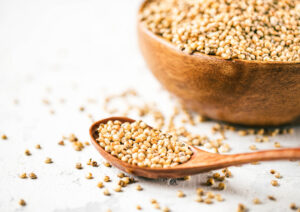 The Benefits of Sorghum
Sorghum is a super nutritious grain. First, it is an outstanding source of plant protein which makes it great for a vegan diet. Second, it contains good amounts of dietary fiber, and many nutrients including B Vitamins, Magnesium, Copper, Iron, Potassium, Zinc, and Selenium. Finally, it is free of trans-fat and cholesterol.
Ideas on How to Use Sorghum
Sorghum grain has a mild and a slightly nutty flavor and is an amazing dish on its own. It is chewy when cooked and goes well as a side dish with stewed vegetables, legumes, and various gravies. You can also add them to salads along with veggies. Besides, Sorghum Grain is a wonderful substitute for oatmeal and can be eaten as morning porridge accompanied by nuts, fruits, and peanut butter. Furthermore, you can turn raw sorghum into flour just by grinding them in a blender and use it as a replacement for wheat flour. Sorghum Flour works especially well for baking breads, muffins, pizza crusts, and cookies. A cool thing about sorghum is that it is also a popcorn substitute.
Top 3 Sorghum Recipes
Sweet Potato Sorghum Salad
Prep Time: 15 min | Cook Time: 1 hour | Total Time: 1 hour 15 min | Servings: 2
Calories: 284 | Total Fat: 14g | Cholesterol: 0g | Sodium: 164mg | Sugar: 12g | Protein: 6g
This Sweet Potato Sorghum Salad is healthy, filling and so flavorful! It's a great way to try out sorghum if you've never had it before.
INGREDIENTS:
½ cup whole grain sorghum

1 medium sweet potato

½ shallot, minced

½ cup cilantro, chopped

1 tbsp olive oil

1 tbsp lemon juice

½ tsp smoked paprika

½ tsp cumin powder

1 tsp dried oregano

½ tsp freshly ground black pepper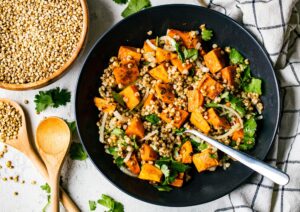 INSTRUCTIONS:
Heat oven to 425˚F. Give the sweet potato a good scrub and cut into ½" cubes. Place on a sheet tray. Toss with the olive oil, spices, and salt. Roast until the sweet potato is tender and starting to brown, for about 40 min.

Meanwhile, heat a small pot over medium-low heat. Add the sorghum and let toast for a few minutes, shaking the pan as it toasts. The sorghum should have a slight nutty smell. Add in 1 ½ cups of water and a pinch of salt. Bring to a boil, reduce to a simmer, cover, and let cook for about an hour. Sorghum should be tender but still chewy. 

Add cooked sorghum, baked sweet potato, minced shallot, and chopped cilantro to a bowl and top with olive oil and lemon juice. Toss and enjoy!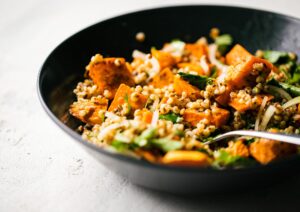 Creamy Sorghum Risotto
Prep Time: 10 min | Cook Time: 1 hour 30 min | Total Time: 1 hour 40 min | Servings: 4
Calories: 197 | Total Fat: 9.3g | Cholesterol: 0g | Sodium: 115mg | Sugar: 4g | Protein: 6g
This recipe will teach you how to use whole grain sorghum in place of rice and how to best cook it to create a thick, creamy consistency.
INGREDIENTS:
1 ½ cups whole grain sorghum, soaked overnight

6 cups vegetable broth

1 tbsp unsalted butter 

½ cup shallots, minced

½ cup Parmesan, grated

1 tbsp fresh rosemary, minced 

salt and pepper to taste

freshly ground nutmeg, to taste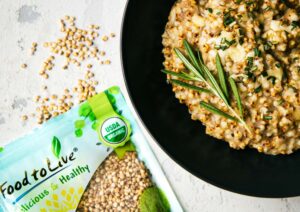 INSTRUCTIONS:
Heat butter in a Dutch oven or stock pot over medium heat. Add shallot and cook until softened, for about 3 minutes.

Add sorghum, and cook, stirring constantly, until edges start to become translucent, for about 4 minutes. 

Stir 2 cups of broth into sorghum, reduce heat to medium-low, cover, and simmer for 20 minutes, stirring once.

Repeat the process of adding broth, simmering, and stirring until all broth has been used and sorghum is tender and creamy, about 1 hour.

Stir in Parmesan and rosemary; season with salt, pepper, and nutmeg.

Serve and enjoy!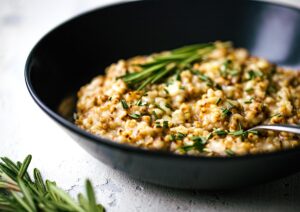 Popped Sorghum: Healthy Popcorn Alternative
Prep Time: 2 min | Cook Time: 10 min | Total Time: 12 min | Servings: 2
Calories: 160 | Total Fat: 1.5g | Cholesterol: 0g | Sodium: 97mg | Sugar: 1g | Protein: 5g
Easy recipe for making popped sorghum, a healthy and non-allergenic substitute for regular popcorn.
INGREDIENTS:
¼  cup whole grain sorghum

2 tbsp coconut oil 

1 tsp nutritional yeast, optional

sea salt

, to taste, optional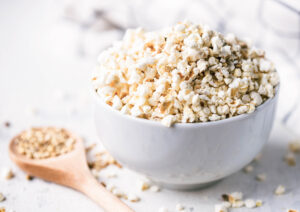 INSTRUCTIONS:
Put coconut oil in the pot and turn on heat to medium-high. When the oil gets shiny to indicate that it is hot, pour in the sorghum grains. Turn the heat down to medium. Leave uncovered.

Stir the grains constantly with a wooden spoon as the popping process begins. Note that putting a lid on the top of the pot and leaving the popping grains unattended until the popping slows down like you would with stovetop popcorn risks burning the sorghum grains.

Continue stirring as the popping continues until the time between pops is about 10 seconds.

Remove the pot from the heat. Sprinkle popped sorghum with sea salt and

nutritional

yeast. Enjoy!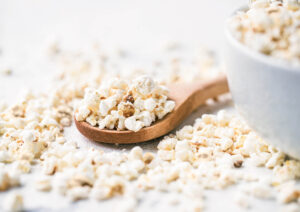 Storage Tips
Store sorghum grain in a container with a tight-fitting lid in a cool dry place.