February 08, 2021 · Written by Foodtolive Team
No-Bake Maqui Berry Cheesecake Bars
These no-bake cheesecake bars are incredibly creamy and bursting with antioxidants thanks to maqui berry powder. They're a delightful and healthy dessert option that's both Paleo and Vegan-friendly.
Prep Time: 20 min (+ 8 hours for soaking) | Cook Time: 0 min (+ 3 hours for freezing) | Total Time: 20 min | Servings: 8 bars
INGREDIENTS:
For the crust:
For the cheesecake:
For the topping:
maqui berry powder
fresh or freeze-dried blueberries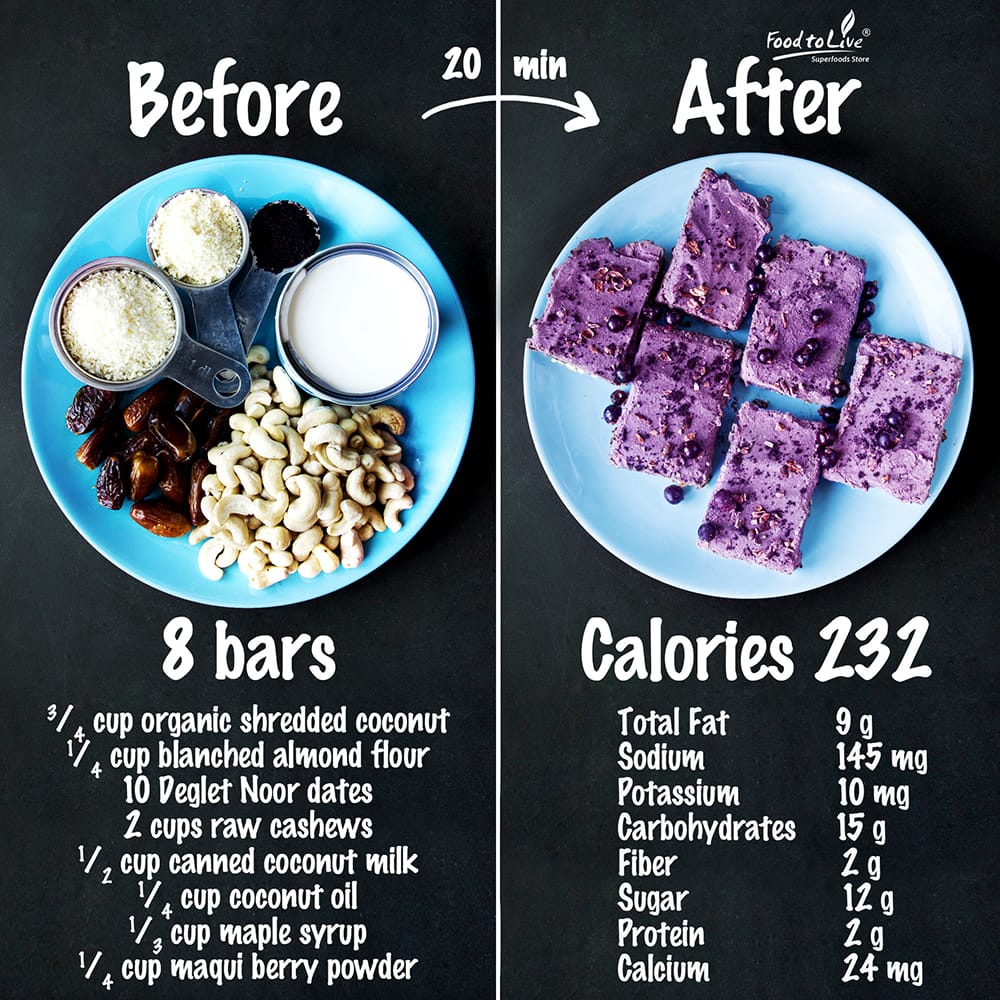 INSTRUCTIONS:
Prepare an 8×8 pan by lining it with parchment paper and greasing it with coconut oil.
In a food processor or strong blender, combine coconut, almond flour, pitted dates, coconut oil, and a pinch of salt. Blend until it forms a sticky dough with small bits.
Press this date dough evenly into the bottom of the prepared pan.
In the same blender, mix all the filling ingredients until smooth and creamy, which may take about 5 min. Scrape down the sides as needed.
Pour the creamy filling over the crust in the pan and smooth the top.
Sprinkle maqui berry powder and cacao nibs on top.
Place the pan in the freezer for at least 3 hours to firm up.
Before serving, let it thaw at room temperature for 10-15 min.
Garnish with blueberries and enjoy!
This recipe inspired by Suncorefoods
Video Recipe