November 25, 2019 · Written by Foodtolive Team
Perfectly Spiced Vegan Pumpkin Pie
Treat yourself with a delightful flavors of autumn with this Perfectly Spiced Vegan Pumpkin Pie. It's a twist on the classic favorite, featuring a luscious, pumpkin-spiced filling in a dairy-free crust. Whether you're celebrating Thanksgiving or simply savoring the season, this pie is a vegan-friendly, cozy dessert option that captures the essence of fall.
Prep Time: 10 min | Cook Time: 50 min | Total Time: 1 hour (+ 4-8 hours for chilling) | Servings: 8
INGREDIENTS:
Pie Crust
1 1/4 cup all-purpose flour
5 tbsp non-dairy butter
2-3 tbsp ice water
Pumpkin Pie Filling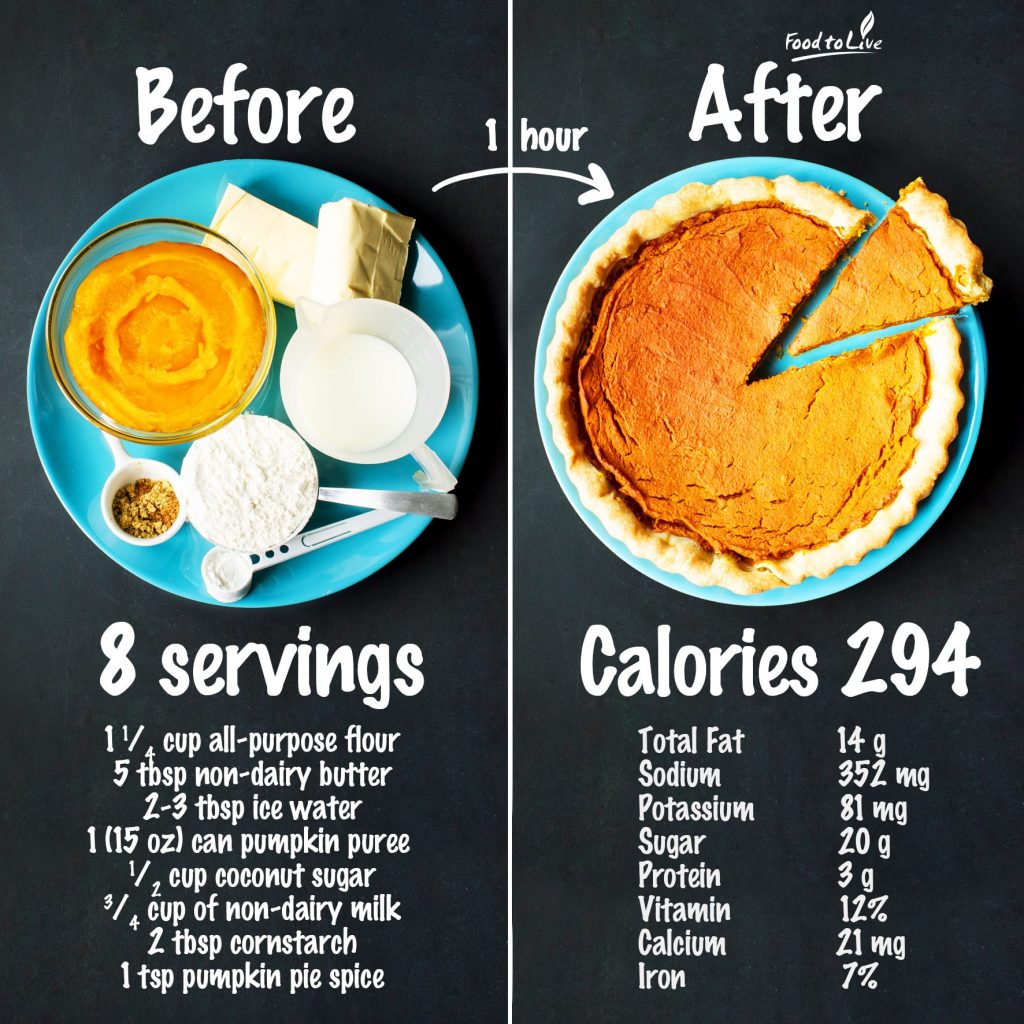 INSTRUCTIONS:
Let's start by making the pie crust. In a small bowl, mix the flour and salt together. Cut the butter into small pieces and add it to the dry mix. Use your hands or a special tool called a pastry cutter to blend the butter into the flour until everything is mixed well.
Now, add 1 tbsp of ice water and mix it in. If needed, you can add a bit more water, but don't overdo it. The dough should be somewhat dry but moist enough to roll out and shape.
Once you've got the right dough consistency, wrap it in plastic wrap and put it in the fridge for at least 30 min. After it's firm, roll it out on a floured piece of parchment paper until it's about 1/8 inch thick.
Gently flip the crust into your pie pan by holding the parchment paper and peeling it off. Press the crust evenly into the pan and trim any overhanging edges. Let it chill in the fridge for at least 1 hour.
Now, preheat your oven to 350°F (175°C).
In a powerful blender or food processor, blend all the ingredients for the pumpkin pie filling until it's super smooth. Pour this mixture into your pie crust, spreading it evenly with an offset spatula. Bake it in the oven, uncovered, for about 40 min.
Once it's done, take it out and let it cool down to room temperature. Then, move it to the fridge to chill for at least 4 hours, but it's even better if you can leave it there overnight.
When you're ready to enjoy it, serve your delicious pumpkin pie with vegan whipped cream.
This recipe adapted from My Darling Vegan
Video Recipe