July 01, 2020 · Written by Foodtolive Team
Easy Homemade Cassava Flour Pizza Crust
Enjoy delicious homemade pizza with this easy-to-make Cassava Flour Pizza Crust recipe. Whether you're following a healthy diet or simply looking for a new pizza crust alternative, this recipe has you covered. It's simple, wholesome, and perfect for creating your favorite pizza creations. Get ready to savor the taste of crispy goodness right from your own kitchen.
Prep Time: 10 min | Cook Time: 15 min | Rising Time: 1 hour | Total Time: 1 hour 25 min | Servings: 2 pizzas
INGREDIENTS: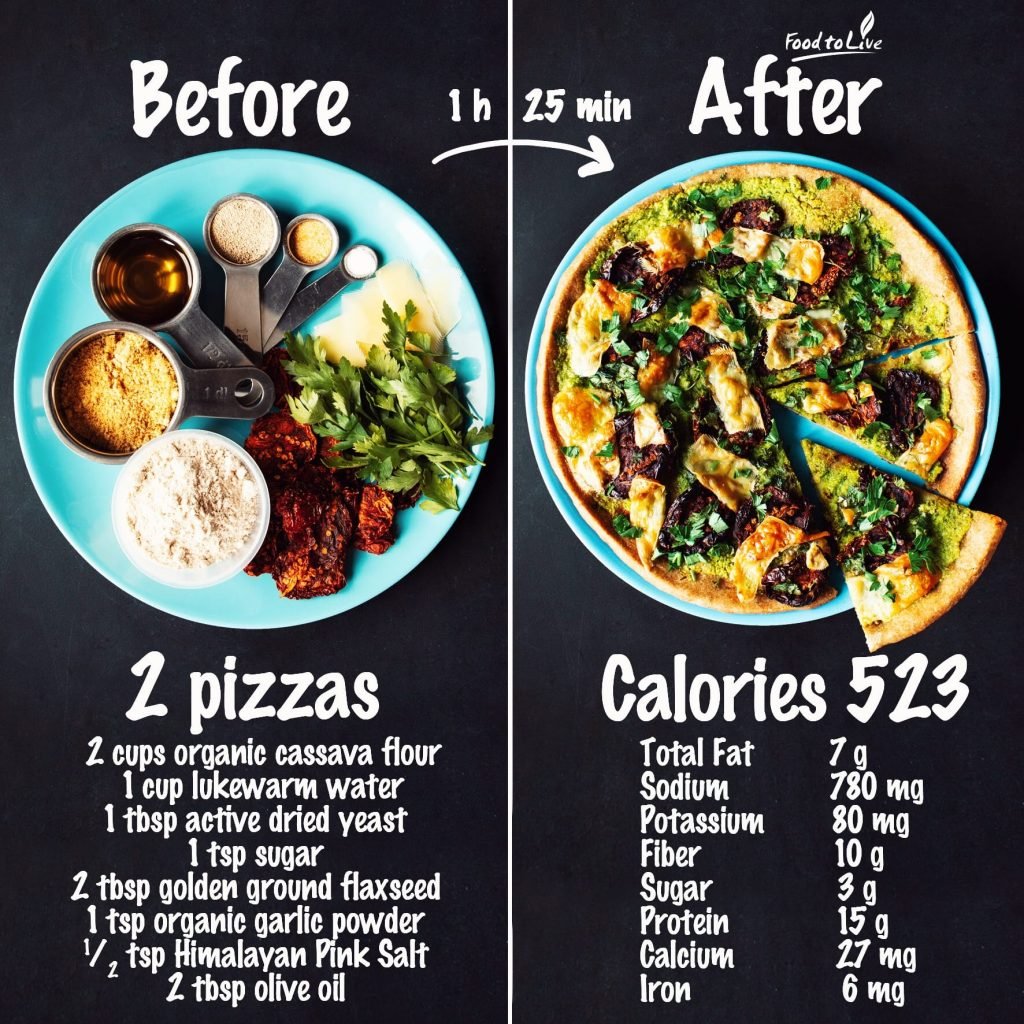 INSTRUCTIONS:
In a big bowl, mix lukewarm water, yeast, and sugar. Wait for about 10 minutes until the water gets foamy on top.
Add cassava flour, ground flaxseed, garlic powder, and salt to the bowl. Mix it all together using a wooden spoon or a mixer with a dough hook.
Knead the dough for around 10 min. You can do this by hand or use a mixer. Keep an eye on it and add more flour if needed until the dough is smooth.
Take a large bowl, put a bit of oil in it, and place the dough inside. Roll the dough around to coat it in oil. Cover it with a damp kitchen towel or a glass lid, and let it sit until it doubles in size, which should take about an hour.
Heat your oven to 375F and get your baking pan ready.
After the dough has doubled, punch it down and split it into two balls.
Sprinkle your work surface with flour, then use a wooden rolling pin to roll out the dough to your preferred thickness.
Put it on the baking pan, add pizza sauce and your choice of toppings.
Bake for 15 min.
Take it out of the oven, let it cool a bit, then slice and enjoy your Homemade Cassava Flour Pizza!
This recipe adapted from The Urben Life
Video Recipe