September 07, 2022 · Written by Foodtolive Team
How to Make Traditional Italian Pizza at Home
Here's a recipe for real Italian pizza in your home oven! Learn how to make pizza dough using simple ingredients and create a perfect crust!
Prep Time: 40 min | Cook Time: 15 min | Total Time: 55 min | Servings: 1, 12-inch pizza
Calories: 142 | Total Fat: 2.7g | Fiber: 1g | Sugar: 0.4g | Protein: 3.5g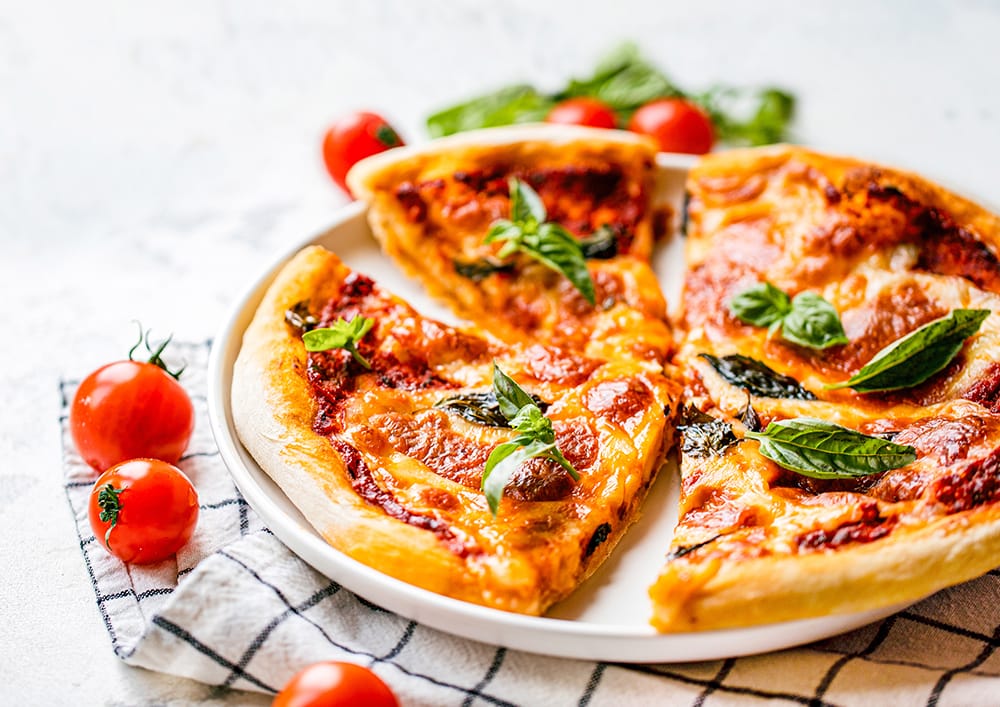 INGREDIENTS:
For the pizza dough:
For the topping:
2 tbsp tomato sauce (try our Easy Homemade Marinara Sauce)
8 oz Mozzarella ball
1 tbsp olive oil, for drizzling
a handful of fresh basil leaves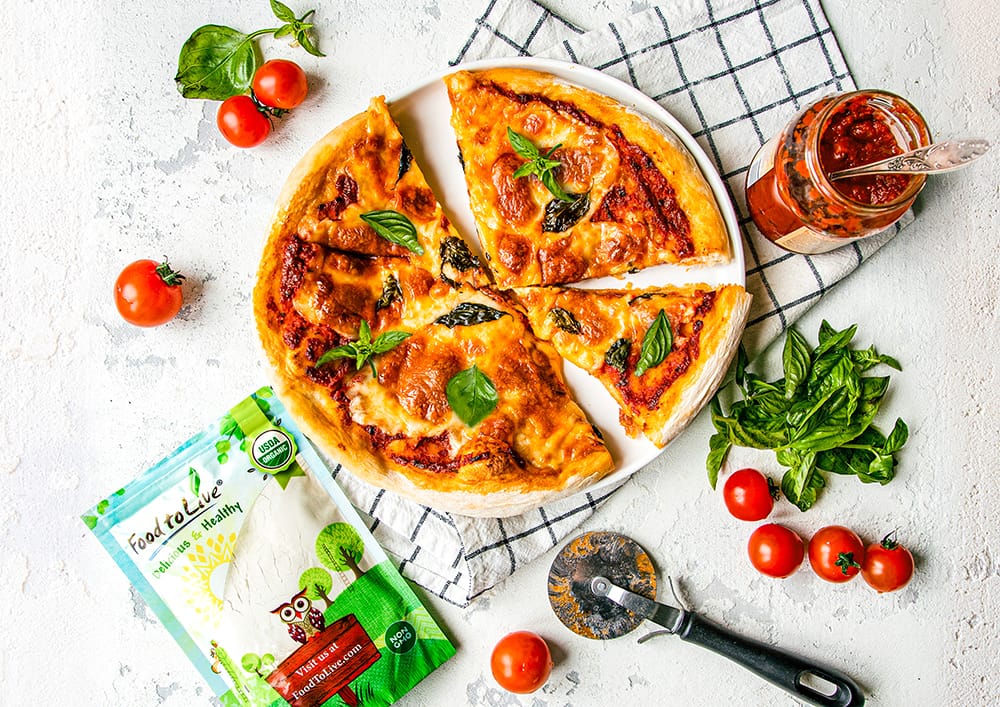 INSTRUCTIONS:
In a medium-sized bowl, combine Organic Italian Pizza Flour, salt, and sugar. Quickly whisk together the dry ingredients.
Add water to the mixture and use a whisk to ensure thorough mixing. Knead the dough briefly until it forms a ball.
Take a large bowl and coat it with olive oil. Place the dough in the oiled bowl, cover it with plastic wrap, and allow it to rise at room temperature for at least 30 min.
Preheat your oven to 425°F (215°C) during this resting period.
After the dough has risen, remove it from the bowl and place it on a baking tray. Ensure that the dough's base is generously coated with flour to prevent sticking.
Stretch the dough by gently holding it down with one hand and using the other hand to stretch it outwards. Rotate the dough and repeat the stretching process until you achieve a 12-inch diameter base. Fold the edges over to form the crust.
Use a fork to poke holes across the center of the pizza dough to prevent it from puffing up during baking.
Spread tomato sauce evenly across the pizza, extending it to the edges.
Evenly distribute slices of Mozzarella cheese on top of the sauce. Drizzle a bit of olive oil over the pizza and add basil leaves, either before or after cooking.
Transfer the pizza into the preheated oven and bake for 10-15 min, or until the crust turns golden brown. Cooking time may vary depending on your oven's temperature, so keep an eye on it.
Once baked, remove the pizza from the oven and place it on a chopping board or plate. Allow it to cool slightly before savoring your homemade pizza!
This recipe inspired by My Pizza Corner
Video Recipe