October 01, 2020 · Written by Foodtolive Team
Cinnamon Sugar Mini Pumpkin Donuts
Enjoy moist and fluffy baked pumpkin donuts coated in crispy cinnamon sugar – the ideal autumn breakfast or snack! They're not fried and ready in just 20 minutes!
Prep Time: 5 min | Cook Time: 15 min | Total Time: 20 min | Servings: 6 baked donuts
Calories: 338 | Total Fat: 14 g | Sodium: 148 mg | Fiber: 2 g | Sugar: 28 g | Protein: 3 g
INGREDIENTS:
For the donuts:
For the cinnamon sugar coating: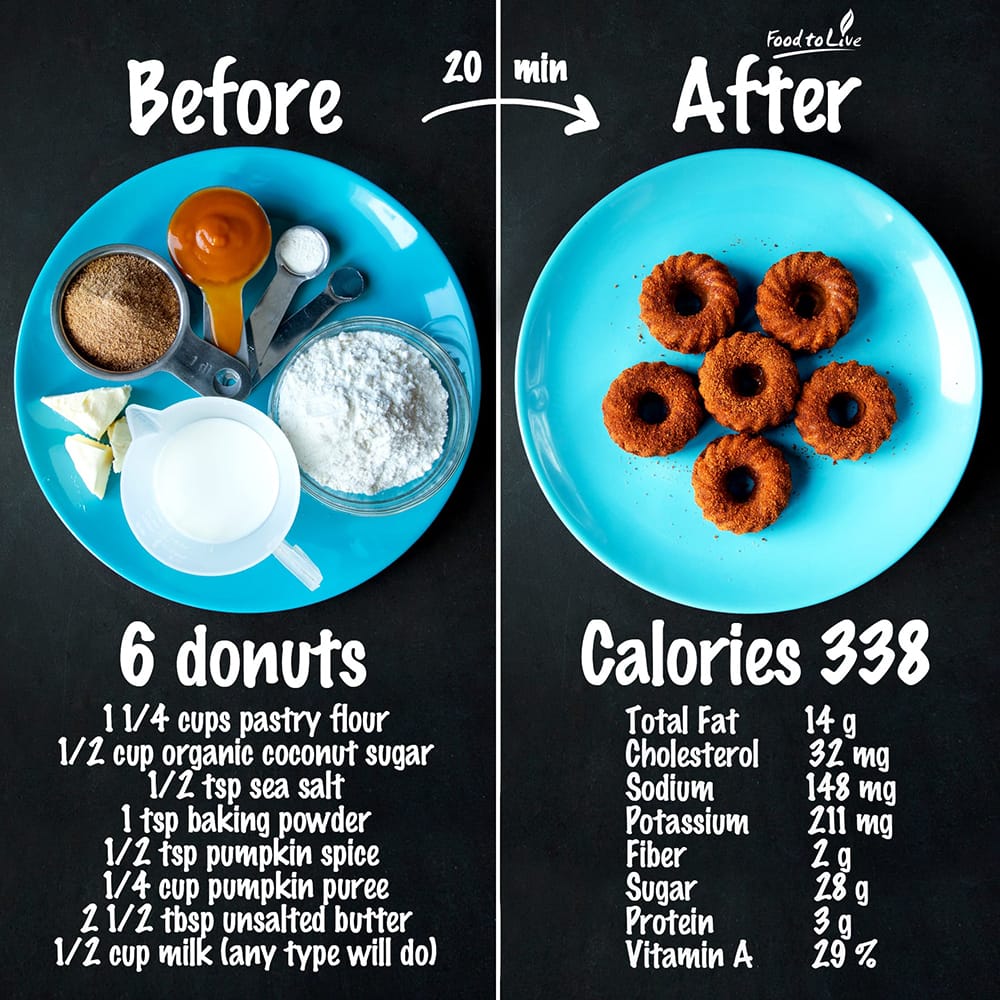 INSTRUCTIONS:
Preheat your oven to 350°F.
Grease a doughnut pan generously with melted coconut oil and set it aside.
In a large bowl, whisk together the dry ingredients. In a separate bowl, whisk together the pumpkin puree, melted butter, and milk. Carefully fold the wet mixture into the dry mixture.
Spoon the mixture into the prepared doughnut pan (you can use a piping bag), and bake for 10-15 minutes. Allow the doughnuts to cool in the pan for a few minutes.
While the doughnuts cool, melt the butter for the cinnamon sugar coating and set it aside. Mix the coconut sugar and cinnamon in a medium-sized bowl and set it aside as well.
Once the doughnuts are cool enough to handle, dip them in the melted butter, then roll them in the cinnamon-sugar mixture. Repeat until all the doughnuts are coated.
Enjoy your delicious baked pumpkin donuts!
This recipe slightly adapted from Baker by Nature
Video Recipe