April 06, 2020 · Written by Foodtolive Team
Vegan Dragon Fruit Cheesecake
Discover the magic of Vegan Dragon Fruit Cheesecake! It's a dairy-free dessert that's smooth and sweet, with the vibrant pink of dragon fruit. A tasty treat for everyone!
Prep Time: 20min (+8 hours for soaking) | Cook Time: 0 min (+4 hours for chilling) | Total Time: 20 min | Servings: 12 slices
INGREDIENTS:
Crust:
Cheesecake:
2 cups cashews, soaked overnight
1/2 cup maple syrup
2 pinch of salt
1 tbsp lemon juice
1/2 cup cacao butter, melted
1/2 banana
1tsp red dragon fruit powder
1 tsp coconut butter
Topping:
red dragon fruit powder
fresh raspberries/strawberries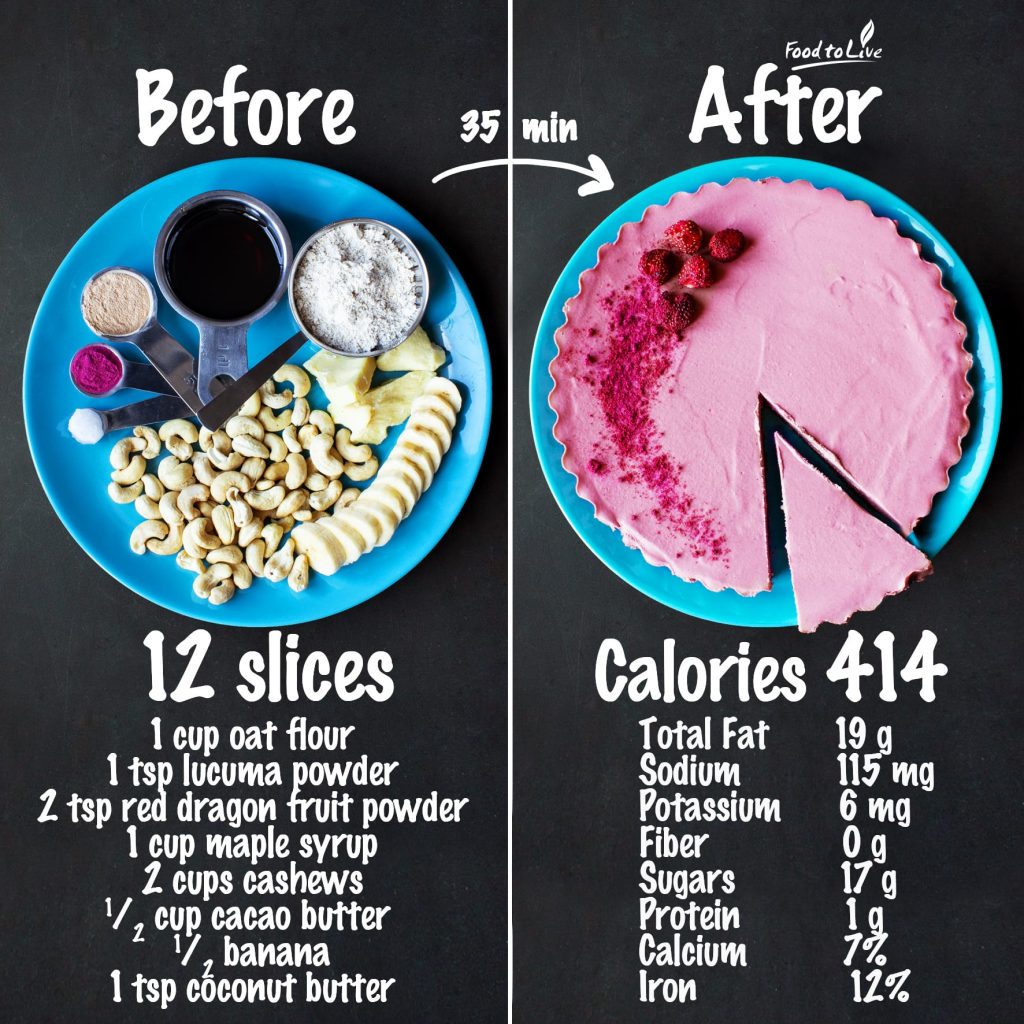 INSTRUCTIONS:
Combine all the crust ingredients in a bowl until you have a soft but manageable dough. Line your loaf tin with parchment paper and press the dough evenly into it using your hand. Place it in the freezer while you prepare the cheesecake layer.
Add all the cheesecake ingredients to your high-speed blender or food processor and blend until smooth. Take your loaf tin from the freezer and pour in the cheesecake mixture. Chill it for 4 hours or more until it's cold and firm.
Serve your cheesecake with a sprinkle of dragon fruit powder and fresh raspberries or strawberries on top. Enjoy!
This recipe adapted from When Sweet Becomes Healthy
Video Recipe