January 31, 2023 · Written by Foodtolive Team
Chocolate Dipped Dried Mango Snacks
These simple 4-ingredient Chocolate Dipped Mango Snacks are loaded with flavor! A little crunch from salt flakes and roasted nuts bring it all together. Delightfully chewy, tart, and sweet!
Prep Time: 15 min | Cook Time: 0 min | Total Time: 15 min | Servings: 2-4
Calories: 86 | Total Fat: 4g | Sodium: 52mg | Fiber: 1g | Protein: 1g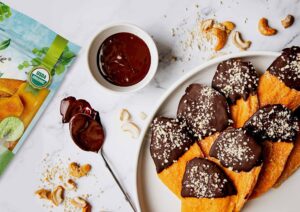 INGREDIENTS: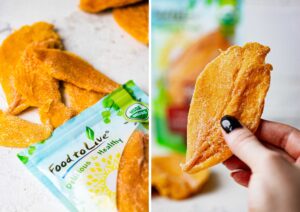 INSTRUCTIONS:
Melt the cacao paste wafers in the microwave in 20-30 second intervals and stir well for an equal amount of time between each interval until it's completely melted.
Dip 1/2 of each dried mango into the cacao paste.
Sprinkle it with crushed cashews and a tiny sprinkle of salt flakes.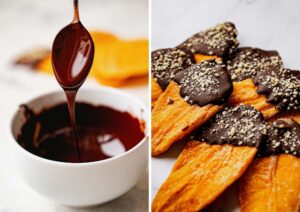 Repeat the process with all the pieces of dried mango, then place in the fridge to set for 10 minutes. Enjoy!
Store in an airtight container for up to a week.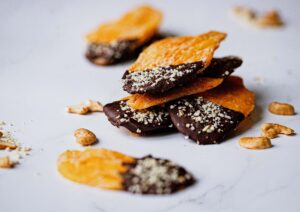 Find more healthy treats recipes in our previous posts:
Video recipe: