November 19, 2022 · Written by Foodtolive Team
Pumpkin Pie Spiced Nuts
Pumpkin pie spiced nuts are the perfect fall treat. Made with a mix of your favorite nuts and a generous amount of pumpkin spice, these sweet and savory nuts are perfect for holiday gifting!
Prep Time: 5 min | Cook Time: 40 min | Total Time:  45 min | Servings: 2 cups
Calories: 320 | Total Fat: 24g | Sodium: 51mg | Sugar: 11g | Protein: 8g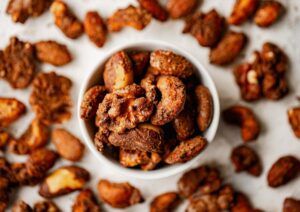 INGREDIENTS:
INSTRUCTIONS:
Preheat the oven to 300ºF. Line a rimmed baking sheet with foil.
In a large mixing bowl, combine the egg white, white sugar, coconut sugar, and spices. Whisk to combine.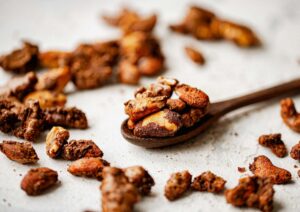 Add in the nuts, and toss until they're evenly coated.
Spread evenly on the baking sheet and bake for 40 minutes, stirring once halfway through. Once cooled, store in a sealed container.