September 24, 2022 · Written by Foodtolive Team
Homemade Vitamin Gummy Bears
Make your own vitamin gummies, and stay away from artificial ingredients. Boost your immune system with these fun and easy Homemade Superfood Vitamin Gummy Bears. Perfect for little and big kids alike!
*Dairy-Free, Refined Sugar-Free, Preservative-Free, Corn Syrup-Free, No Added Colors, or Artificial Flavoring 
Prep Time: 10 min | Cook Time: 10 min | Refrigeration Time: 15 min | Total Time: 35 min | Servings: 150 gummies
Calories: 4 | Total Fat: 0g | Cholesterol: 0g | Sodium: 1mg | Sugar: 1g | Protein: 1g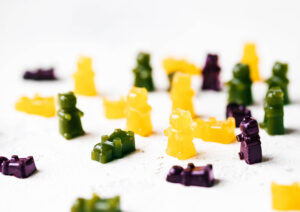 INGREDIENTS:
For the basic recipe: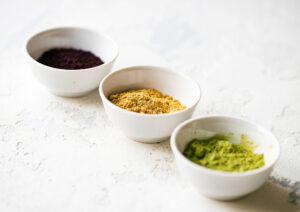 For the purple ones: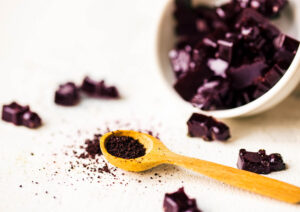 For the yellow ones: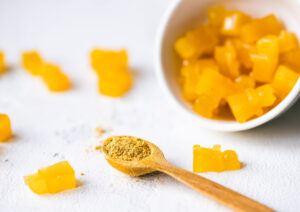 For the green ones: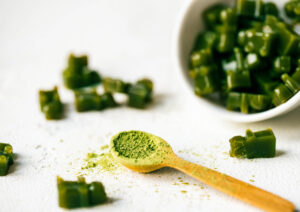 INSTRUCTIONS:
In a small saucepan, gently warm the juice and maple syrup together without bringing them to a boil.
Reduce the heat and incorporate the superfood powder, ensuring a thorough mix.
Add the gelatin powder and stir until it completely dissolves.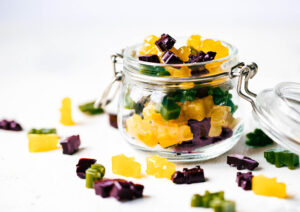 Take the mixture off the heat and strain it through a sieve.
Carefully pour the mixture into silicone molds. If you don't have a pipette, a small spoon works just as well.
Place the molds in the refrigerator for approximately 15 minutes to set.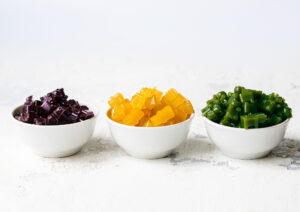 Once set, remove the gummy bears from the molds. Enjoy them one or two at a time!
Store your gummy bears in a covered container in the refrigerator for up to three weeks. For different colors and flavors, repeat this process three times, using different types of juice each time.
Notes:
This recipe adapted from The Wright Foodie
Video Recipe