December 20, 2022 · Written by Foodtolive Team
Homemade Cranberry Marshmallows
Learn how to make homemade marshmallows with our easy recipe. These corn syrup-free cranberry marshmallows are soft and pillowy, perfect for a chocolate covered bite or dropped in a cup of hot cocoa.
Prep Time: 20 min | Cook Time: 20 min | Chill Time: 6 hours | Total Time: 6 hours 40 min | Servings: 30 marshmallows
Calories: 38 | Total Fat: 1g | Sodium: 4mg | Sugar: 11g | Protein: 1g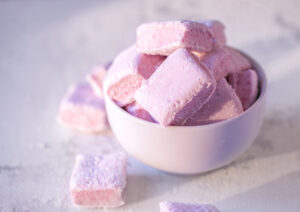 INGREDIENTS:
2 tbsp gelatin
1 cup cold water, divided
2 cups granulated sugar
2 tbsp cranberry powder*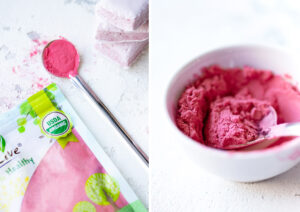 ⅛ tsp cream of tartar
¼ tsp salt
½ tsp vanilla extract
½ tbsp melted butter or vegetable oil
⅔ cups powdered sugar, for dusting
3 tbsp arrowroot powder or tapioca starch or potato starch, for dusting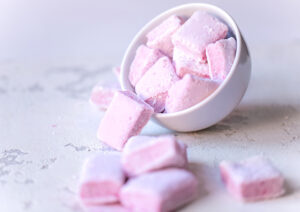 INSTRUCTIONS:
Grease the bottom and sides of a 9×9 inch pan with butter or vegetable oil. Combine arrowroot powder and powdered sugar in a bowl. Sprinkle the pan with powdered sugar/arrowroot mix.
To the bowl of a stand mixer (or extra large mixing bowl and then use a handheld electric mixer) bloom the gelatin by adding in ½ cup cold water and all of the gelatin. Set aside for 10 minutes.
Stir together remaining water, sugar, cream of tartar, and salt. Heat over medium heat, stirring until sugar is dissolved.
Clip candy thermometer to pan and heat until temperature reaches 238-240 degrees – the soft ball stage. Remove from heat immediately.
Turn the mixer on low, and slowly pour hot syrup down the side of the bowl into the gelatin mixture while running.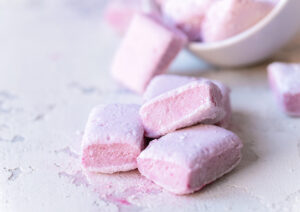 Once you've added all the syrup, turn the mixer to medium-high speed, and whip until mixture is thick and lukewarm – approximately 5 minutes.
Add vanilla extract and cranberry powder during the last minute of whipping.
When the marshmallow mixture becomes thick and lukewarm, dump it into the prepared pan.
Allow to set for at least 6 hours.
Turn over onto a powdered sugar dusted work surface, cut into squares with a knife or pizza cutter and toss marshmallows into powdered sugar to coat all sides, shake off the excess. Enjoy!
Store in an airtight container for up to 1 week.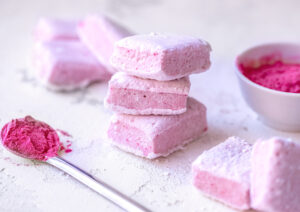 NOTES: