December 04, 2022 · Written by Foodtolive Team
Homemade Elderberry Syrup
Elderberry syrup has been used for centuries to promote good health. Packed with vitamins and antioxidants, elderberry syrup is a herbal formula that supports your immune system during the cold and flu season. This recipe is made with just 6 ingredients and ready in less than an hour.
Prep Time: 10 min | Cook Time: 30 min | Total Time: 40 min | Servings: 12 ounces
Calories: 48 | Total Fat: 1g | Sodium: 3mg | Sugar: 12g | Protein: 1g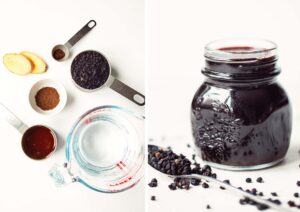 INGREDIENTS: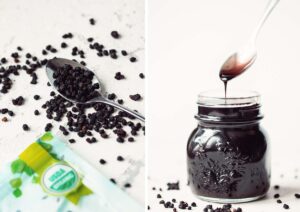 INSTRUCTIONS:
Combine the elderberries, water, cinnamon, cloves, and ginger in a small saucepan over high heat and bring the mixture to a boil. Lower the heat and allow the mixture to simmer until the water has been reduced by half, about 30 minutes.
Using a fine mesh strainer perched over a bowl, strain the mixture, using a spoon to press the berries to extract as much juice as possible. Save the pulp (see notes).
Allow the elderberry juice to cool to room temperature, so that the heat doesn't harm the nutrients in the honey. Stir in the honey, using a whisk to incorporate it smoothly.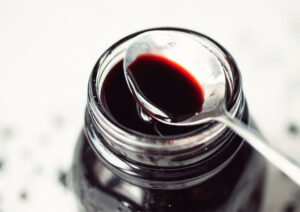 Transfer the syrup into a sealed glass jar. Elderberry syrup should keep well for up to two weeks when stored in the fridge.
Add your homemade elderberry syrup to hot and cold beverages, smoothie; pour on top of oatmeal, cereal, pancakes; mix into salad or salad dressing; or take straight from the spoon!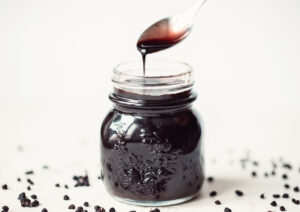 NOTES:
Pour leftover pulp in a clean glass jar and cover with apple cider vinegar. Let steep for one month in a dark place, shaking occasionally. Top off vinegar in the jar as needed to ensure herbs are covered. Strain and use as a vinegar for salads, take as an immune boosting shot, or add a tbsp to tea or water.
Homemade elderberry syrup doesn't become as thick as the store bought version because it uses less sugar and no preservatives or thickeners, so don't be alarmed if the final syrup has more of a liquid consistency.