June 14, 2021 · Written by Foodtolive Team
No-Bake Mini Tarts with Blueberry Lemon Curd
These vegan No-Bake Tarts are the perfect healthy and light treats to make this summer.
Prep Time: 5 min | Cook Time:  15 min | 
Cooling Time: 1 hour 30 min | Total Time: 1 hour 50 min | Servings: 8 mini tarts
INGREDIENTS:
No-Bake Tart Crust:
Blueberry Lemon Curd:
4 tbsp vegan butter
4 tbsp cornstarch
1/2 cup powdered sugar
1/2 cups of fresh-squeezed lemon juice
1 tsp lemon zest
1 tbsp organic blueberry powder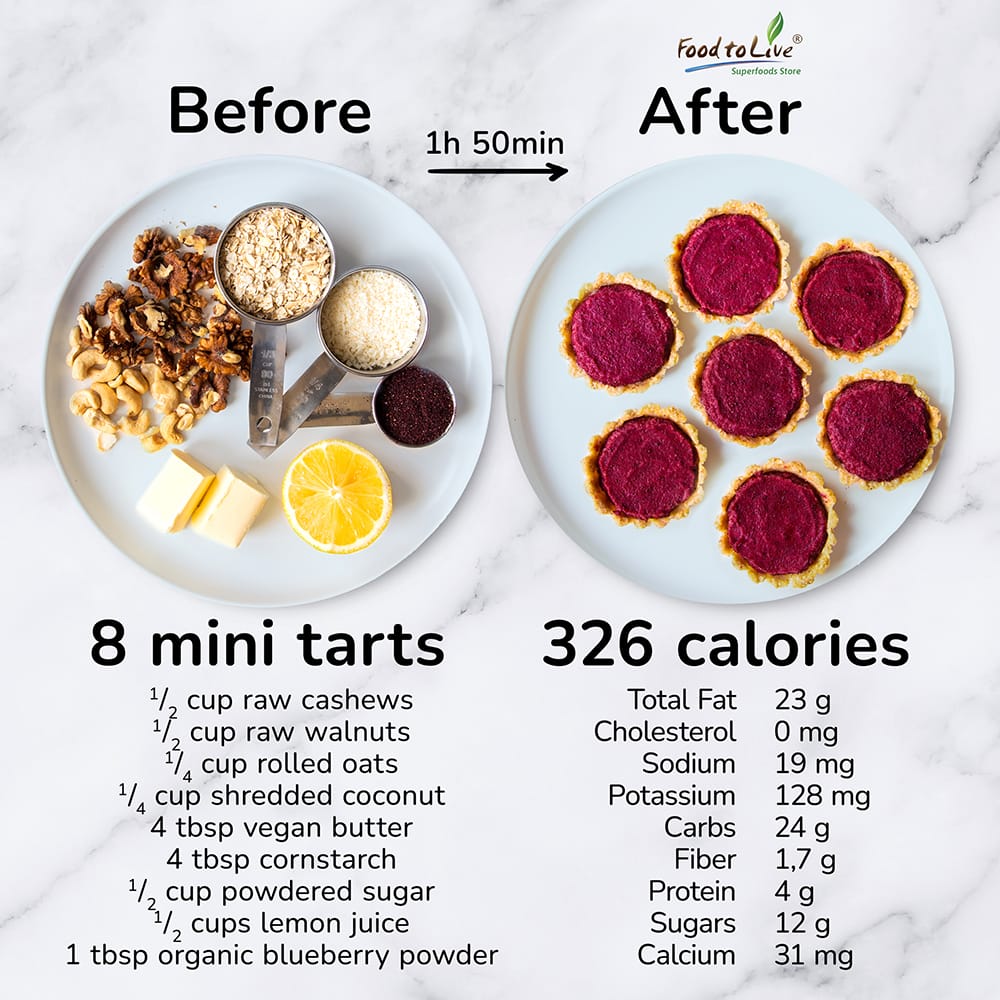 INSTRUCTIONS:
No-Bake Tart Crust:
Place all the ingredients in your blender/food processor and pulse until you get a thick dough.
Press the tart dough into your mini tart molds with your fingers to create the tart crust, then place it into the freezer for at least 30 minutes or until hard.
Note: use tart molds with removable bottoms
Blueberry Lemon Curd:
In a small saucepan over medium heat, melt your vegan butter.
Once melted, remove it from the heat and mix it with the cornstarch until a paste is formed.
Return the pan to medium heat and add in the sugar, lemon juice, lemon zest, and blueberry powder. Stir until the sugar dissolves and the vegan lemon curd thickens. This should take about 5-10 min to fully thicken.
Remove the curd from the heat and let cool.
Fill your tart crust with the blueberry lemon curd and place back in the fridge for at least 1 hour or until completely set.