November 19, 2022 · Written by Foodtolive Team
Pumpkin Spice Roasted Nuts – The Ultimate Fall Treat
Get ready to savor the flavors of fall with Pumpkin Spice Roasted Nuts. These crunchy, spiced nuts are the ultimate autumn snack, bringing the warmth of pumpkin spice into every bite.
Prep Time: 5 min | Cook Time: 40 min | Total Time:  45 min | Servings: 2 cups
Calories: 320 | Total Fat: 24g | Sodium: 51mg | Sugar: 11g | Protein: 8g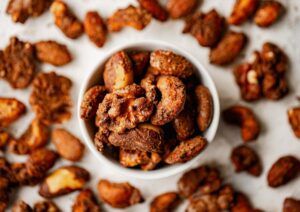 INGREDIENTS:
INSTRUCTIONS:
Preheat your oven to 300ºF and line a baking sheet with foil.
In a big mixing bowl, whisk together the egg white, white sugar, coconut sugar, and spices until well blended.
Add the nuts and toss them in the mixture until they're coated evenly.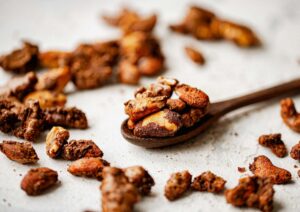 Spread the coated nuts evenly on the baking sheet.
Bake for 40 min, stirring them once halfway through.
Once they've cooled down, store them in an airtight container. Enjoy!
This recipe adapted from The Thirsty Feast
Video Recipe