August 16, 2019 · Written by Foodtolive Team
Crispy Vegan French Toast
Get ready for a delightful breakfast with this Crispy Vegan French Toast recipe. It's a plant-based take on the classic favorite, and it's incredibly delicious. You'll enjoy a perfect blend of crispy and fluffy textures without using eggs or dairy. It's a true morning treat!
Prep time: 5 min | Cook time: 5 min | Total time: 10 min | Servings: 4 toasts
INGREDIENTS:
2 tbsp flaxseed meal
1 cup plant-based milk
1 tsp ground cinnamon
1/2 tsp ground nutmeg
1 tsp vanilla extract
Pinch of salt
4 bread slices
Vegan butter, for toasting
Maple syrup, berries, coconut yoghurt, powdered sugar, for topping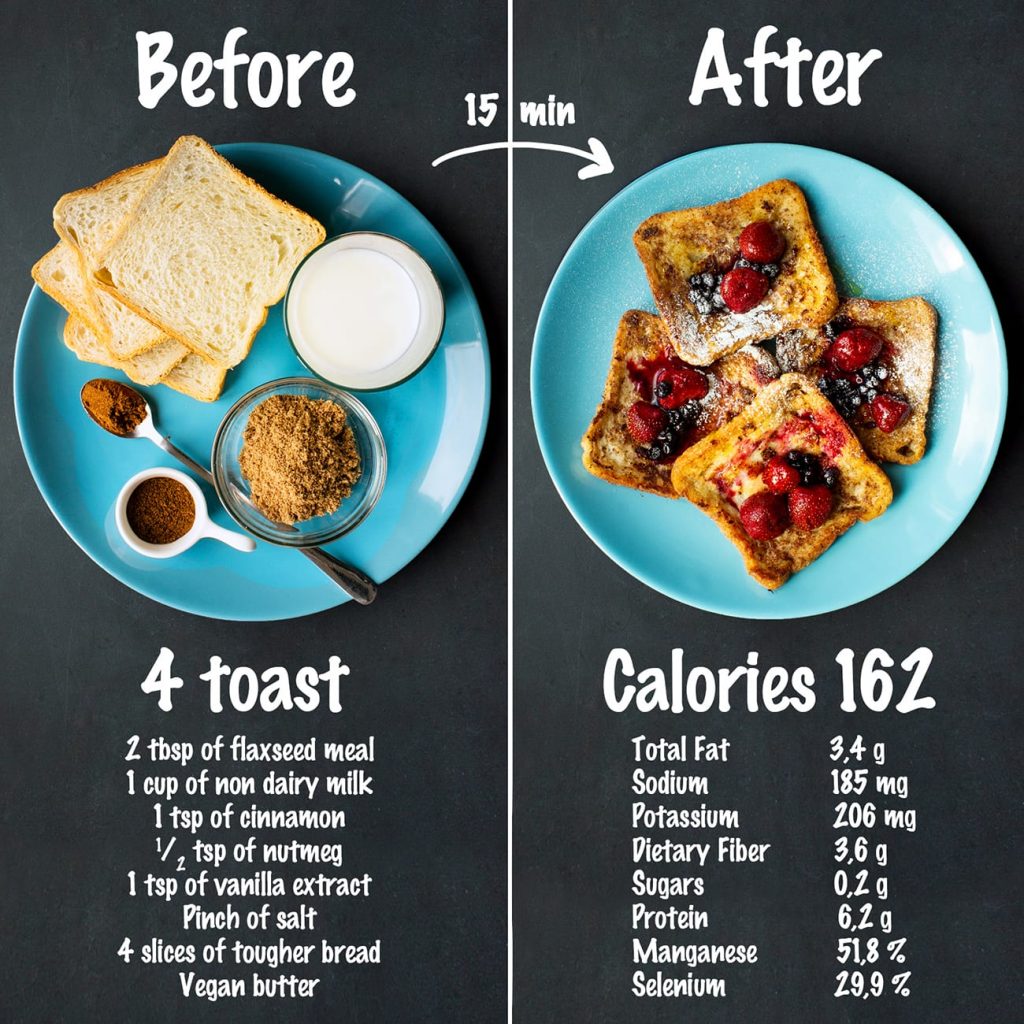 INSTRUCTIONS:
In a shallow bowl, whisk together the flaxseed meal and plant-based milk. Let it sit for a couple of minutes to thicken and create a flax "egg."
Add the ground cinnamon, ground nutmeg, vanilla extract, and a pinch of salt to the flax "egg." Stir well to combine.
Heat a non-stick skillet or griddle over medium heat and add a small amount of vegan butter to coat the surface.
Dip each bread slice into the flaxseed mixture, making sure both sides are coated. Allow any excess to drip off.
Place the coated bread slices in the hot skillet and cook until they are golden brown and crispy on both sides, approximately 2-3 min per side.
Once done, transfer the French toast to serving plates. Top with maple syrup, fresh berries, a dollop of coconut yogurt, and a sprinkle of powdered sugar, as desired.
Serve your delicious Vegan French Toast immediately and enjoy your cruelty-free breakfast!
This recipe adapted from Food With Feeling
Video Recipe