March 02, 2020 · Written by Foodtolive Team
Rainbow Spring Rolls with Peanut Sauce
Welcome to a burst of color and flavor! Today, we're taking a culinary journey with our Rainbow Spring Rolls. These delightful creations are like edible rainbows, filled with an array of fresh, crisp vegetables, and paired with a delectable peanut sauce.
Prep Time: 10 min | Cook Time: 10 min | Total Time: 20 min | Servings: 8 rolls
INGREDIENTS:
For the spring rolls:
8 rice paper wrappers
1/2 ear corn, shaved
1 carrot, julienned
1/2 cucumber julienned
1 red bell pepper, julienned
1 cup red cabbage, sliced
For the peanut dipping sauce: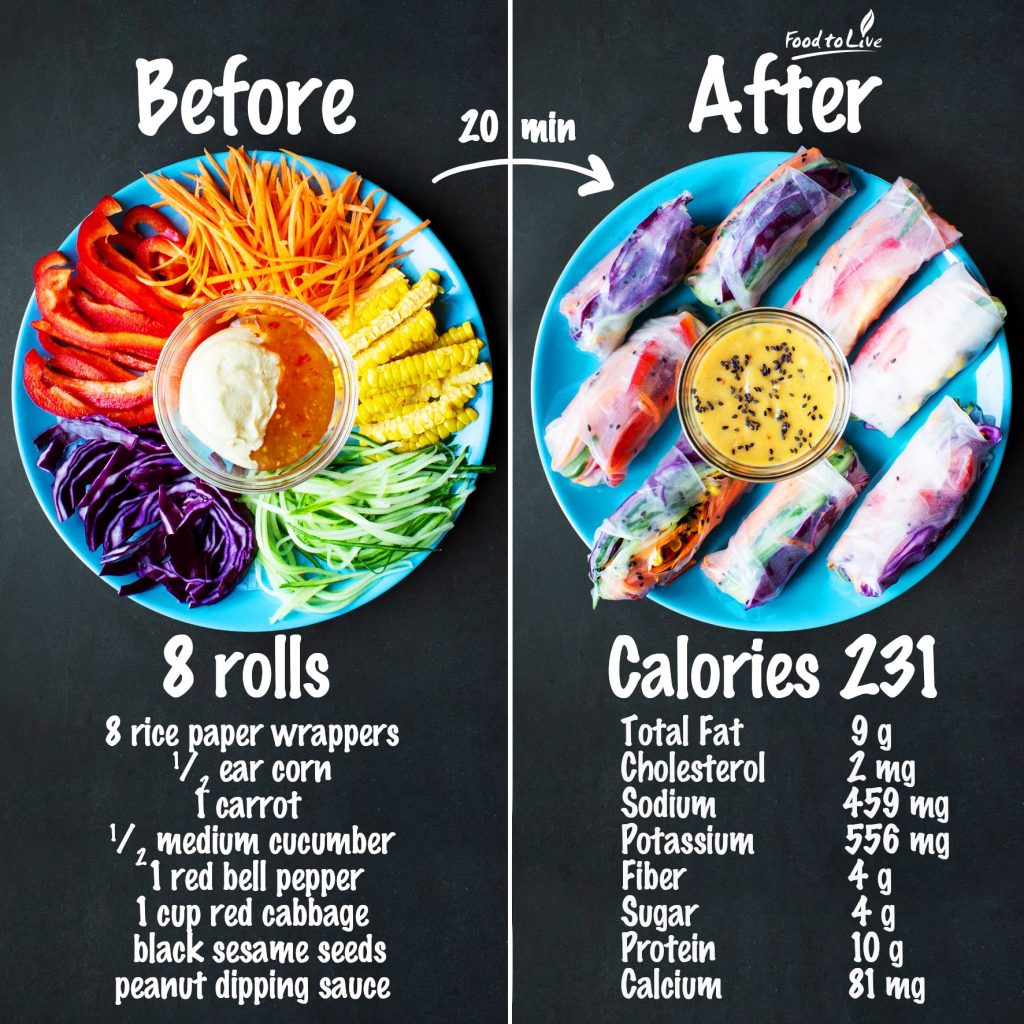 INSTRUCTIONS:
Begin by following the soaking instructions for the rice paper on the package.
Prepare all your vegetables ahead of time before you start assembling the rolls.
Using either a food processor or an immersion blender, blend the peanuts until they become smooth. Add ginger powder, garlic powder, black sesame seeds, and sweet chili sauce to the peanut mixture. If needed, add a bit of warm water to achieve the desired consistency.
Lay out your first rice paper wrapper on a cutting board. Place a small, tightly packed portion of your sliced vegetables on the lower third of the wrapper. Sprinkle a pinch of black sesame seeds on top. Be careful not to overfill the roll, as it may tear. Roll everything up tightly, similar to how you'd roll a burrito, folding in the sides of the rice paper roll halfway.
Cut each roll in half and serve them with the peanut dipping sauce. Enjoy your delicious rolls!
This recipe adapted from Happy Kitchen
Video Recipe