December 30, 2021 · Written by Foodtolive Team
Nutty Chocolate Swirl Babka
This Melt-in-your-mouth Chocolate Hazelnut Babka combines light and tender spelt brioche dough, with a rich and scrumptious filling made of homemade chocolate hazelnut spread and chopped roasted hazelnuts.
Prep Time: 20 min | Rising Time: 2 hours | Cook Time: 40 min | Total Time: 3 hours | Servings: 2 loaves
Calories: 226 cal | Total Fat: 12g | Fiber: 1.8g | Sugar: 14g | Protein: 3.5g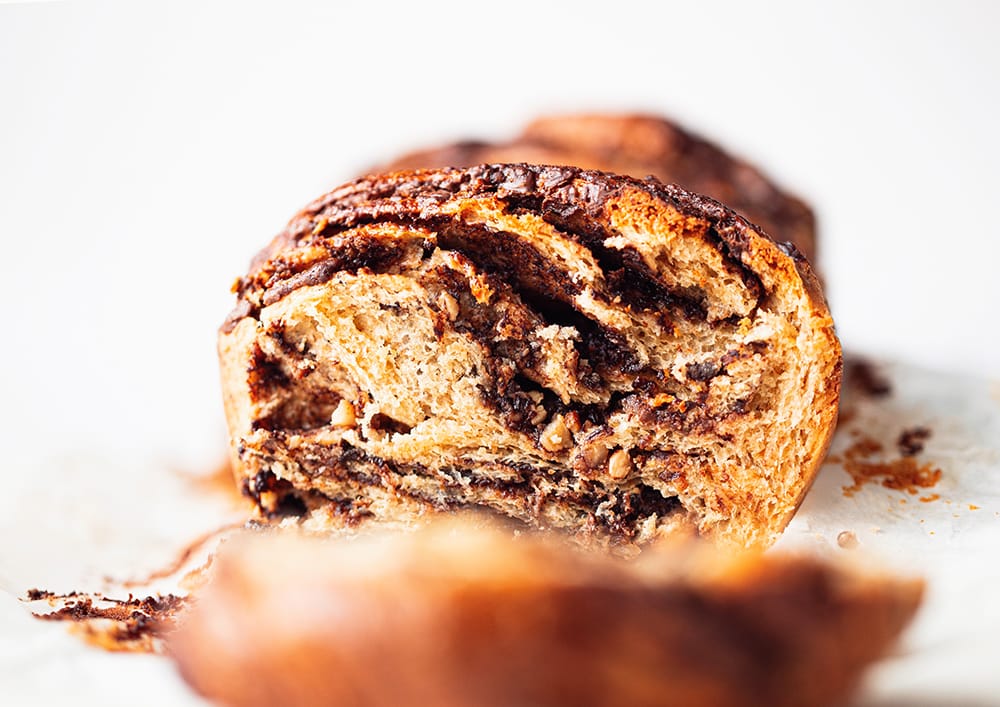 INGREDIENTS:
For the brioche dough:
1 envelope (2 ¼ tsp) active dry yeast
¾ cup whole milk, lukewarm
4 tbsp sugar
3 ¾ cups spelt flour
½ tsp salt
2 eggs, at room temperature
115g unsalted butter, at room temperature
For the filling:
Vegan Version:
For the brioche dough:
1 envelope (2 ¼ tsp) active dry yeast
¾ cup non-dairy milk, warm (such as almond or oat milk)
4 tbsp organic cane sugar
3 ¾ cups spelt flour
½ tsp salt
2 flax 'eggs' (2 tbsp milled flax seeds + 6 tbsp water)
115g unsalted vegan butter, at room temperature
For the filling:
1 ½ cups homemade chocolate hazelnut spread
1 cup chopped roasted blanched hazelnuts
For the vegan 'egg wash':
1 tsp maple or agave syrup + 2 tbsp almond milk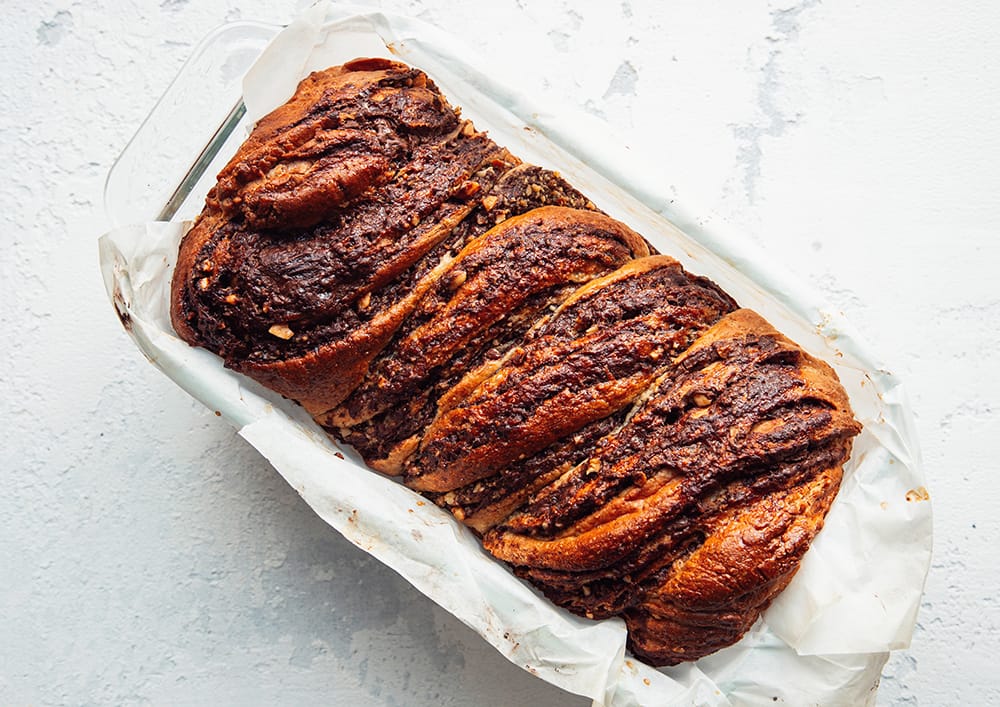 INSTRUCTIONS:
In a small bowl, mix together the yeast, milk, and 2 tbsp of sugar. Let it sit for 10-15 min until it gets foamy.
In a stand mixer with a dough hook, combine the flour, salt, and remaining 2 tbsp sugar. Mix it up. Then, add the eggs and the foamy yeast mixture. Start mixing on low until the dough starts to come together. Then, turn up the speed to medium and mix for about 10 min until the dough is soft and smooth.
Lower the mixer speed again and add the butter gradually. This should take around 3-4 min. Once the butter is fully mixed in, increase the speed to medium and continue mixing for about 5 more min until the dough is very soft and smooth.
Put the dough in an oiled bowl, cover it with a kitchen towel, and place it in a warm spot for about 1 to 1 ½ hours until it doubles in size.
Grease two loaf pans and line them with parchment paper.
Split the dough in half. Roll out one half on a floured surface into a 16×14 inch (40×35 cm) rectangle. Make sure the long side is facing you. Use a spatula to spread half of the hazelnut spread over the rectangle, leaving about a ½-inch (1 cm) border all around. Sprinkle half of the nuts on top.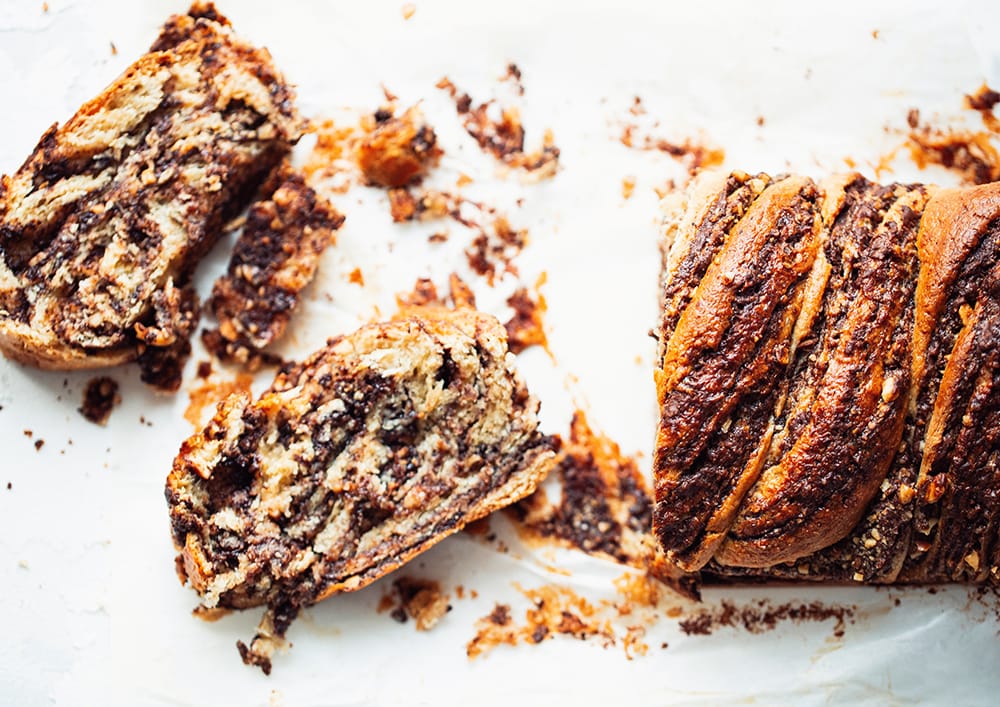 Use both hands to carefully roll up the rectangle like a log, starting from the long side closest to you and ending at the opposite side.
Take a serrated knife and gently cut the log in half lengthwise, beginning at the top and continuing to the seam. You'll now have two long halves, and you'll be able to see the layers of dough and filling along the length of both.
With the cut sides facing upward, gently press together one end of each half. Then, lift the right half over the left half. Repeat this process again, but this time, lift the left half over the right. This creates a simple two-pronged plait or braid. Gently squeeze together the other ends so that you have two intertwined halves, with the filling visible on top.
Carefully transfer the braided loaf into a loaf pan. Don't worry if there are gaps in the pan; the cake will rise and look fine during baking, even if it seems a bit messy at this stage.
Cover the loaf pans with a kitchen towel and place them in a warm spot to rise for 45 min to an hour, or until the dough springs back lightly when pressed. While the loaves are proofing, preheat your oven to 350°F (180°C).
Brush the risen loaves lightly with an egg wash. Bake for 40-45 min or until they turn golden brown. Remove the loaves from the oven and let them cool completely before slicing. You can store any leftovers in an airtight container or wrap them tightly before freezing.
This recipe adapted from Cloudy Kitchen
Video Recipe