August 10, 2015 · Written by Foodtolive Team
Delicious and Nutritious: Health Benefits of Hazelnuts
If you are looking for a delicious healthy snack, you definitely need to have some hazelnuts stocked in your pantry. All kinds of nuts are highly nutritious, so they make perfect snacks. Eating a handful of them will keep your energy level high as well as provide your body with many important vitamins and minerals.
Many people are hesitant about eating nuts frequently because they have a high calorie count. However, you need to understand that unlike processed foods, nuts are rich in healthy fats. Therefore, they do not add centimeters to your waistline. On the contrary, they help remove "bad" cholesterol that clogs your arteries.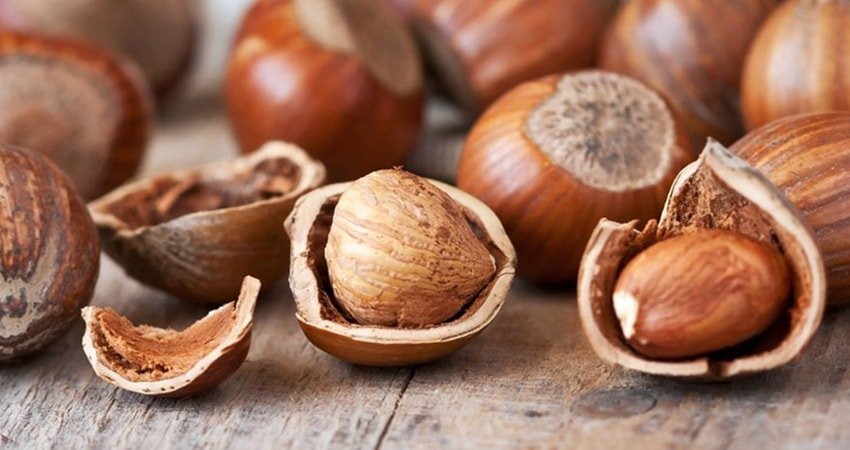 Hazelnuts Health Benefits
Hazelnuts are overall good for you. In essence, the only reason NOT to eat them is allergy. If you don't have this type of reaction to this particular food, you should include these nuts in your diet on a regular basis. This will allow you to enjoy all the health benefits of hazelnuts. They include:
Providing your body with flavonoids.
Flavonoids are phytochemicals that can affect a great number of processes within your body. In essence, they support and promote your overall wellbeing with the focus on brain health and circulation.
Controlling your blood pressure.
One of the major reasons responsible for hypertension is mineral deficiency. Nuts, in general, are exceptionally rich in these nutrients. Organic Hazelnuts, in particular, are one of the best sources of copper and manganese.
Promoting heart health.
Every benefit offered by hazelnuts has a positive effect on your heart. Their ability to cleanse LDL cholesterol from your system strengthens the cardiovascular system in general. Minerals and vitamin E improve circulation and reduce both blood pressure and inflammation. Therefore, eating them on a regular basis is an effective method to prevent heart disease, and it's definitely a must for those who require treatment for this particular condition.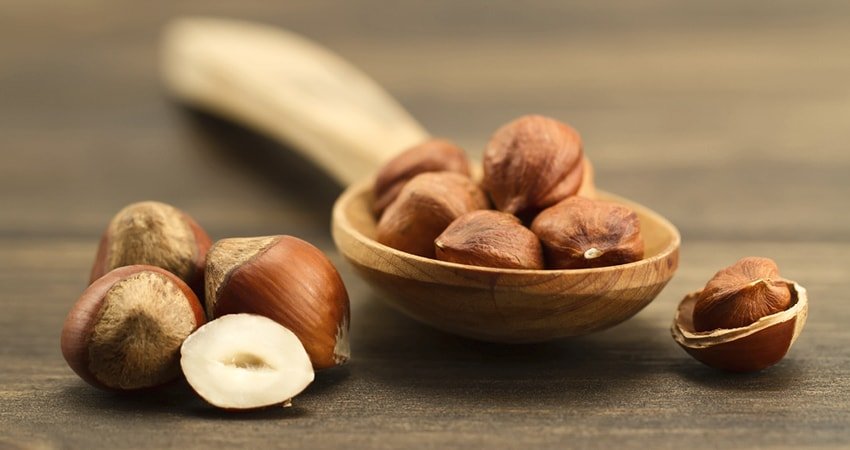 How to Roast Hazelnuts
Although hazelnuts are perfectly safe to eat raw, roasting will make them more delicious as it enhances the flavor. In addition, this type of cooking will remove excessive moisture from the nuts making them crunchier. However, over-roasting will turn them bitter, so you need to be very careful.
Here is how you roast hazelnuts in a pan:
Take a heavy saucepan and put hazelnuts into it (in a single layer).
Place the pan on the stove (medium heat).
Stir the nuts with a spatula every couple of minutes.
Don't allow yourself to get distracted as hazelnuts roast very fast and it's easy to miss the moment they change from deliciously roasted to bitter and charred.
Cook the nuts for 5-10 minutes until they become golden-brown and a pleasant nutty smell spreads around your kitchen.
How to roast hazelnuts in the oven:
Preheat the oven to 350º F (180º C).
Put shelled nuts on a cookie sheet (in a single layer).
Put the sheet in the oven.
Leave the nuts in the oven for 10-12 minutes.
If they are done by then, take them out immediately. The nuts are cooked when they turn brown and start spreading delicious nutty aroma. If they aren't done yet, put the nuts beck into the oven. Check them every minute or so to avoid over-roasting.
You can eat the skins that cover roasted hazelnuts, but they will be quite bothersome if you decide use the nuts for cooking. Skinning each of the nuts individually will take a lot of time and effort, so you should use a different method.
Put roasted nuts on a clean kitchen towel while they are still hot.
Wrap the towel around the nuts and rub them carefully against each other.
Enjoy your skinned treat.
Note that skins contain quite a few nutrients, so you really should eat them whenever possible. However, sometimes they have a bitter taste. In addition, you need to remember that some species of hazelnuts have very stubborn skins that will not be removed completely regardless of how hard you try to do this.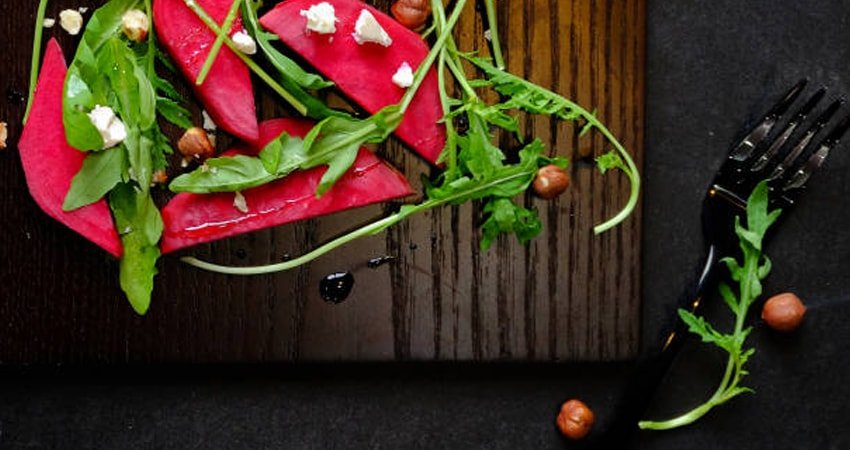 Hazelnut Recipes
Hazelnuts are delicious even when you eat them plain, which is one of the reasons they make such a perfect snack. However, their rich nutty flavor makes them a great addition to many dishes. They are mostly used in the confectionary. In this particular industry, they are added to cakes, candies, and chocolates or sprinkled over sundaes.
Hazelnut butter is very popular because it's a great alternative to peanut butter. Peanut allergy is more common, so hazels are often a safe option for people who suffer from this condition. Milk made from these nuts is delicious and extremely nutritious. It goes well with all kinds of shakes and smoothies.
Sponsored by Food to live
Aside from these common uses, hazelnuts are used in many interesting dishes. One of our favorite recipes is baked beetroot with hazelnut dressing.
Ingredients:
Raw beetroot: 650 g
Hazelnuts: 125 g
Almonds: 125 g
Olive oil: 150 ml
Cider vinegar: 60 ml
Apple juice: 40 ml
Basil: 5 springs (pick and chop the leaves)
Garlic: 1 clove
Parsley: a small bunch (pick and chop the leaves)
Salt
Black pepper
Instructions:
Preheat the oven to 350º F (180º C).
Wash the beetroot.
Put the beetroot into a roasting tin. Add two tablespoons of olive oil, salt, and pepper and toss the beets around to cover them fully.
Cover the roasting tin with foil and put it into the oven for 45-60 minutes.
Whisk olive oil, vinegar, juice, and garlic together.
Add nuts (chopped) and herbs.
Mix the dressing thoroughly.
When the beetroot is done, let it cool for a bit.
Cut beetroot in bite-sized pieces and cover them with dressing.
Serve at room temperature.
If you aren't fond of beetroot, try one of the dozens hazelnut recipes you can find online.