February 08, 2023 · Written by Foodtolive Team
Pink Velvet Latte
Cozy up to this warm spiced Creamy Beetroot Latte. Vegan, dairy free, naturally sweetened and caffeine free. Perfect drink for Valentine's Day!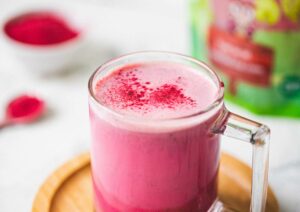 Prep Time: 5 min | Cook Time: 0 min | Total Time: 5 min | Servings: 1
Calories: 61 | Total Fat: 2.1g | Sodium: 182mg | Fiber: 1.2g | Protein: 1.5g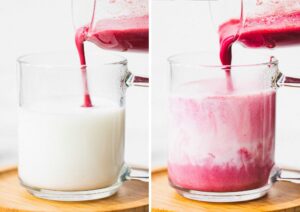 INGREDIENTS: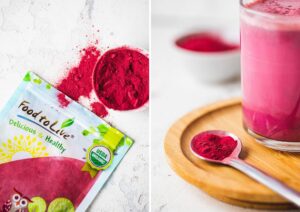 INSTRUCTIONS:
Add the beetroot powder, ground cinnamon, ginger powder, ground nutmeg, maple syrup and ½ cup milk to a mug and froth up with a milk frother.
Pour the beet mixture into the remaining ½ cup milk and stir to combine.
Top with some extra beet powder/cinnamon and enjoy!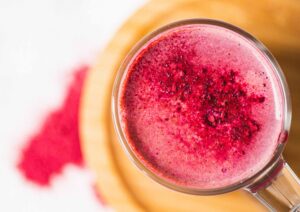 NOTES:
This beetroot latte can be sweetened with date syrup or agave syrup
Any plant based milk will work in this recipe
To make an iced latte, fill a large glass with ice. Pour in the warm latte mixture. Then pour in the remaining cold milk, and stir until combined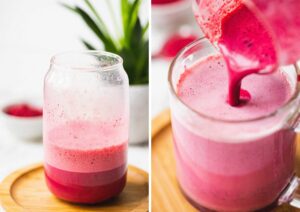 Find more healthy drinks recipes in our previous posts:
Video recipe: