December 29, 2019 · Written by Foodtolive Team
Vegan Holiday "Eggnog"
Rich, creamy, and made without any eggs or dairy, this luscious vegan eggnog is super easy to whip up and perfect for holiday gatherings!
Prep Time: 5 min | Cook Time: 10 min (+8 hours for soaking) | Total Time: 15 min | Servings: 4
INGREDIENTS:
3 cups dairy-free milk (preferably homemade — see instructions)
1 14-oz can full-fat coconut milk
2 Tbsp maple syrup
1/2 tsp ground cinnamon, plus more for serving
1/4 tsp ground nutmeg
1 tsp vanilla extract
3 pitted Medjool dates
Coconut whipped cream for serving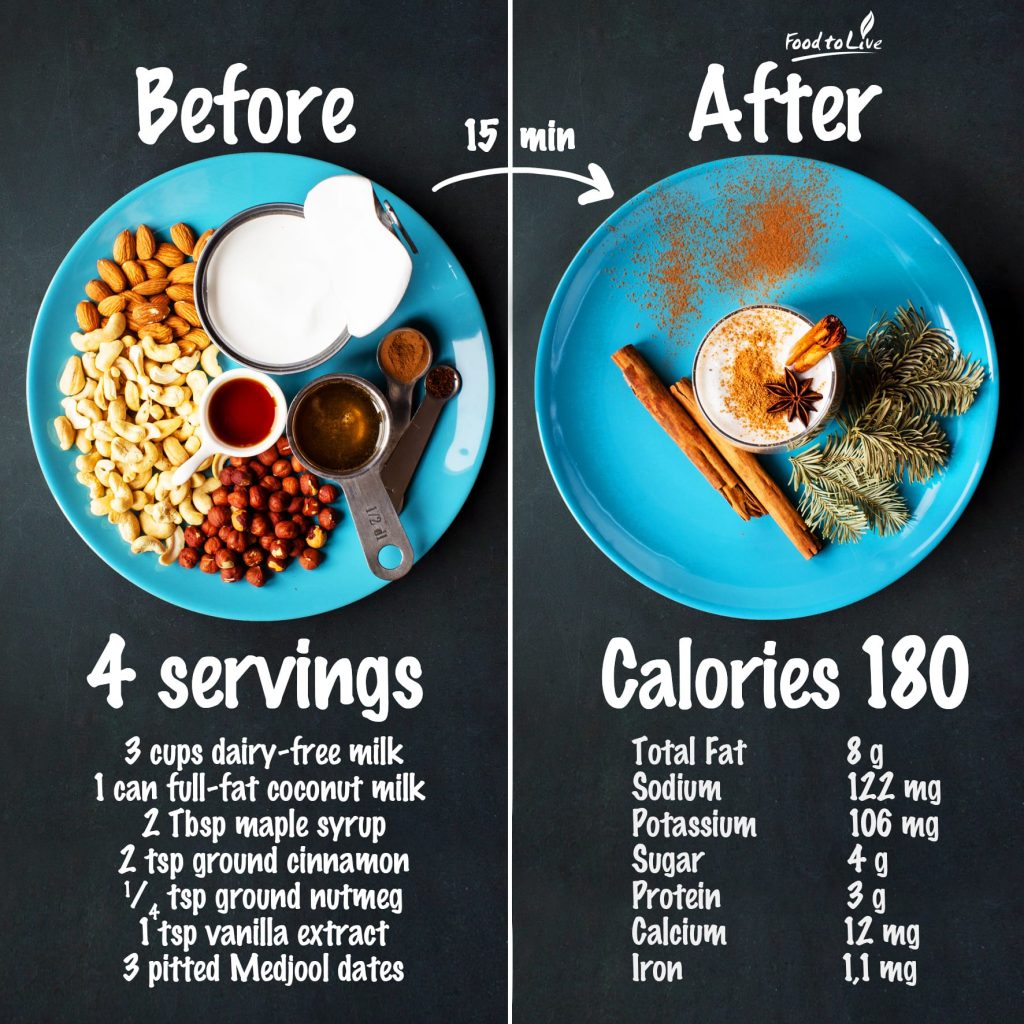 INSTRUCTIONS:
If making your own dairy-free milk, soak nuts of choice (we prefer cashew-almond-hazelnut mix) overnight in cool water or cover with hot water and soak for 1 hour. Then drain, rinse well, and add to a high-speed blender along with the desired amount of filtered water.
Strain through a nut milk bag and set aside.
To a high-speed blender, add 3 cups (710 ml) dairy-free milk, coconut milk, maple syrup, cinnamon, nutmeg, vanilla extract, and Medjool dates.
Blend on high until creamy and smooth — 1-2 minutes. Then taste and adjust flavor as needed, adding more spices for warmth.
For serving, enjoy cold, over ice, or hot by heating over medium heat until warm. Optionally, you can add 1/2 – 1-ounce bourbon per 1 cup (8-ounce) serving.
Serve as is or with coconut whipped cream and a pinch more cinnamon.