May 19, 2020 · Written by Foodtolive Team
Tuscan Chickpea Flatbread
Experience the flavors of Tuscany with this delicious Chickpea Flatbread. This easy and flavorful dish brings the rustic tastes of Italy to your table.
Prep Time:2 hours | Cook Time: 20 min | Total Time: 2 hours 20 min | Servings: 4
INGREDIENTS:
1 1/4 cups organic garbanzo bean flour
1 1/2 cups water, at room temperature
5 tbsp olive oil
1/2 tsp sea salt
freshly ground black pepper, for topping
dried rosemary, or topping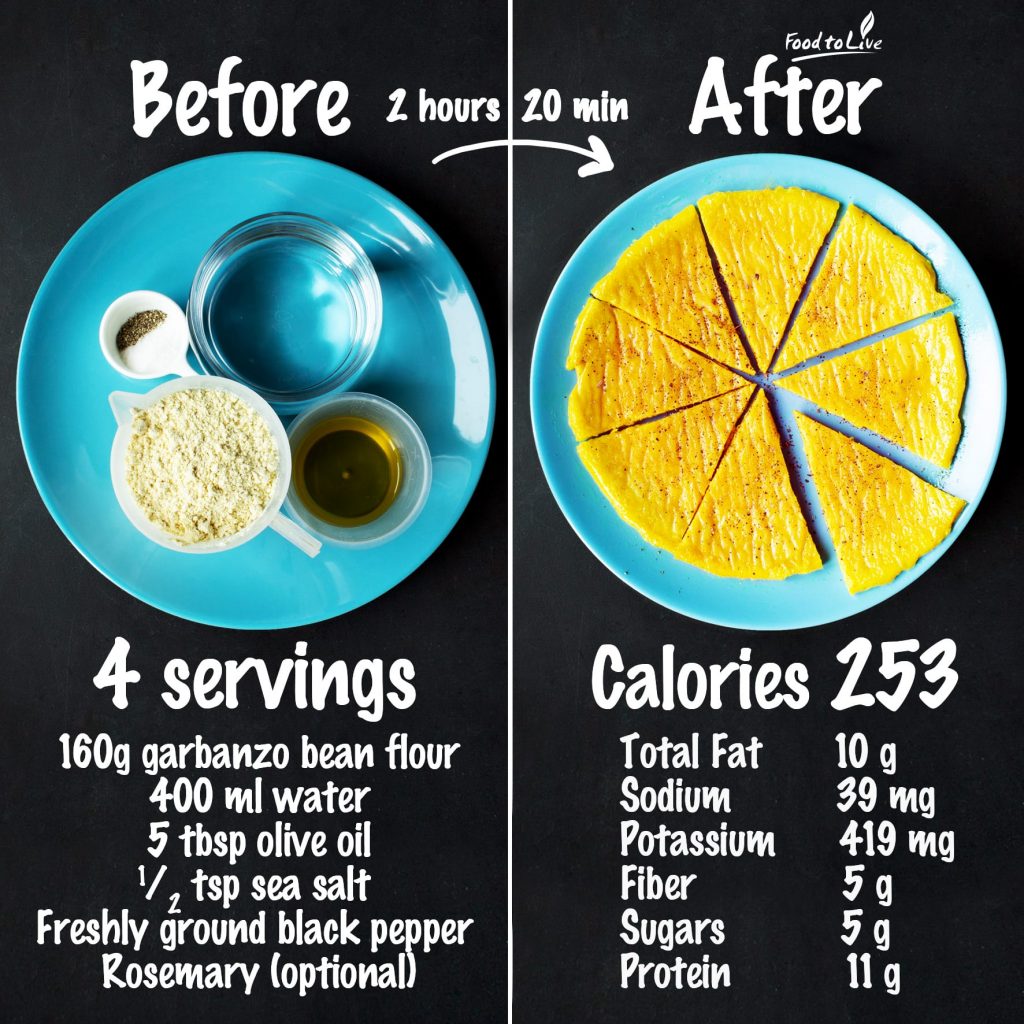 INSTRUCTIONS:
Preheat your oven to 450°F (230°C).
In a mixing bowl, combine the garbanzo bean flour, water, 3 tbsp of olive oil, and sea salt. Stir until you have a smooth batter with no lumps.
Allow the batter to rest for about 30 min. This will help the chickpea flour absorb the water and improve the texture of the flatbread.
Grease a round pan, using remaining 2 tbsp of olive oil.
Once the batter has rested, pour it onto the prepared pan. Use a spatula to spread it evenly, creating a thin layer.
Sprinkle freshly ground black pepper and dried rosemary over the top of the batter for added flavor.
Place the pan with the batter into the preheated oven.
Bake for approximately 15-20 min or until the flatbread is golden brown.
Remove the flatbread from the oven and let it cool for a few min. You can cut it into slices and serve it warm. It's delicious on its own or with your favorite dips and spreads. Enjoy!
This recipe adapted from Inside The Rustic Kitchen