May 19, 2020 · Written by Foodtolive Team
Tuscan Chickpea Flatbread
Cecina, Tuscan Chickpea Flour Flatbread recipe made of only a few ingredients: garbanzo bean flour, water, olive oil, and salt. A traditional authentic Italian recipe that makes a perfect snack. It's nutritious, simple to make, and incredibly delicious. Gluten-free. Vegan
Prep Time:2 hours | Cook Time: 20 min | Total Time: 2 hours 20 min | Servings: 4
INGREDIENTS:
400 ml water, at room temperature
5 tbsp olive oil
1/2 tsp sea salt
freshly ground black pepper (for topping)
rosemary (for topping, optional)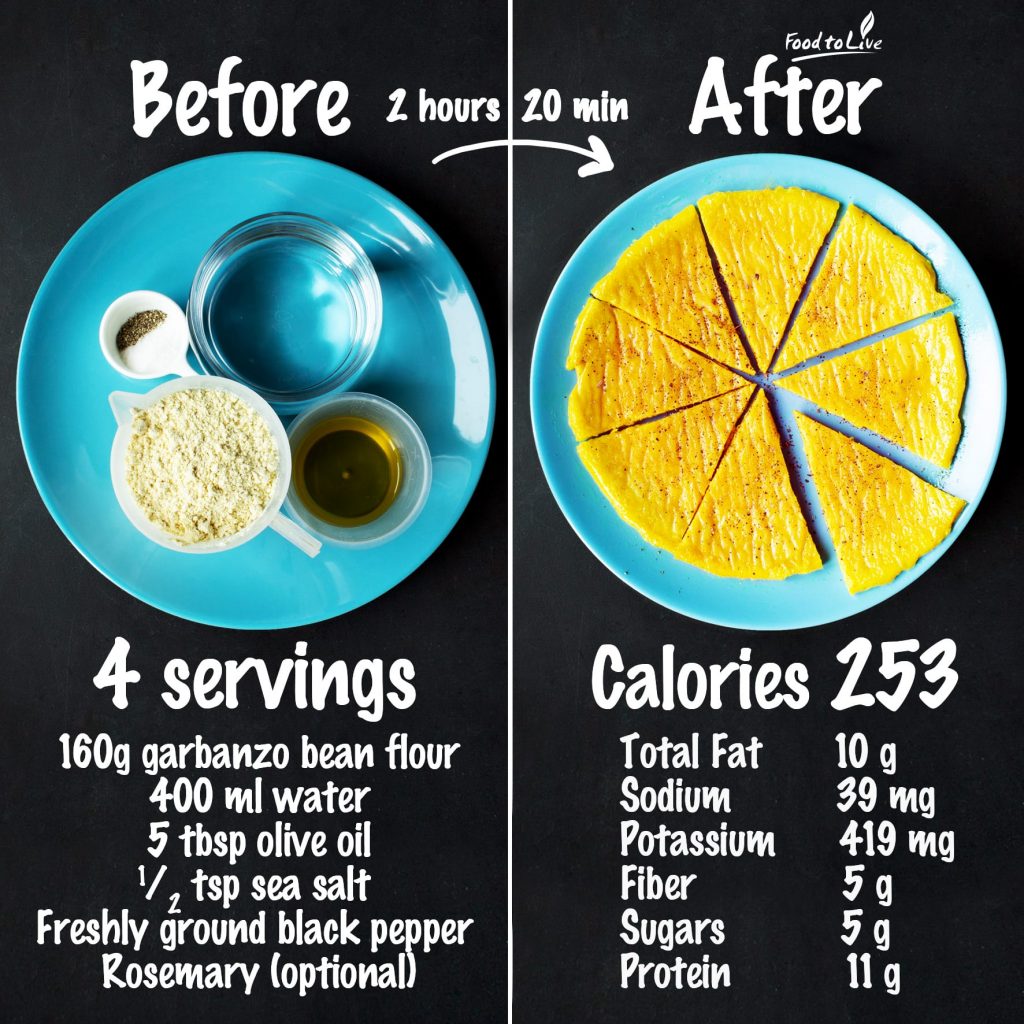 INSTRUCTIONS:
Put the garbanzo bean flour in a large bowl with a pinch of salt.
Gradually add in the water while whisking to avoid any lumps.
When the batter is smooth add half the olive oil. Stir, cover with plastic wrap, and let rest for 2 hours (no need to refrigerate.)
Once rested pre-heat the oven to 230C/450F.
Add the rest of the oil to a non-stick 30 cm pizza tray and spread it with a brush.
Pour the batter into the skillet until 5mm or 1/4 inch thick (it shouldn't be any higher) and bake in the oven for 20 minutes or until golden on top and crispy around the edges.
Remove from the oven and let rest for 5 minutes before removing it to a cutting board. Sprinkle with a freshly ground black pepper, coarse sea salt (if you like), and few rosemary sprigs (optional).
Cut into slices. Eat while hot!