October 17, 2018 · Written by Foodtolive Team
Savory Vegan Mini Frittatas
Brighten your day with these colorful mini vegetable frittatas! They're bursting with the goodness of chickpea flour, which means loads of fiber and protein to power up your breakfast or afternoon snack.
Prep Time 10 minutes | Cook Time 25 minutes | Total Time 35 minutes | Serving: 12 mini frittatas
INGREDIENTS:
2 bell peppers, chopped
1 cup broccoli, chopped
1 cup corn
1/2 cup spinach, thinly sliced
1/2 cup green onion, thinly sliced
2 cups chickpea flour
2 tablespoons extra virgin olive oil
1/4 cup nutritional yeast
1 tsp baking powder
1 tsp sea salt
1/2 tsp black pepper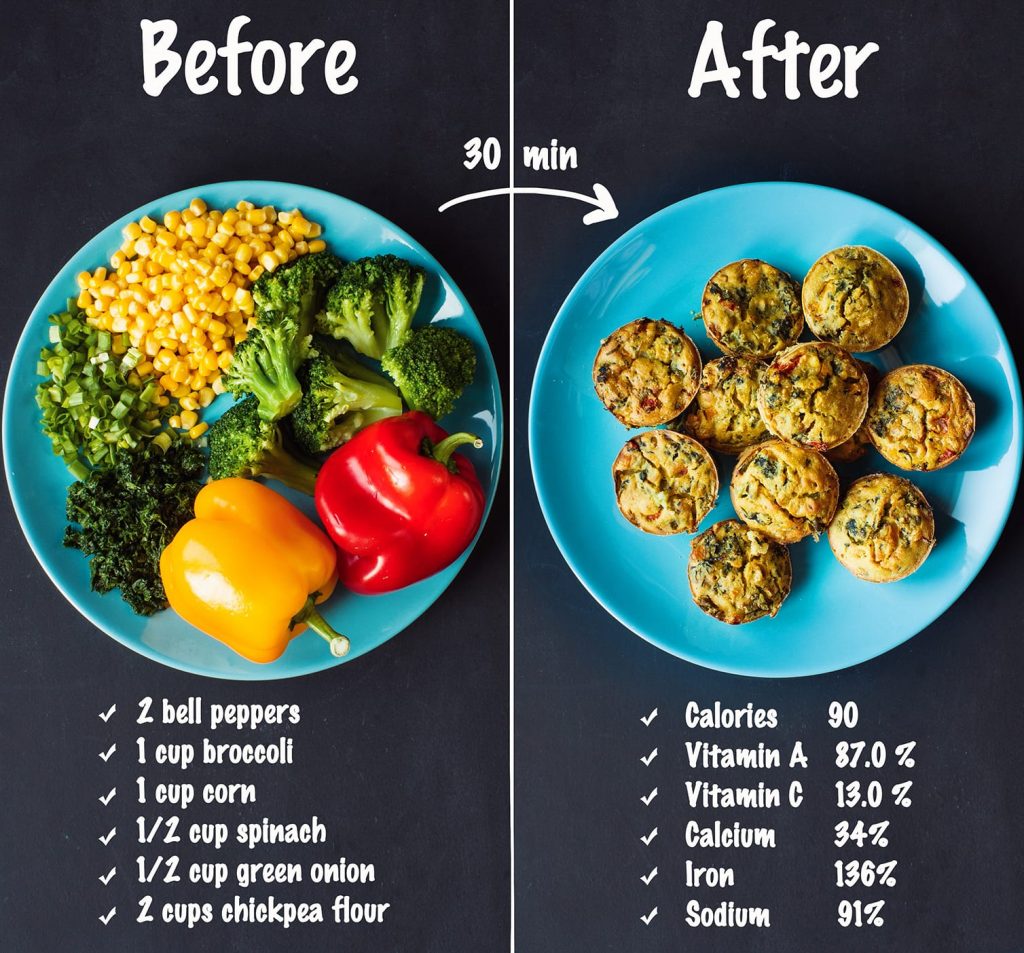 INSTRUCTIONS:
Preheat your oven to 375°F (190°C) and grease a muffin tin or use muffin liners.
In a large mixing bowl, combine the chickpea flour, nutritional yeast, baking powder, sea salt, and black pepper. Mix well to ensure the dry ingredients are evenly distributed.
In a separate bowl, whisk together the extra virgin olive oil and enough water to make 2 cups of liquid in total. This should be roughly 1 and 3/4 cups of water.
Pour the wet mixture into the bowl with the dry ingredients and stir until you have a smooth batter.
Now, add in the chopped bell peppers, broccoli, corn, spinach, and sliced green onions. Mix everything together until the vegetables are evenly distributed throughout the batter.
Using a ladle or spoon, fill each muffin cup with the mixture. Fill them almost to the top but leave a little room for expansion.
Place the muffin tin in the preheated oven and bake for about 20-25 min or until the frittatas have set and the tops are lightly golden brown. You can check for doneness by inserting a toothpick into the center – it should come out clean when they're ready.
Allow the mini frittatas to cool in the muffin tin for a few minutes before transferring them to a wire rack to cool completely.
Serve and enjoy your chickpea flour mini vegan frittatas as a nutritious and colorful snack or breakfast option!
This recipe slightly adapted from The Mostly Vegan
Video Recipe