August 09, 2019 · Written by Foodtolive Team
Potato Cakes with Rice
Experience the delightful blend of crispy outsides and tender insides with these Mashed Potato Rice Cakes! They're simple to prepare and taste fantastic!
Prep Time: 5 min | Cook Time: 15 min | Total Time: 20 min | Servings: 14 cakes
INGREDIENTS:
1 pound

(450g)

potatoes, peeled

1 cup

(200g)

basmati white rice, cooked
2 onions, diced
2 carrots, grated
fresh parsley, chopped
fresh dill, chopped
2tsp vegetable oil
salt to taste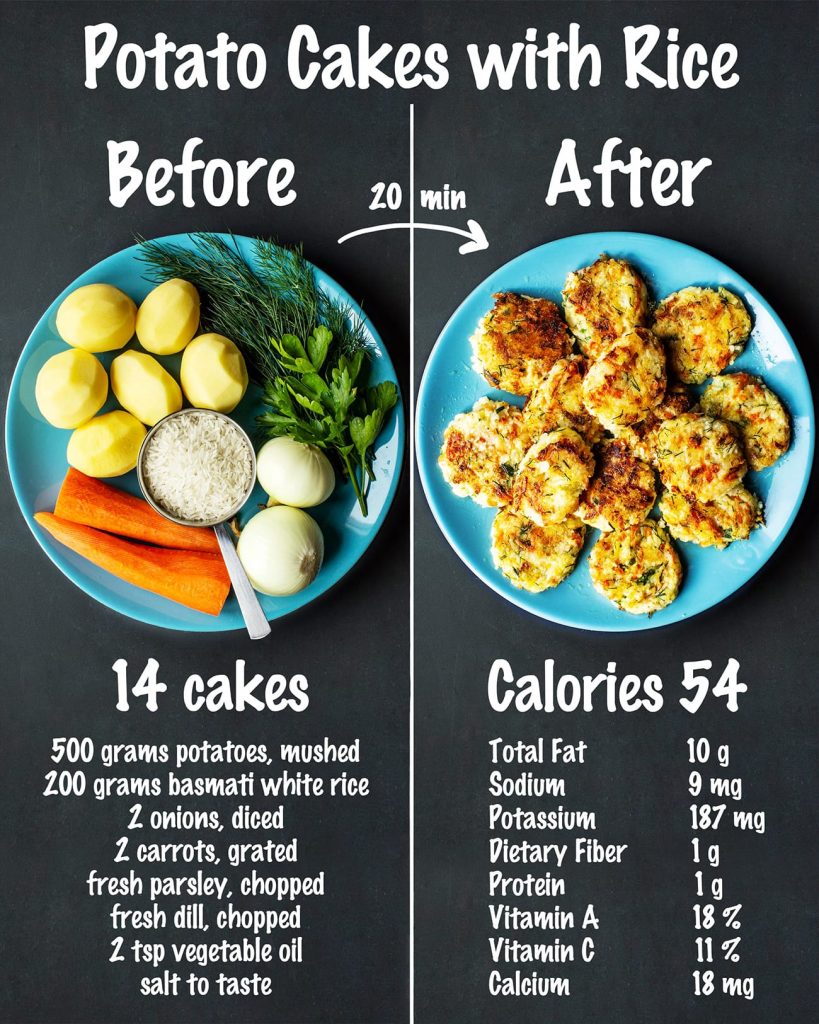 INSTRUCTIONS:
Place the potatoes in a saucepan, cover them with water, and bring it to a boil. Once boiling, add a pinch of salt and simmer the potatoes until they're easily pierced with a fork. Then, remove them from heat, drain, and mash.
Saute onions and carrots until they're soft.
In a bowl, mix together the mashed potatoes, cooked rice, sautéed carrots, onions, parsley, dill, and season with salt to your taste. Divide the mixture into 15 portions, shaping them into balls and then flattening them into cakes with your hands.
Heat vegetable oil in a pan and carefully fry the cakes until they turn a lovely golden brown and become crispy. Be gentle when handling them as the mixture can be quite soft.
Serve the cakes warm. Enjoy!
This recipe slightly adapted from Little Sunny Kitchen
Video Recipe