September 28, 2023 · Written by Foodtolive Team
Jar Salads: Your Complete Home Prep Guide
Jar salads are a game-changer when it comes to convenient and healthy meal prep. Whether you're a busy professional, a student on the go, or just someone looking to make healthier eating choices, jar salads are a versatile and tasty option. In this blog post, we'll dive into all the essentials you need to know about jar salads, from why you should make them to the best ingredients, layering tips, storage, serving suggestions, and even some delicious jar salad recipes to get you started.
Why Make a Salad in a Jar?
Portability: One of the primary reasons to make a salad in a jar is its portability. The layered structure keeps ingredients fresh and crisp until you're ready to enjoy your meal, making it a perfect option for lunches at work or school.
Meal Prep: Jar salads are an excellent meal prep solution. By assembling several jars at once, you can save time and ensure you have healthy meals readily available throughout the week.
Customization: You have full control over the ingredients, allowing you to create salads tailored to your taste and dietary preferences.
What is the Best Size Jar to Use?
The best jar size for salads typically ranges from 32 ounces (1-quart) to 64 ounces (2-quart). These sizes offer ample space for layering ingredients without overcrowding. Choose jars with a wide mouth for easy filling and serving.
What are the Best Ingredients for Jar Salads?
The beauty of jar salads is their versatility. You can mix and match ingredients to suit your taste, but here are some staples to consider:
Greens: Start with a layer of greens like spinach, kale, or mixed lettuce as the base.
Protein: Add a protein source like grilled chicken, tofu, chickpeas, or quinoa for a satisfying meal.
Vegetables: Incorporate a variety of colorful vegetables for flavor and nutrition.
Grains: Whole grains like quinoa, brown rice, or couscous can add texture and substance to your salad.
Nuts and Seeds: Sprinkle in some nuts (e.g., almonds, walnuts) and seeds (e.g., sunflower, pumpkin) for a crunchy element.
Dressing: Choose your favorite dressing to enhance the flavors of your jar salad. Dressings not only add taste but also help bind the ingredients together.
How To Layer Meal Prep Salad Jars?
Proper layering is crucial to keep your ingredients fresh. Follow these steps from bottom to top:
Dressing: Start with your dressing at the bottom to prevent it from coming into contact with the greens, which can make them wilt. Use about 2 tablespoons of dressing.
Hard Vegetables: Add hard, sturdy vegetables like carrots, bell peppers, or cucumbers.
Protein and Grains: Layer your chosen protein and grains on top of the vegetables.
Softer Vegetables: Add softer vegetables like tomatoes or avocados.
Nuts and Seeds: Sprinkle nuts and seeds for crunch.
Greens: Finish with your leafy greens on top.
Storing & Serving Tips
Seal the jar tightly to keep air out and maximize freshness.
Store jar salads in the refrigerator, and they can last for up to 5 days.
When ready to eat, shake the jar to distribute the dressing, then pour the contents into a bowl or eat directly from the jar.
Jar Salad Recipe Ideas
Mediterranean Chickpea Salad:
Dressing: Greek vinaigrette
Layered ingredients: Cherry tomatoes, cucumber, red onion, chickpeas, feta cheese, Kalamata olives, mixed greens.
Thai Quinoa Salad:
Dressing: Peanut ginger dressing
Layered ingredients: Red bell pepper, shredded carrot, edamame, cooked quinoa, red cabbage, chopped peanuts, spinach.
Pesto Pasta Salad:
Dressing: Pesto sauce.
Layered ingredients: Cooked pasta (like rotini or fusilli), cherry tomatoes, mozzarella balls, fresh basil leaves, and baby spinach.
Mexican-Inspired Fiesta Salad:
Dressing: Cilantro-lime vinaigrette.
Layered ingredients: Black beans, corn, cherry tomatoes, diced red onion, cooked quinoa, shredded lettuce, shredded cheddar cheese, and top with tortilla strips.
Asian Noodle Salad in a Jar:
Dressing: Soy ginger dressing.
Layered ingredients: Cooked and cooled soba noodles, shredded carrots, bell peppers, edamame, shredded red cabbage, snow peas, and chopped cilantro.
Sweet and Savory Berry Salad:
Dressing: Raspberry vinaigrette.
Layered ingredients: Grilled chicken or tofu, strawberries, blueberries, goat cheese, mixed greens, and candied pecans.
Caprese Quinoa Salad:
Dressing: Balsamic glaze.
Layered ingredients: Cooked quinoa, cherry tomatoes, fresh mozzarella balls, fresh basil leaves, and mixed greens.
Southwest Black Bean Salad:
Dressing: Chipotle-lime dressing.
Layered ingredients: Black beans, corn, red bell pepper, diced red onion, diced avocado, chopped cilantro, and mixed greens.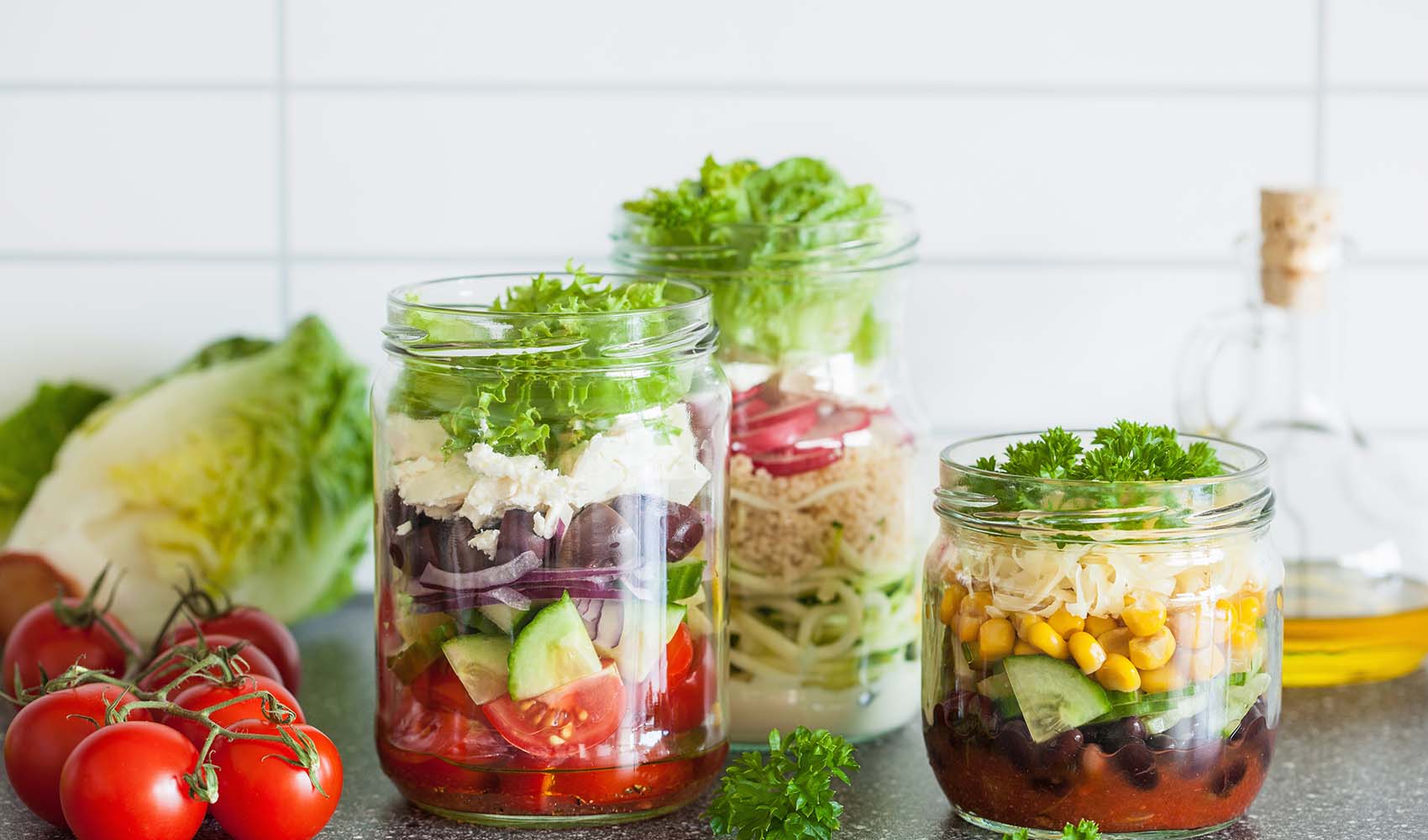 Jar salads are a fantastic way to enjoy healthy, customizable meals with minimal effort. By following the tips and recipes outlined in this blog post, you'll be well-equipped to prepare and enjoy delicious jar salads that fit your lifestyle and dietary preferences. Happy salad-making!