June 16, 2020 · Written by Foodtolive Team
Easy Pine Nuts Arugula Pesto
A homemade bright and peppery arugula pesto, balanced with olive oil and toasty pine nuts. Ready in 10 minutes!
Prep Time: 5 min | Cook Time: 5 min | Total Time: 10 min | Servings: 4
INGREDIENTS:
2 cups baby arugula
1/3 cup pine nuts, roasted
1/2 lemon, juiced
1/3 cup Parmesan cheese, sliced
3 garlic cloves, peeled
1/2 tsp Himalayan pink salt
1/2 tsp freshly ground black pepper
1/2 cup olive oil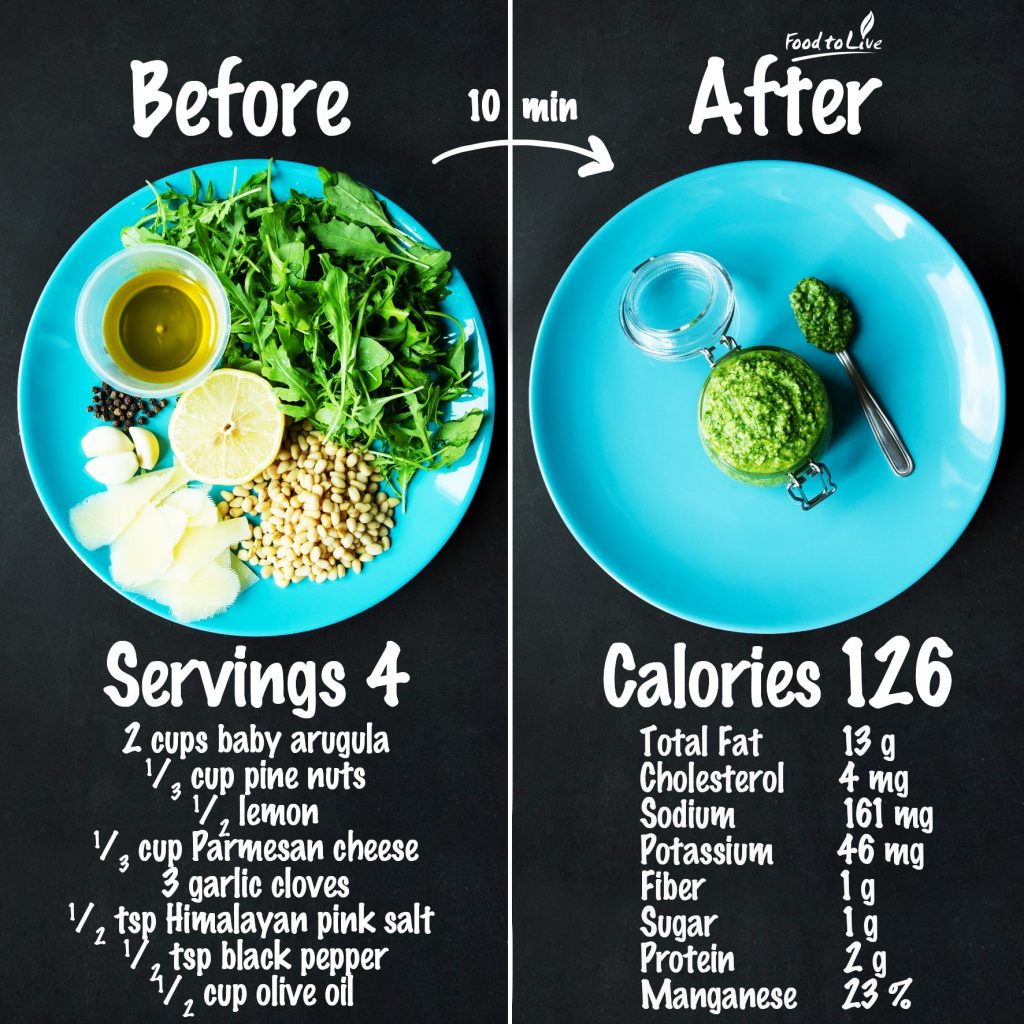 INSTRUCTIONS:
Place baby arugula, roasted pine nuts, lemon juice, sliced Parmesan cheese, peeled garlic cloves, Himalayan pink salt, and freshly ground black pepper in a food processor.
Pulse the ingredients in the food processor until they are roughly combined. You want them to be coarsely chopped at this stage.
With the food processor running, slowly drizzle in the olive oil. Continue processing until the mixture becomes smooth and well blended. You may need to scrape down the sides of the processor with a spatula and pulse again to ensure everything is well incorporated.
Taste the pesto and adjust the seasonings if necessary. You can add more salt, pepper, or lemon juice to suit your taste.
Your homemade pesto is now ready to be used! You can mix it into cooked pasta, spread it on sandwiches, use it as a dip, or get creative with your favorite dishes. Enjoy your delicious homemade pesto!
This recipe adapted from Cupcakes and Sarcasm
Video Recipe