April 19, 2019 · Written by Foodtolive Team
How to Make Homemade Oat Milk
Homemade oat milk is smooth and scrumptious. Nothing will whet your appetite like homemade oat milk, and it only takes measly 5 minutes to prepare! All you are some rolled oats. You can add any syrup, maple or any other that you prefer, vanilla extracts, some salt, and any flavoring that you love the most. Mix everything with the use of an ordinary home blender and strain by using a nut milk bag. You will end up with an incredibly delectable sweet oat taste. You can drink it directly or enjoy it with frosty smoothies on a sizzling summer. You can also pour it over cereal, or put it in tea or coffee.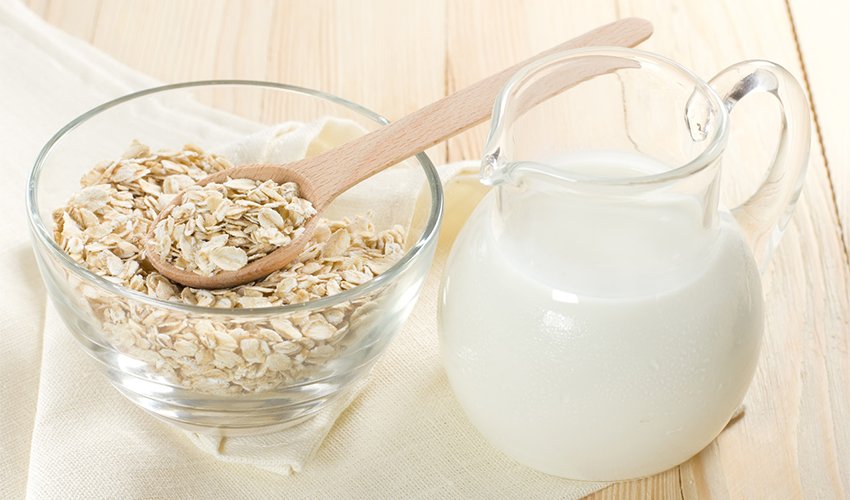 HERE ARE SOME TIPS WHEN PREPARING HOMEMADE OAT MILK:
You can soak the rolled oats.

Straining oat milk.
It is easy and fast to strain oat milk, especially if you are using a nut milk bag. It is designed to extract juice from nuts of this kind. However, if you do not have a nut milk strain, you can use any other type of strainer, for example, cheesecloth and a home sieve. Nevertheless, if you have an unrivaled love for oat milk, then you may have to invest in a nut milk bag, which works perfectly in making homemade oat milk.
Oat milk in cereal, tea, or coffee.
The taste of oat milk in coffee or tea is out of this world. It is even tasty over cereal. You may need to heat it to make it thick and chunky. Oat milk blends perfectly with hot drinks, such as tea or coffee, especially when heated. You can store it for almost five days while refrigerated. When retrieving it from the fridge, shake it up a little to achieve an even consistency.
HOMEMADE OAT MILK RECIPE
This Homemade creamy and delicious Oat Milk recipe is 5 easy ingredients, ready in minutes, and delicious in tea or coffee or poured over cereal.
Prep Time: 5 min | Cook Time: 5 min | Total Time: 10 min | Servings: 4 cups
INGREDIENTS:
90g / 1 cup rolled oats
960mls / 4 cups water
2 tbsp maple syrup, (optional)
1 tsp vanilla extract, (optional)
small pinch salt, (optional)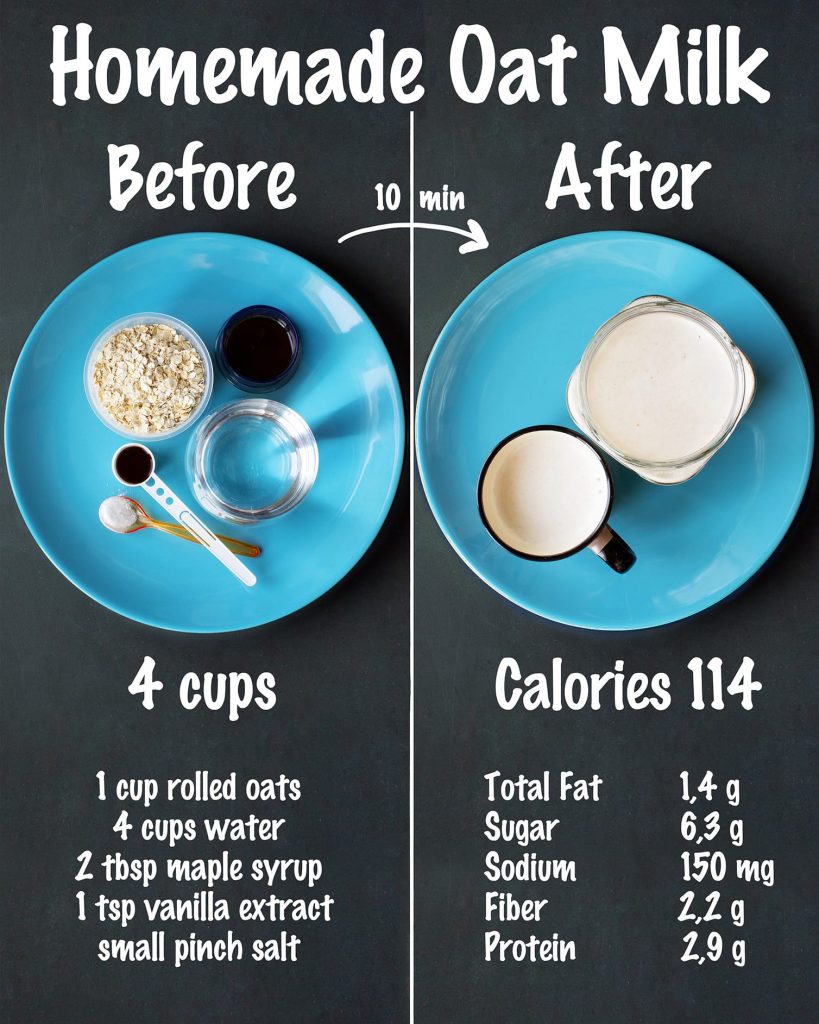 INSTRUCTIONS:
Add all the ingredients to your blender and blend until well blended. About a minute.
Strain through a nut milk bag or place cheesecloth over a strainer and strain it through that.
Store the milk in the fridge where it will stay fresh for up to 5 days. Shake it well before use.
Use in your tea or coffee or pour over cereal.
NOTES:
Don't soak your oats first, we found this caused sliminess, no matter how much they were rinsed.
Don't heat the milk as it causes it to get very thick. It can be added to hot drinks like tea and coffee though.
This recipe is gluten-free as long as you use gluten-free rolled oats.