July 30, 2022 · Written by Foodtolive Team
Homemade Popcorn Seasoning Ideas
A movie night whether at home or cinema is normally associated with one and only snack. Can you guess which? That's Right! Popcorn!
Popcorn is made from corn. When heated, corn grains break and turn inside out becoming an airy snack. It can be both sweet and salty, seasoned with various food additives, so that everyone has a favorite option. When it's air-popped and lightly seasoned, popcorn is an efficiently healthy snack. Federal dietary guidelines say half of all grains consumed should be whole grains, and popcorn packs more fiber per serving than whole-wheat bread. Nevertheless, popcorn at the movies is very different from popcorn made at home. [1] Therefore, this article aims to reveal a collection of homemade popcorn seasoning ideas.
Making homemade seasoning for popcorn is much easier than you could imagine. While cinema popcorn is usually packed with salt or sugar, you may benefit from your own homemade popcorn topping. Let's start with: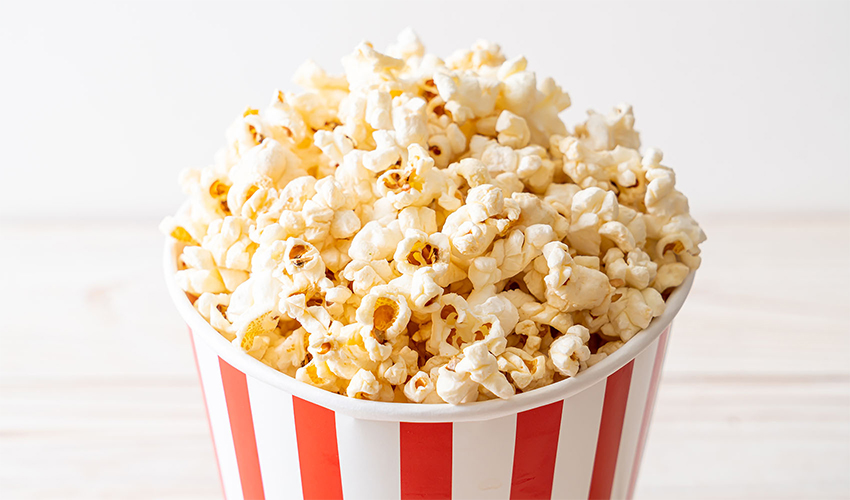 How To Make Stovetop Popcorn at Home
Ingredients:
Olive oil
Popcorn kernels
Instructions:
Combine olive oil and popcorn kernels in a saucepan over medium heat. Cover the pot and wait until the kernels pop.
As soon as popcorn kernels pop, turn off the burner, remove the pot from the heat and pour in the remaining popcorn kernels.
Cover the pot again and let the pot rest for 60 seconds to ensure the olive oil doesn't get too hot before the kernels pop.
Turn the heat back up to medium, put the pot back onto the burner, and continue cooking popcorn, carefully shimmying the pot occasionally to cook the kernels evenly. Once the kernels start popping, tip the lid just a touch to allow steam to escape. [2]
Cook until the popping sound slows.
Pour popcorn into a bowl. Sprinkle popcorn with any topping you like or a pinch of salt.
How to Air Popcorn | Microwave Method
Add popcorn kernels into a paper bag. Make sure the bag does not open in the middle of microwaving. Microwave the popcorn for 3 minutes, or until the popping becomes inconsistent. [6]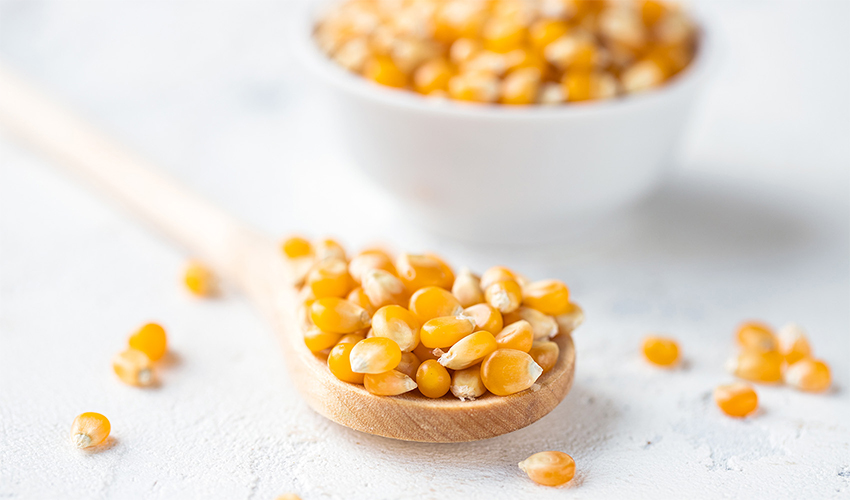 Flavored Popcorn Recipes
Turn your living room into a cinema, make your own popcorn with your favorite ingredients or snack on it during the day to benefit from its taste and nutrients. Sweet, salty, crunchy…let's learn some easy healthy recipes for flavored popcorn.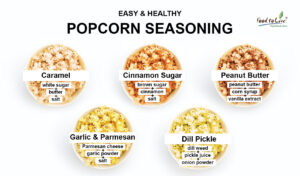 Cinnamon Sugar Popcorn Seasoning
Prep time: 15 min
Ingredients:
Popcorn kernels
2-2.5 tablespoons brown sugar
1 teaspoon organic ground cinnamon
Butter spray
Sea salt
Instructions:
Put popcorn in a large bowl.
Combine brown sugar, cinnamon, and sea salt in a small bowl.
Coat popcorn with buttery spray.
Add a mixture from the 3d step and gently toss to coat well.
Peanut Butter Popcorn
Prep time: 10 min
Ingredients:
1 cup popcorn
1/2 teaspoon sea salt (to taste)
1 cup peanut butter
1 cup light corn syrup
1 teaspoon vanilla extract
1 cup sugar
Instructions:
Pop popcorn.
In a saucepan, mix sugar and corn syrup. Set over medium heat and bring to a boil. Boil for 2 minutes. Remove from the heat.
Add the peanut butter and stir in the vanilla.
Season the mixture over the popcorn.
Garlic and Parmesan Topping Recipe
Prep Time: 15 min
Ingredients:
2 tablespoons popcorn kernels
1 tablespoon vegetable oil
1 tablespoon ground Parmesan cheese
¾ tablespoon garlic powder
a pinch of ground black pepper
1/8 teaspoon salt
Instructions:
Add oil to a large pot over medium heat. Add the popcorn kernels and cover. Shake the pot every few minutes. When kernels are popped, set aside.
Combine Parmesan cheese, parsley, garlic powder, and salt.
Season the popcorn with 1 teaspoon of oil. Stir to coat. Immediately sprinkle the seasoning on the popcorn and stir again to coat. [3]
Dill Pickle Popcorn
Prep time: 5 min
Ingredients:
10 cups popped popcorn
½ teaspoon sea salt
1 teaspoon dill weed
¼ teaspoon onion powder
¼ teaspoon garlic powder
¼ teaspoon coriander
1-2 tablespoons pickle juice
¼ teaspoon dry mustard
Instructions:
Mix all spices.
Drizzle hot and fresh popcorn with pickle juice. Toss to coat.
Sprinkle with the topping and toss again to coat. [4]
Ranch Popcorn Seasoning
Prep time: 15 min
Ingredients:
¼ teaspoon onion powder
1/8teaspoon garlic powder
¼ teaspoon dried dill weed
1/8 teaspoon sea salt
1/8 teaspoon vegetable oil
1/8 teaspoon ground black pepper
Instructions:
Mix all the ingredients above in a small bowl.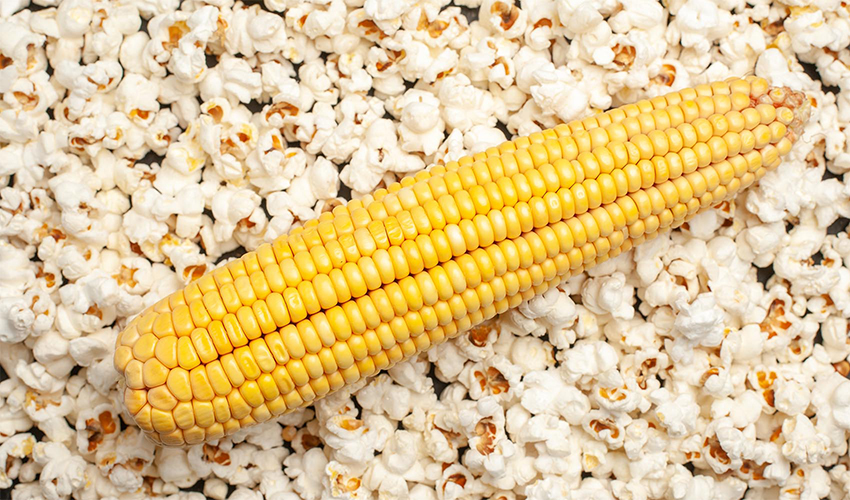 Is Popcorn Really Healthy?
Popcorn is one of the healthiest of all other snacks. It strengthens bones, muscles, and tissues, and improves digestion. Containing a great number of minerals, 100 grams of popcorn is enough to fill one-third of the daily requirement of phosphorus and one-fifth of the daily norm of iron (2.7 mg) in the human body. Corn contains a lot of fiber, which helps normalize the gastrointestinal tract and peristalsis. This snack also speeds up metabolism, cleanses toxins, increases vitality, and lowers blood sugar and cholesterol. According to Amy Shapiro MS, Rd of Real Nutrition, popcorn can be part of a healthy weight management program as it contains protein and fiber and can fill you up on fewer calories. Popcorn is considered a high-volume food: that's to say, you can eat a large portion without consuming too many calories or added fat grams. [5]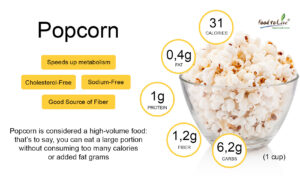 Nonetheless, one should consider potential side effects. Popcorn can cause gas and bloating if it isn't digested properly or if it's consumed in very large quantities. Consider choosing air-popped popcorn as it's packed with antioxidants called phenolic acids. Note, however: when large amounts of butter and salt are added, calories are added as well. So, make sure you choose healthy seasonings to make your popcorn low in calories.
References