December 13, 2022 · Written by Foodtolive Team
Christmas Inspired Popcorn Balls
Children and grown-ups alike will love these Christmas inspired Marshmallow Popcorn Balls! Super fun no-bake treat to make for the holidays!
Prep Time: 5 min | Cook Time: 10 min | Total Time: 15 min | Servings: 8 popcorn balls
Calories: 143 | Total Fat: 3g | Sodium: 20mg | Sugar: 17g | Protein: 1g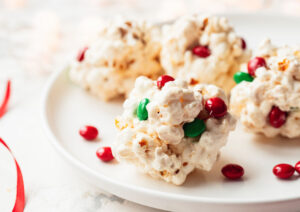 INGREDIENTS:
½ cup unpopped popcorn kernels
½ cup unsalted butter
5 cups mini marshmallows or 3 cups regular marshmallows
1 cup red and green M&M's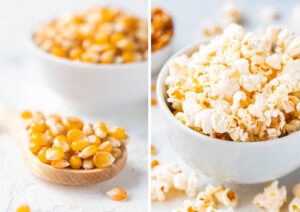 INSTRUCTIONS:
Pop your popcorn kernels using your preferred method. Separate any unpopped kernels and set aside the popped popcorn.
In a large pot, melt the butter over medium-low heat. When the butter is completely melted, add in the mini marshmallows.
Heat the marshmallows, stirring often, until melted and smooth.
Remove the marshmallows from the heat and pour it over the popped popcorn. Gently stir to coat.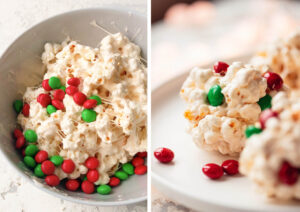 Once all of the popcorn is well-coated and the mixture has cooled a bit, use a rubber spatula to fold in the M&M's candies.
Spray your hands with non-stick cooking spray. Keep the spray handy so you can spray again as needed while forming your balls. Using your hands, scoop about one cup of the popcorn mixture and form into balls by gently pressing the mixture together.
Allow the popcorn balls to sit at room temperature until completely cooled and set. Enjoy!
Wrap any popcorn balls not eaten fresh with plastic wrap and store at room temperature for up to 5 days.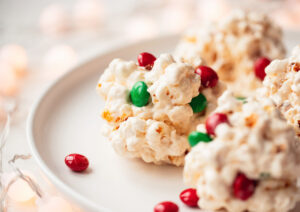 NOTES:
If you wish to give these popcorn balls as a gift, or bring them to a party, wrap each popcorn ball with a square of clear cellophane or plastic wrap, and tie it closed with a ribbon.
This recipe adapted from One Little Project
Video Recipe