November 09, 2022 · Written by Foodtolive Team
Dreamy Violet Macarons – No-Fail Recipe
These beautiful macarons have a brilliant violet color from the sweet potato powder, and a rich almond flavor. Perfect gift for Valentine's Day, Birthday, Mother's Day, House Warming, or Baby Shower.
Prep Time: 1 hour 30 min | Cook Time: 15 min | Total Time: 1 hour 45 min | Servings: 40 shells; 20 sandwiched macarons
Calories: 173 | Total Fat: 9g | Cholesterol: 2mg | Sodium: 15mg | Sugar: 19g | Protein: 1g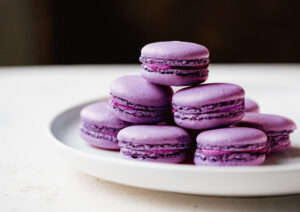 INGREDIENTS:
For the macaron shell:
1 ⅓ cups (128g) almond flour
1 cup (130g) powdered sugar
1 tbsp purple sweet potato powder
100g egg whites (usually between 3–4 large egg whites)
¼ tsp (1g) cream of tartar
⅓ cup (70g) superfine sugar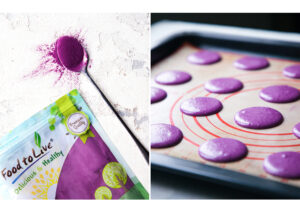 For the buttercream filling:
½ cup unsalted butter, softened to room temperature
1 cup powdered sugar
2 tbsp milk
vanilla extract
2 tsp purple sweet potato powder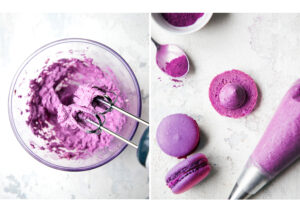 INSTRUCTIONS:
Line 2 large baking sheets with silicone baking mats or parchment paper. Set aside.

Separate egg whites, making sure to leave no traces of egg yolks. Add cream of tartar. Using a handheld mixer or stand mixer fitted with a whisk attachment, beat together on medium speed until very soft peaks form. This takes a few minutes of beating. 

Add about 1/3 of the superfine sugar. Beat on medium-high speed for 5 seconds, then with the mixer continuing to run, add another 1/3 of the sugar. Beat for 5 seconds, then with the mixer continuing to run, add the remaining sugar and purple sweet potato powder. Beat on medium-high speed until stiff glossy peaks form (you can turn the bowl upside down and the egg whites will not move or spill out). 

In the bowl of a food processor, combine the powdered sugar and almond flour, and process on low speed, until extra fine. Sift the almond flour mixture through a fine-mesh sieve into a large bowl.

Slowly fold the beaten egg whites into the almond flour mixture in 3 separate additions, folding until combined before adding the next addition. After the last addition of almond flour, continue to fold slowly until the batter falls into ribbons and you can make a figure 8 while holding the spatula up.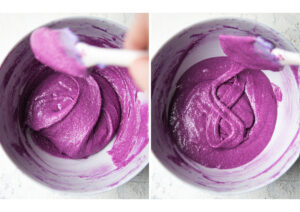 Spoon the macaron batter into a piping bag fitted with a medium round piping tip.

Pipe the macarons onto the silicone baking mat in 1½-inch (3-cm) circles, spacing at least 1-inch (2-cm) apart.

The piped macaron batter flattens out. Bang the pan a couple times on the counter to pop any air bubbles, then use a toothpick to pop any remaining air bubbles.

Let the piped macarons sit out until they are dry and no longer tacky on top, usually 60 minutes. 

Meanwhile, preheat the oven to 300°F (150°C).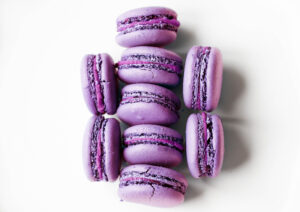 Bake for 15 minutes. As the macaron shells bake, they should form feet. To test for doneness, lightly touch the top of a macaron with a spoon or your finger (careful, it's hot). If the macaron seems wobbly, it's not done and needs another 1-2 minutes. If it seems set, it's done.

Let the shells cool on the baking sheet for 15 minutes, then transfer to a cooling rack to continue cooling.

Make the buttercream filling: with a handheld or stand mixer, beat the butter on medium speed until cream. Add powdered sugar, sweet potato powder, and milk. Beat until smooth.

Transfer the buttercream to a piping bag fitted with a round tip.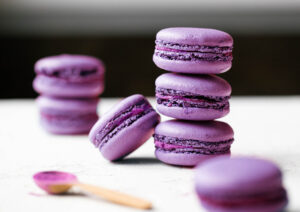 Add a dollop of buttercream to one macaron shell. Top it with another macaron shell to create a sandwich. Repeat with remaining macaron shells and buttercream.

Place in an airtight container for 24 hours to "bloom". Enjoy!

Leftover macarons can be refrigerated covered for up to 5 days (or frozen for up to 1 month).
This recipe adapted from Kim's Eatery
Video Recipe