November 03, 2018 · Written by Foodtolive Team
Autumn Pumpkin Apple Stew
This autumn pumpkin apple stew is hearty yet light – the perfect mix of fall's best produce. Vegan and Gluten-Free.
Prep Time 15 minutes | Cook Time 35 minutes | Total Time 50 minutes | 4 servings
INGREDIENTS:
Extra Virgin Olive Oil for sautéing
1 White Onion Diced
4 Cloves Garlic finely minced
1 Cup Spinach chopped
1 Can (14 oz) Tomatoes diced
2 Cups Pumpkin Purée
4 Cups Vegetable Broth
1 Medium Apple peeled and diced
1 Tsp Salt
1 Tsp Paprika
1/4 Fresh-Cracked Black Pepper
1/4 Tsp Red Pepper
1/2 Tsp Dried Oregano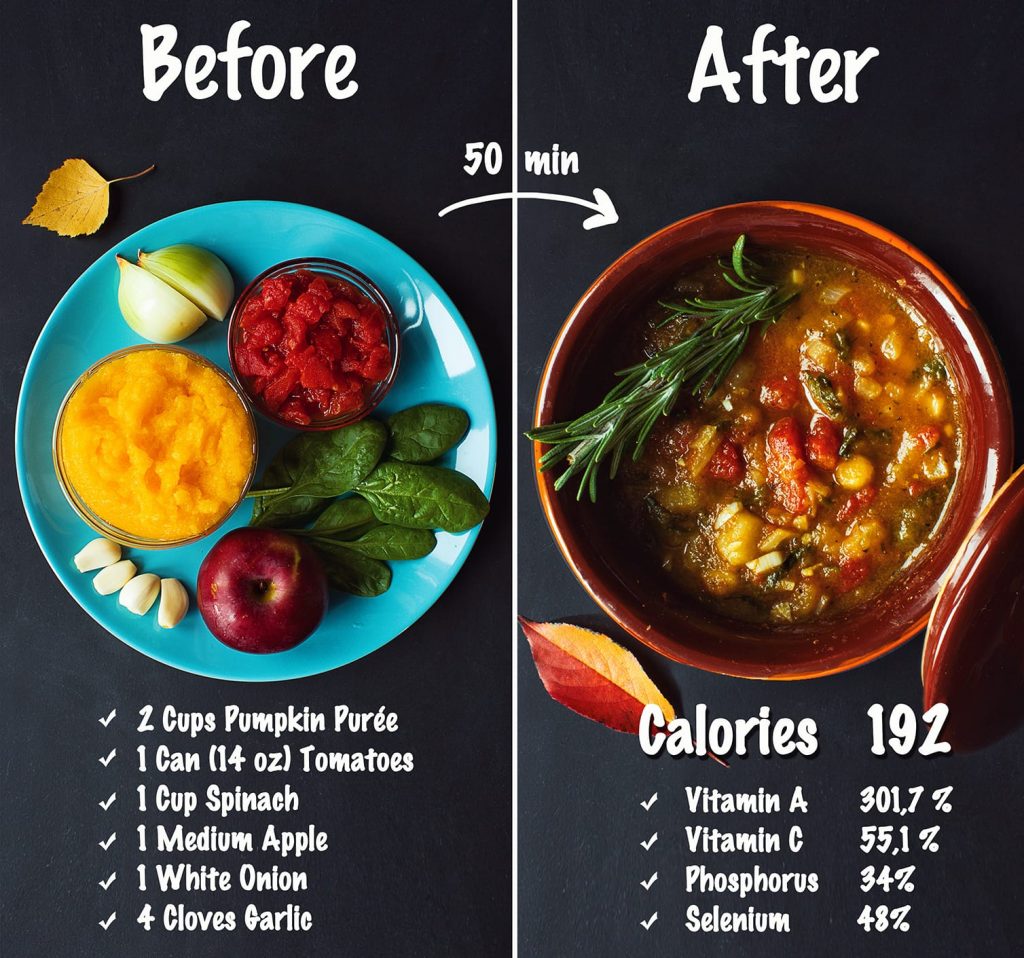 INSTRUCTIONS:
In a large pot, bring the olive oil to medium-low heat. Add in the diced onions and sauté until soft, a few minutes.
Then, add in the garlic and stir until lightly fragrant, about a minute or so. Be careful not to let the garlic brown!
Add chopped spinach and stir it up well with the garlic and onion, for about another minute or so.
Then, add can tomatoes, pumpkin purée, diced apples, and all the spices. Whisk everything until it's all evenly mixed. Taste and adjust the spices if you'd like.
Reduce heat to low, add vegetable broth and let the stew simmer for about 30 minutes.
When done, remove stew from heat and ladle into bowls.
Enjoy!
Recipe Notes
This stew is wonderfully hearty to eat on its own, but would also taste great served with lentils, quinoa, or millet!