March 31, 2021 · Written by Foodtolive Team
What Are The Healthiest Non-Dairy Milk To Drink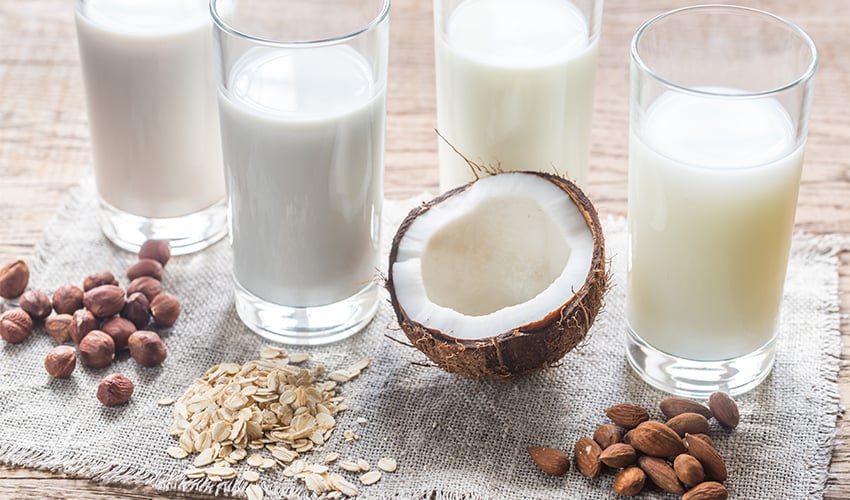 The production of non-dairy milk is rapidly expanding these days. Both for lactose intolerant people and for vegans, plant-based "milk" is a wonderful milk substitute. Perhaps one of the greatest advantages of non-dairy milk alternatives is the fact that much less water is used during its production. Consequently, it is not as harmful to the environment as dairy milk is.
There is a great number of non-dairy milk options for you to choose from:
Almond milk
Rice milk
Soy milk
Oat milk
Hemp milk
Flaxseed milk
Coconut milk
Let's single out the most prominent health benefits of each: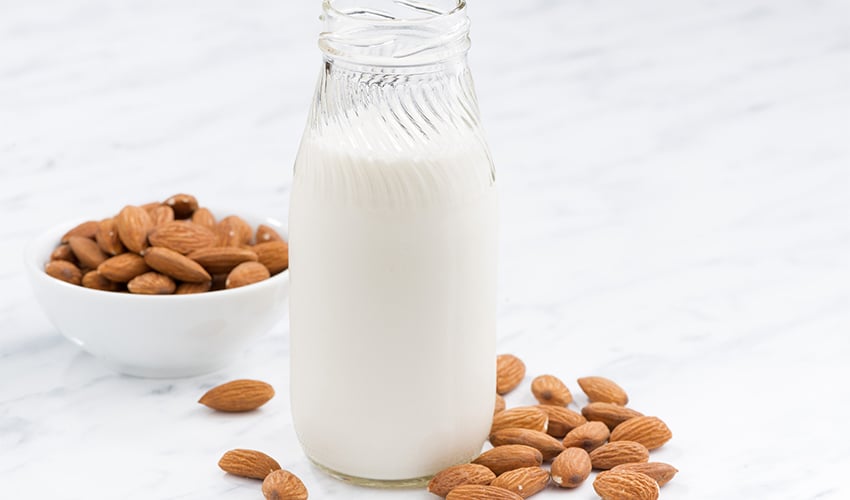 Almond milk
Almond milk contains fiber, which helps to protect the intestinal wall. Vitamin B2, (also found in almond milk) helps strengthen nails and hair, as well as keep skin hydrated. In addition, due to phosphorus and magnesium content, almond milk maintains the work of the heart.
However, there are certain contraindications:
If you are allergic to nuts, almond milk is not for you. Furthermore, it can be harmful to children. As babies develop, they require a certain amount of vitamin C, which almond milk lacks.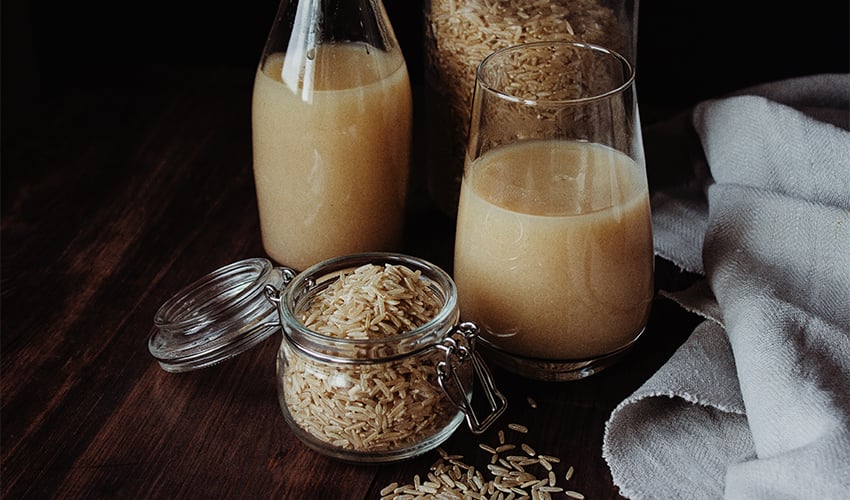 Rice milk
Rice milk is a valuable energy resource that improves digestion and promotes cell growth. As a result, the aging process is slowed down and the blood flow is significantly increased. Rice milk is extremely good for our skin due to para amino benzoic acid – one of the components that help to protect the skin from the negative sun rays. Moreover, it is useful for our digestive system, making our intestine work more efficiently. Check out an easy homemade Rice Milk recipe, that we tested and can vouch for Homemade Brown Rice Milk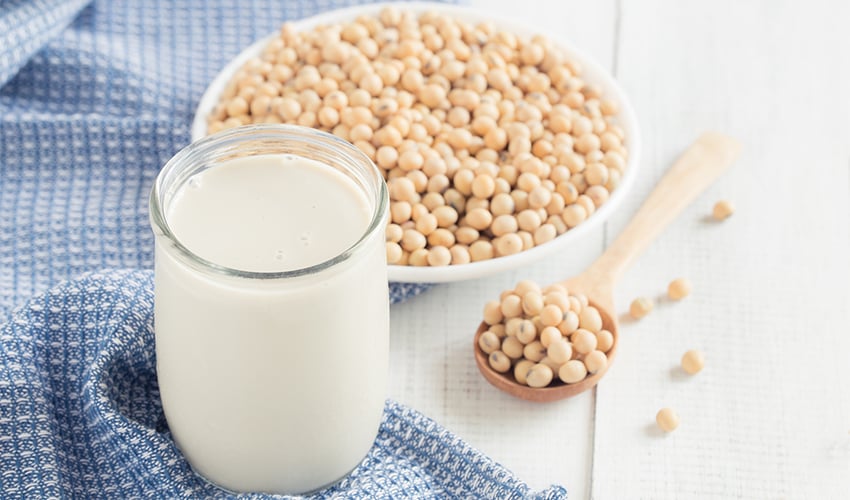 Soy milk
Soy milk is rich in macro-and micronutrients, proteins, thiamine, pyridoxine, vitamin B12, and vitamin E. Due to the content of Vitamin E, soy milk is widely used in cosmetology – it strengthens hair and improves skin condition. This vegetable milk contains a large amount of protein that is essential for muscle function and tissue cell growth. Another beneficial property of soy milk is that it improves blood vessels. Due to the content of Omega-6, Omega-3 fatty acids, and iron, soy milk makes the walls of blood vessels more elastic and strong.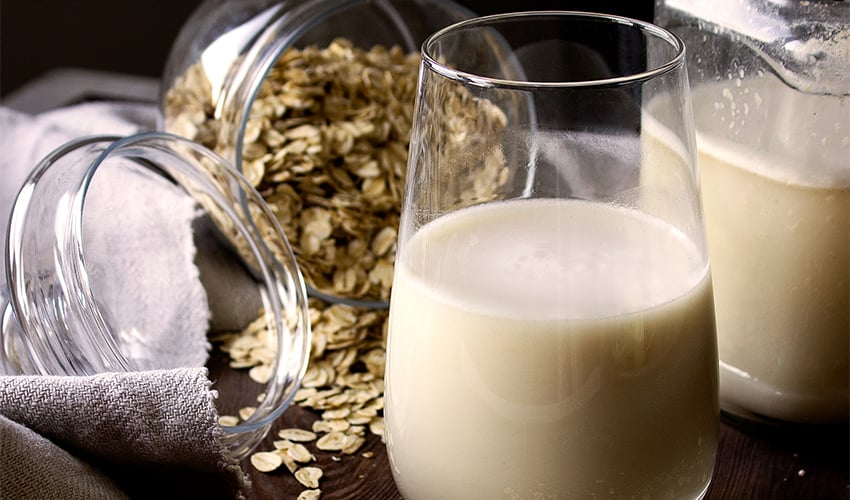 Oat milk
Oat milk contains fiber that can restore the digestive system. It is an indispensable source of energy for sportsmen. If you drink it regularly, you can train much more intensely without getting tired too quickly. Regular consumption of oat milk relieves fatigue and sleep problems. Oat milk contains a lot of proteins and carbohydrates, therefore, it is the best option for long-term saturation and force maintenance. Being rich in vitamins B, oat milk allows sports enthusiasts to build muscle mass. Taking the example, Vitamin B1 helps to absorb carbohydrates from food faster and better, so the energy supply of muscles is increasing simultaneously. Check out Food to Live's recipe for delicious Oat Milk – How To Make Oat Milk At Home
Сontraindication:
Generally, this milk is good for children because it is rich in calcium but for newborns, oat milk is not recommended.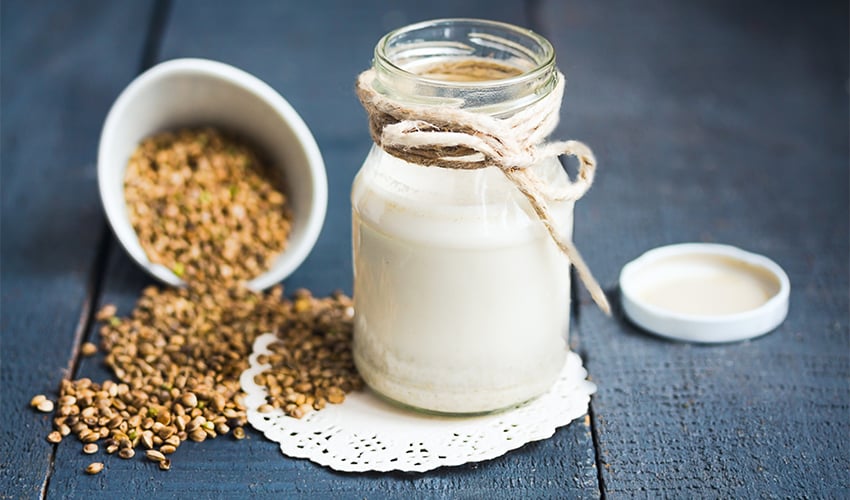 Hemp milk
Hemp milk is a vegetable drink, in simple words – a mixture of ground hemp seeds and water. It can be used as a cow's milk alternative and it is suitable for vegans. Hemp milk is rich in vegetable proteins and contains many different minerals, including high levels of calcium that are essential for improving bone mineral density and reducing the risk of osteoporosis. The levels of magnesium, zinc, potassium, and iron are also high.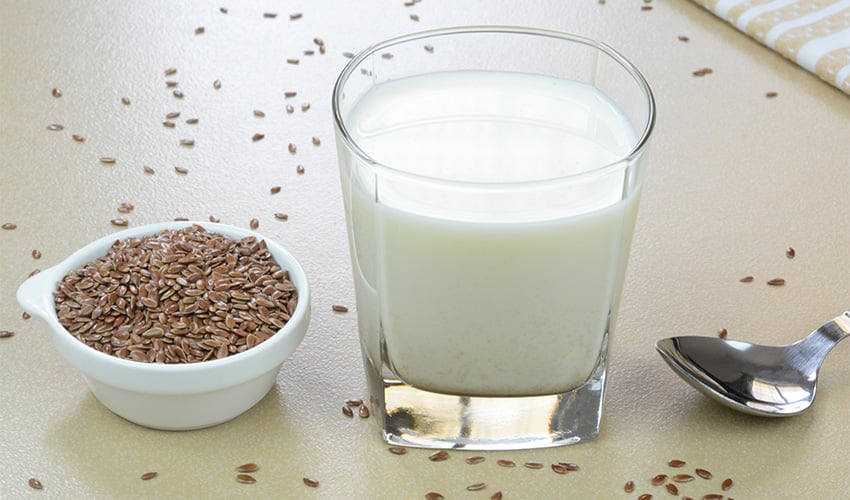 Flaxseed milk
Being cholesterol and lactose-free, this is wonderful plant-based milk. Flaxseeds come filled with natural soluble and insoluble fiber that is optimal for your fiber intake. Flaxseed milk is also low in calories and sugar compared to other plant-based milk on the market. [1]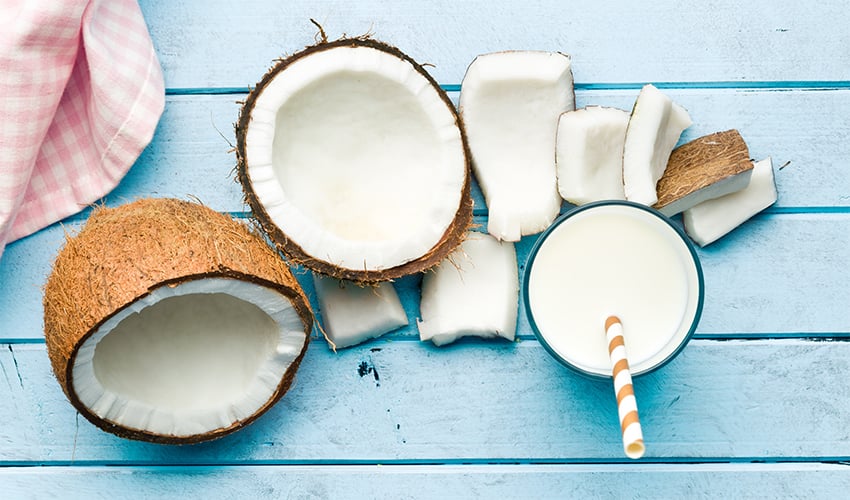 Coconut milk
Coconut milk is rich in such minerals as potassium, magnesium, manganese, phosphorus, zinc, sodium, selenium, iron and Vitamins В, С, РР, А.
Coconut milk is beneficial for various body systems, namely by reducing the level of bad cholesterol and by strengthening the immune system.
This product is very useful for women! Vitamins, minerals and antioxidants become invisible fighters against aging. The product copes well with pathogenic bacteria and fungi, which is very good for the health of the female reproductive system.
Like absolutely any product, coconut milk does have certain contraindications:
If you are suffering from bowel disorders (diarrhea, constipation), coconut milk is not for you. In case of chronic and other diseases, you should consult with a health specialist before adding coconut to your daily diet.
Considering the fact that most people are attracted to foods and beverages by taste rather than nutritional value, let's examine a comparison chart, presenting non-dairy milk's flavor, texture and uses.
Product name

Flavor

Texture

Nutrition value [2],[5]

Serving size – 100 ml

Uses

Almond milk
delicate nutty aroma
similar to cow's milk
Protein – 0.42 g

Fiber, total dietary – 0.4g

Calcium, Ca -188mg

Iron, Fe – 0.3 mg

Magnesium, Mg- 7mg

Phosphorus, P – 17 mg

Potassium,K – 79mg

Sodium, Na – 7mg

Zinc, Zn – 0.12 mg

Vitamin A, IU – 208 IU

a glass of raw almonds, 3 cups filtered water

Pour nuts in water for a few hours or overnight.

Peel the almonds to produce white milk. Then place 3 cups of water
with the nuts into a blender and grind the mix. Filter the mix through gauze. Fresh milk
is stored no more than 5 days.

Rice milk
a mild taste, rather sweet
a watery consistency
Protein – 0.28 g

Total lipid (fat) – 0.97 g

Calcium, Ca – 118mg

Iron, Fe – 0.2mg

Magnesium,Mg – 11mg

Phosphorus, P – 56mg

Potassium, K – 27mg

Sodium, Na – 39mg

Zinc, Zn – 0.13mg

Copper, Cu – 0.037mg

Selenium, Se – 2.2µg

1 cup of cooked brown rice, 4 glasses of water, 1 medjool date (not
necessarily)Boil rice well until it becomes soft, don't add
salt.Pour rice into a blender with water. Add other ingredients you like
(medjool date, for instance). Mix everything for 5-8 minutes.
Soy milk
mild and creamy
smooth
Protein – 2.6g

Total lipid (fat) – 1.47g

Fiber, total dietary – 0.2g

Calcium, Ca – 123mg

Iron, Fe – 0.42mg

Magnesium, Mg – 15mg

Phosphorus, P – 43mg

Potassium, K – 122mg

Sodium, Na – 47mg

Zinc, Zn – 0.26mg

Copper, Cu – 0.165mg

Selenium, Se – 2.3µg

1.7 cups of soy beans, 4 glasses of water.

Wash dry soybeans and soak them in cold water
overnight.

Drain the liquid, rinse the beans well and transfer them to a blender
bowl.

Add a little water and start beating. Gradually add the liquid. As a
result, you will produce white homogeneous mass

Oat milk
Oatmeal aftertaste
smooth and creamy
Protein – 5.71 g

Total lipid (fat) – 40 g

Carbohydrate, by difference – 51.43 g

Fiber, total dietary – 8.6g

Iron, Fe – 2.06 mg

Potassium, K – 200mg

2 cups of oats, 4 glasses of water

Pour a bowl with water and oats. The longer the oats are in water, the
more useful properties the milk will have. (no less than 8 hours)

Add a mixture into a blender. Strain the resulting mixture through
gauze.

Hemp milk
nutty and a little sweet
very thin
Serving size – 1 cup

Calories – 83

Carbs – 1.3 grams

Protein – 4.7 grams

Fat – 7.3 grams

Calcium – 2% of the Daily Value
(DV)

Iron – 7% of the DV
[5]

1 cup of hemp seeds, 4 glasses of water

First, rinse seeds thoroughly. Rinse the seeds with water for 1
minute. Wash the seeds well in a colander. Then soak the hemp seeds in clean water and
leave overnight. Throw away the seeds that remain on the surface, they are not useful.
Put the seeds that remain on the bottom in a blender glass and add water. Filter the
mixture though gauze.

Flaxseed milk
a mild nutty taste with bitterness [3]
slimy
Serving size – ¼ cup

Total Fat – 4.4g

Cholesterol – 0mg

Sodium – 182.3mg

Dietary Fiber – 2.9

Sugars – 0.2g

Protein – 1.9g
[1]

1 cup of flaxseeds, 3 glasses of water, a pinch of
saltAdditionally (not necessarily): honey, vanilla extract or
datesFry the flax seeds in a pan before making flaxseed milk. This helps
reduce the bitter taste as well as the slippery texture.Pour all the ingredients into a blender and mix them for 10 minutes.
If you leave the flaxseed milk to sit for 10 minutes, the husks and fibers of the seeds
will separate, allowing you to scoop them out with a spoon! Don't forget to filter the
mixture through a nut milk bag.
Coconut milk
a sweet nutty salty flavor
thick and creamy
Protein – 0.21g

Total lipid (fat) – 2.08g

Calcium, Ca – 188mg

Iron, Fe – 0.3 mg

Potassium, K – 19mg

Sodium, Na – 19mg

Vitamin B – 120.63µg

Vitamin B-12, added 0.63µg

Vitamin A, RAE – 63µg

Retinol – 63µg

1 coconut, 2 glasses of water

Peel coconut, rub the pulp on a grater.

Boil water. Pour the pulp into a deep plate or bowl and pour boiling
water.

Cover with a lid and leave to cool completely. Pour the mass into a
blender and beat it. Filter the milk through the gauze and put it in the
fridge.
According to a University of Oxford study, producing a glass of dairy milk results in almost three times the greenhouse gas emissions of any non-dairy milks. [4]
See the chart below presented in the article By Clara Guibourg and Helen Briggs "Climate change: Which vegan milk is best?" [4]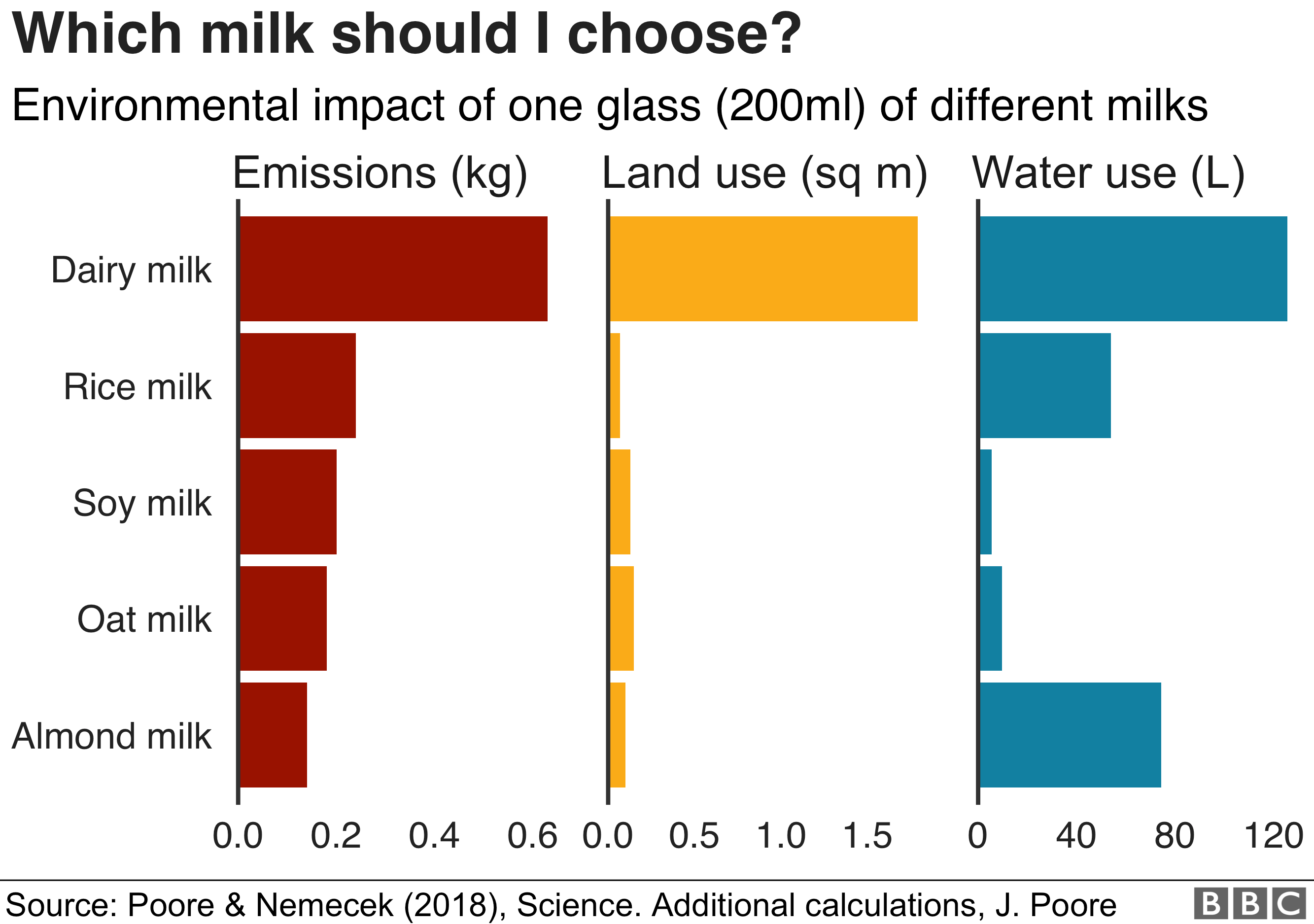 Almond milk requires more water to produce than soy or oat milk. A single glass requires 74 liters (130 pints of water) – that is more than a typical shower. Rice milk is also comparatively thirsty, requiring 54 liters of water per glass. [4]
However, it's worth knowing that both almond and rice milk still require less water to produce than the typical glass of dairy milk. [4]
Superfoods is not the only option helping us maintain a healthy lifestyle. Beverages also play a crucial role in promoting overall health. Each of the above-mentioned vegan milk sources are rich in valuable vitamins and minerals, so you can choose any of them relying on your general preference. If you are environmentally friendly, soy milk and rice milk are probably the best milk alternatives.
Sources: