January 15, 2021 · Written by Foodtolive Team
The Benefits of Sunflower Seed Butter and How to Make it at Home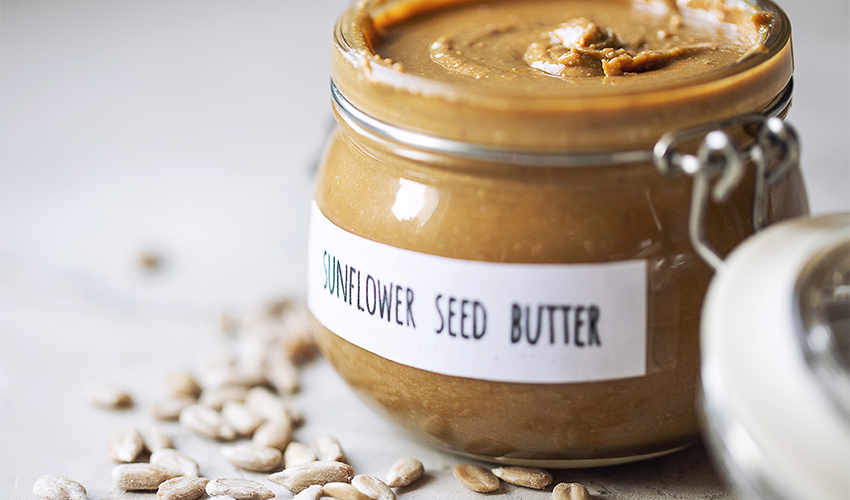 There are many advantages to creating sunflower seed butter at home; for a start, it is very budget-friendly. For practically the same cost as in the store, you can make twice as much homemade butter. Second, you are in full control of the sweetness of your own product. Moreover, you can add other ingredients and play around with aroma and flavor according to your personal taste. And lastly, it is the easiest process ever; Save yourself a trip to the store and make your own wholesome butter as fast as one, two, three.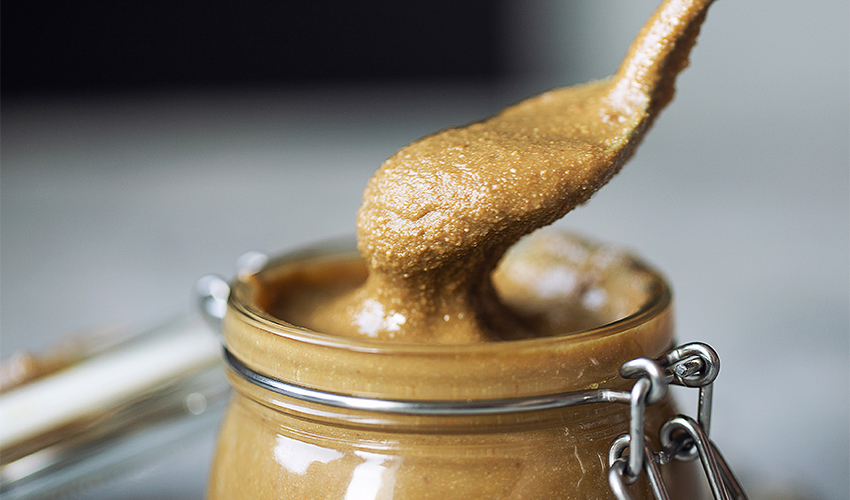 What health benefits are sunflower seed butter best known for?
Not only is it an excellent source of folic acid, but it is also a wonderful combination of iron, calcium, potassium, selenium, phosphorus, and zinc. The unique property of sunflower seed butter is that it is hypoallergenic. Rich in Vitamin E, unsaturated fats, and magnesium, this butter is a delicious healthy snack for your breakfast: add it to your bread instead of other condiments. Remember that you need magnesium to produce energy, and unsaturated fat to lower cholesterol. Vitamin E reduces cell damage and increases immunity. One tablespoon is usually enough to spread on your toast to get the daily dosage of Vitamin E. Going ahead, the sunflower seed butter contains manganese – a mineral reducing inflammation.
Even though both tree nut butter and sunflower seed spread contain the same amount of fat — about 16 grams per 2 teaspoon serving, 2 grams of sun butter's fat is unsaturated fat, unlike the nut butter which contains saturated fat. According to healthfully.com, sunflower seed butter is fairly low in sodium, with 120 milligrams of sodium per serving. This equals to around 5 percent of the daily recommended maximum sodium intake of 2,300 milligrams per day. [1]
For those allergic to tree nuts, sunflower seed butter is a wonderful substitute. Give it a try and you won't be able to pull yourself away!
Homemade Sunflower Seed Butter Recipe
All you need is one ingredient to make this Homemade Sunflower Seed Butter! A perfect alternative for almond, peanut, or other nut-based butter. Allergy-free. Oil-free. Paleo. Keto. Vegan.
Prep Time: 10 min | Cook Time: 15 min | Total Time: 25 min | Servings: 1 cup
Ingredients: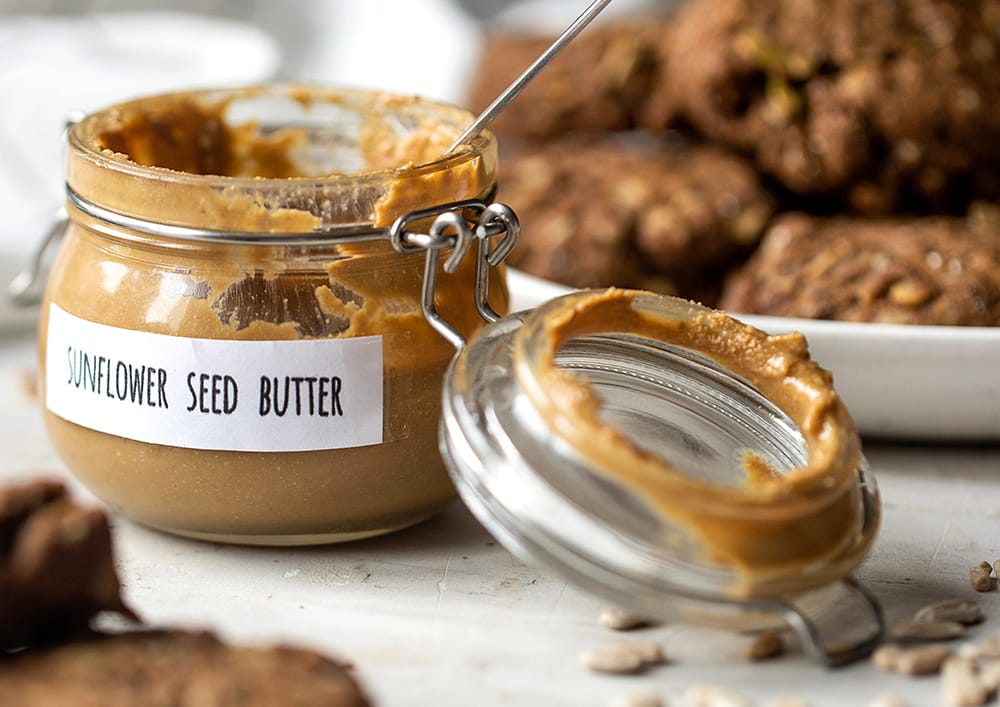 Instructions:
Preheat oven to 350 degrees F.
Spread sunflower seeds on a baking sheet and bake at 350 degrees for 8 minutes.
Remove from oven and let cool to room temperature.
Put roasted sunflower seeds in a food processor and blend until smooth and creamy. Just like making almond butter, you'll need a bit of patience during this part. First, the sunflower seeds will be ground into a fine meal, and in about 5 to 6 more minutes, it should start to form a sticky ball. After the ball stage, it took another 5 minutes or so for the butter to reach a creamy consistency.  It's best to do so at intervals so the seeds ( and machine) don't overheat. Taking a break every 2-3 minutes. The longer you blend the runnier the butter consistency will be. For a smooth sunflower seed butter, blend for about 15 minutes.
Once the homemade sunflower seed butter is ready, transfer it to an airtight glass container and keep this in the fridge for 2-3 months. It can also be frozen, for longer.
Video Recipe
References:
https://healthfully.com/433344-sunflower-seed-butter-health-benefits.html