November 11, 2022 · Written by Foodtolive Team
Homemade Freezer Meals – The New Trend!
Expecting a baby in a few months and worrying about managing to cook dinner every night post-partum? Well, we are here to help! Be prepared and make ahead freezer meals so that your life is less stressful once the baby comes! With that in mind, this blog aims to make your first weeks of being a mom easier with homemade freezer meals.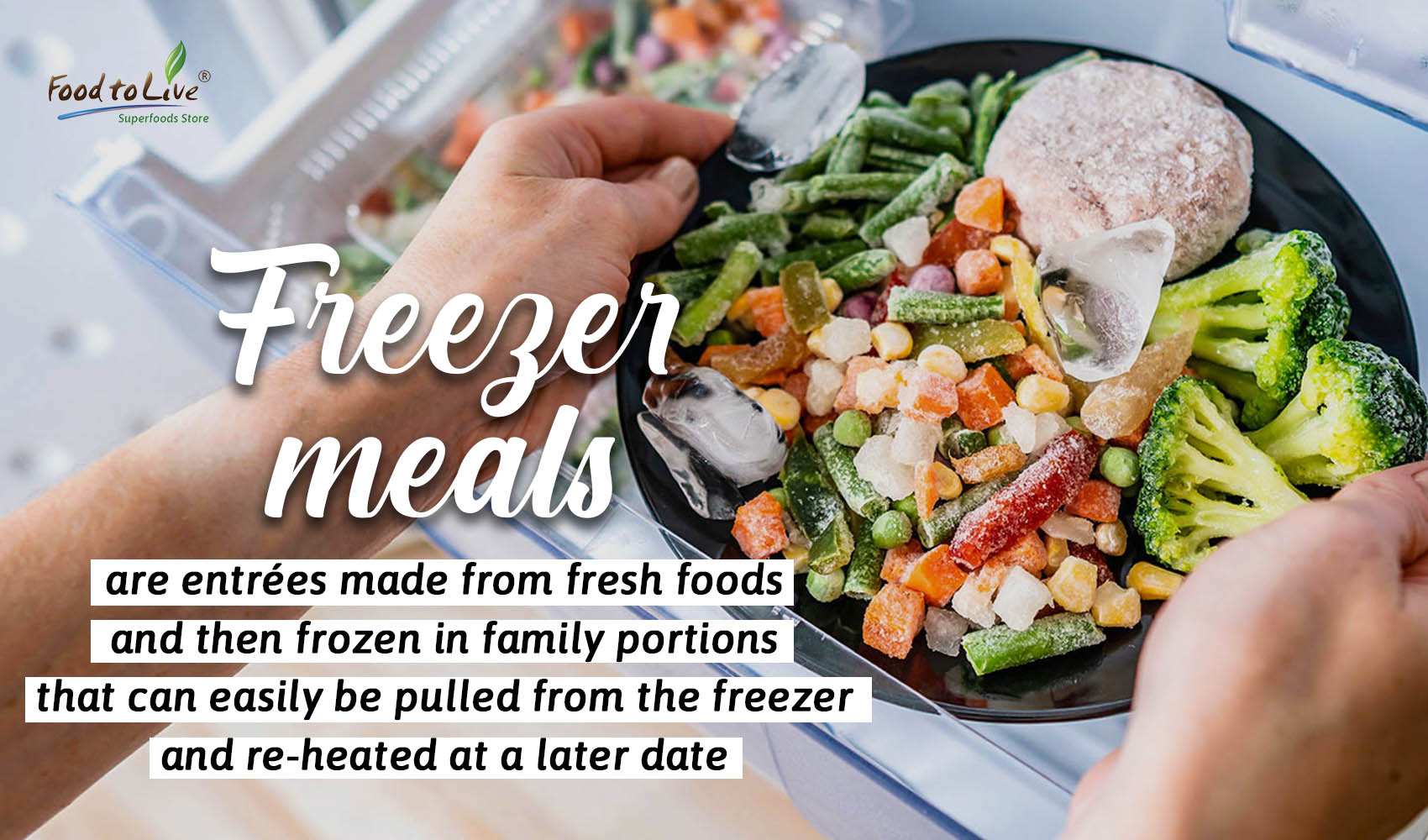 Freezer Meals Origin
To begin with, freezer meals are entrées made from fresh foods and then frozen in family portions that can easily be pulled from the freezer and re-heated at a later date. [1] Library of Congress reports that Clarence Birdseye, an American inventor, entrepreneur, and naturalist, is credited with inventing 1924 the quick-freezing method, which produces the type of frozen foods that we know today. While working as a fur trader in Labrador, NF, Canada, Birdseye discovered that the fish that he and the local Inuit caught froze almost immediately after being pulled from the water. He was delighted to discover that the fish was just as delicious when thawed out months later. From this experience, he theorized that food must be frozen very quickly in order for it to retain its taste and texture. [2]
During the 1940s, the volume of frozen foods available to consumers boomed. It wasn't until the 1950s, though, that the first frozen ready meals hit the shelves in the United States.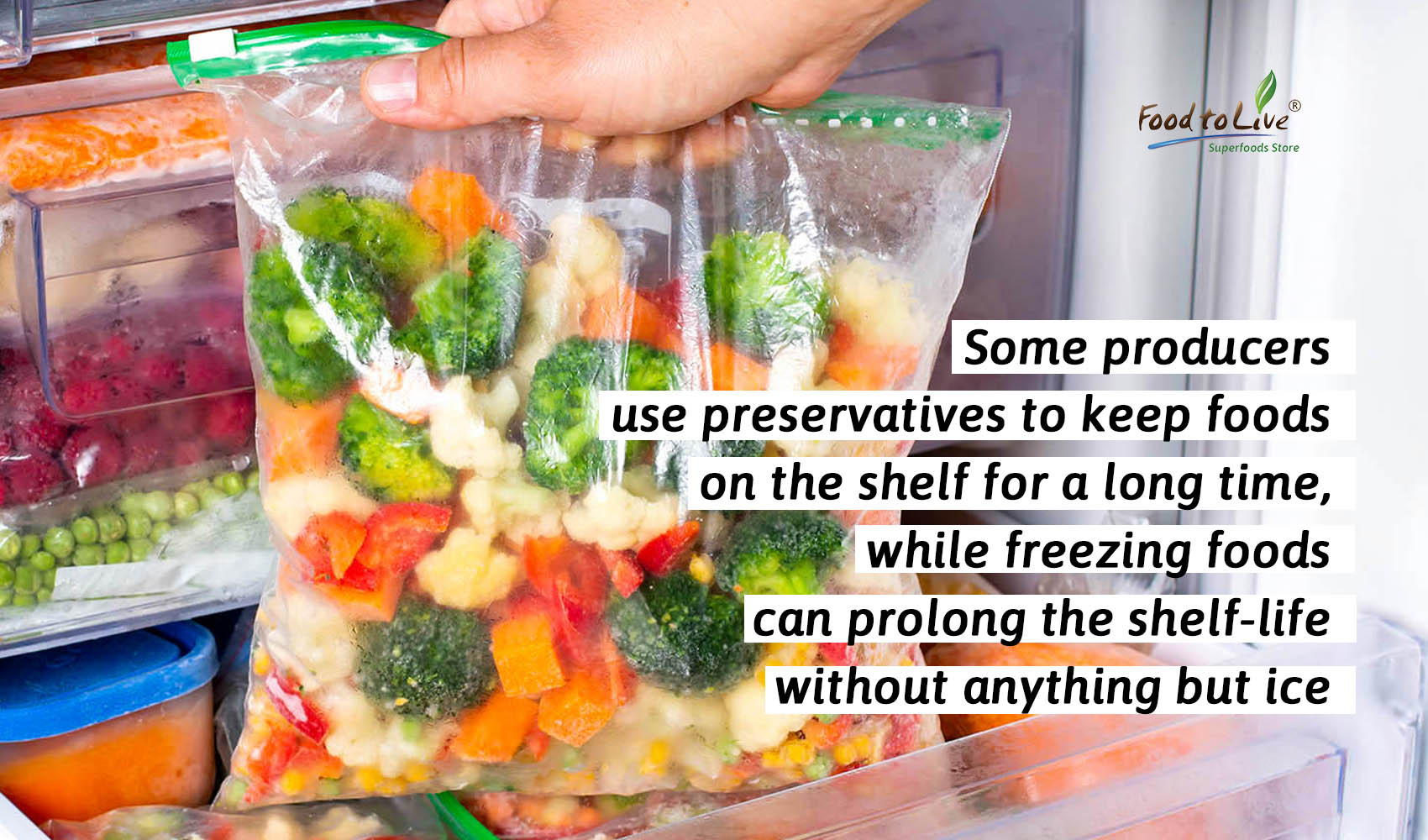 A Few Reasons Why Freezer Meals Are Really Cool
Freezer prep meals are perfect for pretty much everyone – whether you're going to give birth, your loved one is sick, you live a busy lifestyle and don't have time to cook, you hate cooking every single day, or your family consists of little toddlers.
Here's why meal prep has been on-trend:
1. The most natural way of preserving food.
Freezer food is a great way of storing meals. Freezing, unlike other storage methods, minimally affects color, texture, and nutritional value. It allows retaining all nutrients and even flavor. In addition, it stops the decaying process and "locks it" in time. All of the nutrients remain preserved until it's time to defrost and eat. [3]
2. Free from preservatives
All natural foods start to break down the moment they're picked, or cooked. Some producers use preservatives to keep foods on the shelf for a long time, while freezing foods can prolong the shelf-life without anything but ice. What is more natural than that! [4]
3. It saves your time and money
You don't need to spend time to think what to eat when to shop and how to cook. Having a variety of pre-cooked healthy meals in your freezer makes your life much easier. Spend your time doing the things you really love – just dump and go!
4. Freezing allows you to eat seasonal fruit and veggies
Freeze your harvest and taste it when it's out of season. That's also a great way to have quick access to fruits and vegetables at the time when they're most expensive.
5. Cost-effective
Frozen foods are budget-friendly as you're doubling a meal with meal prep recipes. This allows you to take advantage of the Food to Live wholesale option – the more you buy, the less you pay per pound. [5]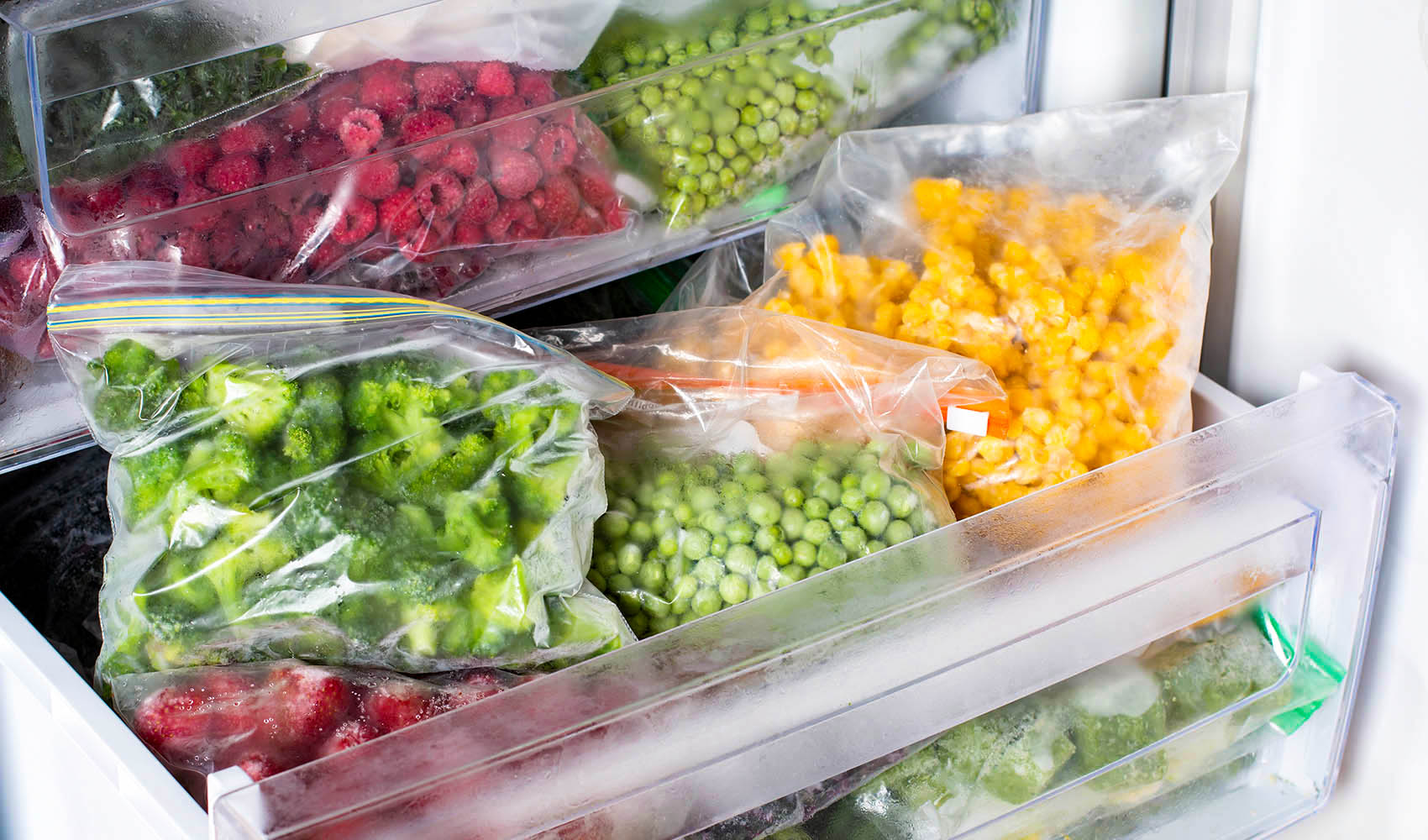 Healthy Postpartum Freezer Meals
After giving birth, your daily focus turns to one thing and one thing only: your new baby. Even an idea of going to the grocery or making dinner can be annoying and stressful. Thus, making freezer meals before baby will save the grace of new moms everywhere. Since frozen foods retain their vitamins and minerals and there is no change to the carbohydrate, protein, or fat content.
We've grabbed some trendy freezer meals recipes from TikTok.
Start by making some room in your freezer. To begin your freezer-meal journey, you can use a freezer meal bag holder or freezer meal containers to freeze flat food. Freezer meal bags are perfect for freezing as they're thicker than regular zip-top bags and less likely to puncture or tear. Meal freezer containers are a great alternative as they're durable and reusable.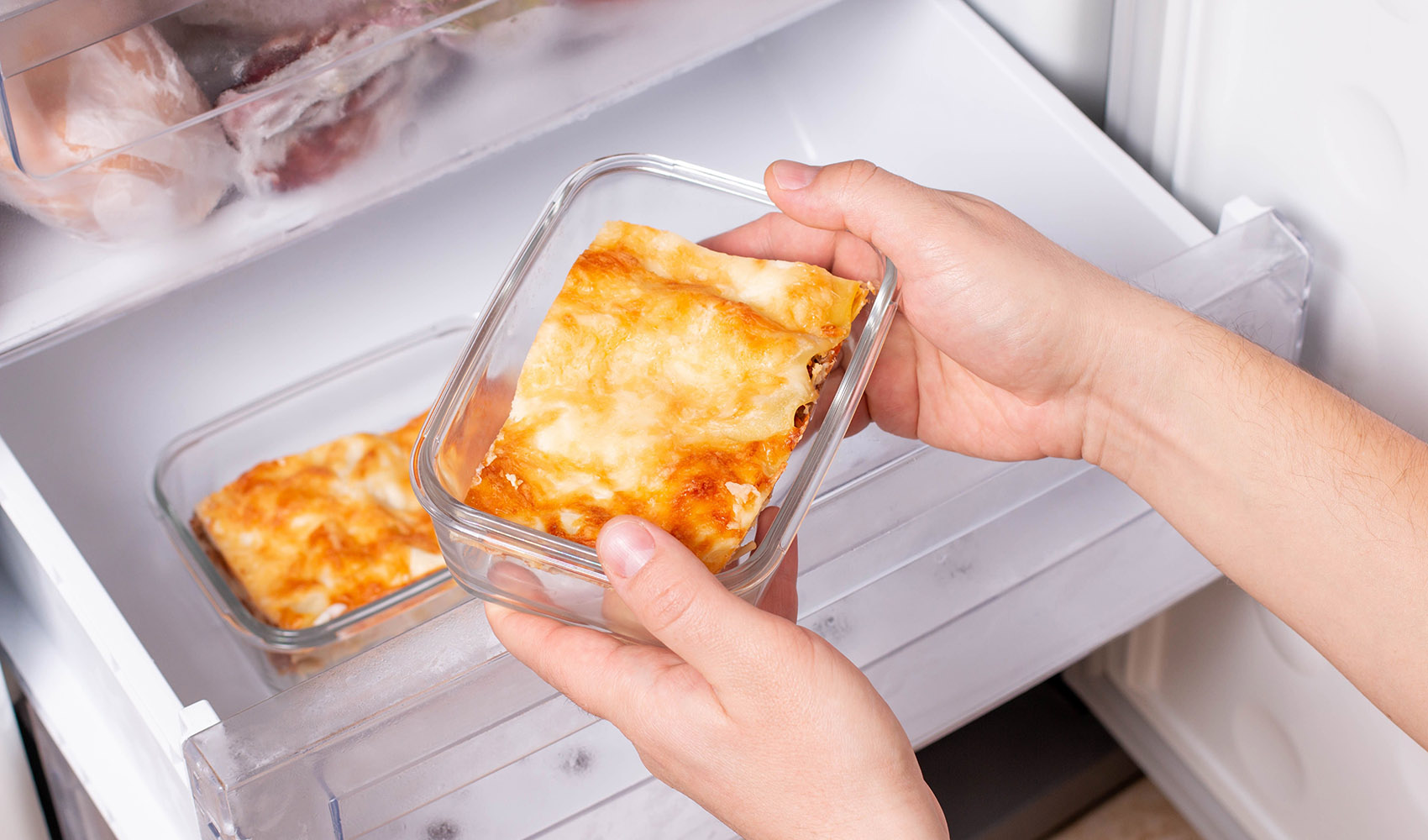 Easy Freezer Meals
Let's start with Freezer-friendly Lasagna that has 4 main ingredients – meat, pasta, cheese, and sauce, along with onions, salt, garlic powder, and parsley. You can shop for ingredients with a budget in mind!
Instructions:
Mix ground meat, onion, salt, and garlic powder. 

Simmer sauce stirring it for 15min.

Combine cottage cheese, parmesan cheese, and dried parsley in a separate bowl. Mix well.

Put a single row of noodles on

a small amount of spaghetti sauce mix to the bottom.

Repeat for three layers (bottom, middle, top): Layer sauce. Layer Mozzarella. Layer cheese mixture all over. 

Place raw lasagna into the oven and bake at 325°F covered for 1.5 – 2 hours. Remove foil and cook for an additional 10-12 minutes, until golden on top.
There is one issue you might tackle though – no-boil noodles. Baked from frozen, they might lose some starch and become less firm consequently.
Make your morning easy with Freezer Breakfast Sandwiches!
Before you start freezer cooking, here're some freezer meal hacks:
Avoid soggy sandwiches. Spread butter on the bread as it helps stop the bread from becoming soggy.
Try to place the wettest ingredients in the center of sandwich fillings.
Cut sandwiches in half then wrap tightly in plastic wrap. Wrap and freeze.
Put sandwiches in the fridge the night before consumption to defroast.
Chicken & Avocado Sandwiches
Ingredients:
8 bread slices
1 avocado, stoned, peeled, mashed
2 tbsp softened butter
2 tsp lemon juice
2 cups shredded Chicken
½ cup mayonnaise
1 tbs Mexican seasoning
Instructions:
Choose your favorite type of bread (white, baguette, rye, brioche, etc.)
Spread sliced bread with butter, then place with a mixture of mashed avocado, lemon juice, and chopped coriander.
Top with a mixture of shredded roast chicken, taco seasoning, and mayonnaise.
Ham & Hummus Sandwiches
Ingredients:
8 slices whole wheat bread
1/3 cup hummus
1 tbs chopped chives
2 tbs softened butter
8 slices boneless leg ham
¾ cup cheddar
Instructions:
Spread the bread with butter.
Combine the hummus and chives in a small bowl.
Top half the bread slices with the ham, hummus mixture, and cheddar.
Top with remaining bread slices.
Yummy Freezer Dessert – Chocolate hazelnut ice cream cheesecake
Ingredients:
1 tbsp roasted hazelnuts
2 x 180g tubs full-fat cream cheese
2 x 400g jars chocolate hazelnut spread
200g honey nut cornflakes
Instructions:
Beat chocolate hazelnut spread with cornflakes to combine both.
Put the base in a 23cm springform tin.
Beat the cream cheese until smooth in a separate bowl. Then add the remaining chocolate hazelnut spread. Smooth onto the cornflake
base, wrap tightly in cling film and freeze overnight.
Make sure to take the dessert from the freezer 30min before serving. [7]
Freeze this batch in a disposable pie tin and treat yourself to a brand-new dish!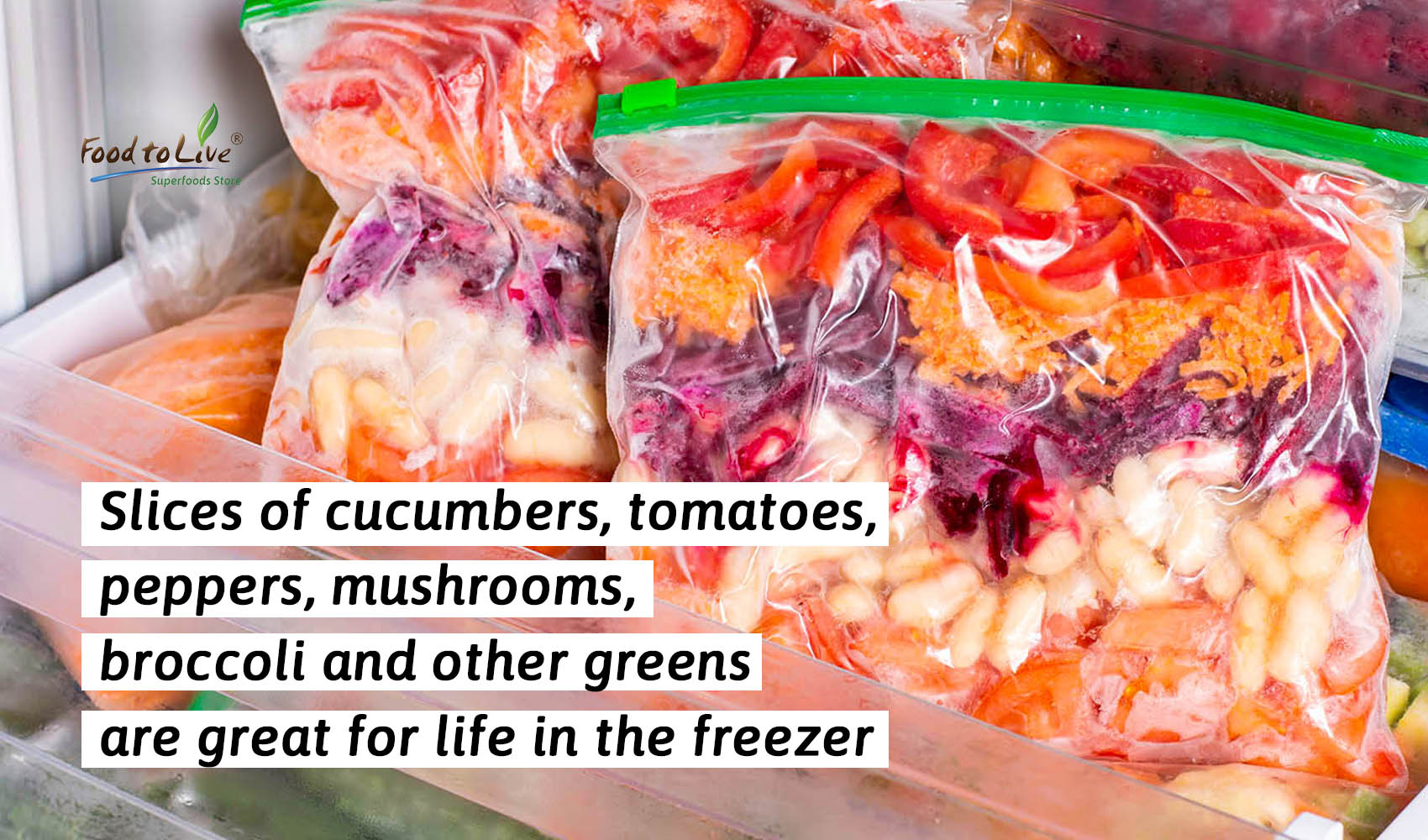 Freezer Friendly Foods
Fresh veggies Slices of cucumbers, tomatoes, celery, peppers, mushrooms, broccoli and other greens are great for life in the freezer. Just wash, dry, and put them in a freezer bag holder.
Potato Ready-made potato dishes can be easily frozen too! You may portion out mashed potatoes with an ice cream scoop, wrap them in meal prep freezer bags, and put them in the freezer.
Eggs can be boiled, and separated (the whites from the yolks), and the parts should be put in different containers. Raw eggs are also suitable for freezing – just break them and beat them until the yolk and egg white is blended. In this form, eggs can be frozen for up to 6 months.
Bread should be stored in slices, wrapped in a freezer bag, and placed in the freezer. That will prevent spoilage and staling.
Liquids (milk, juice) can be stored for months if frozen. One nuance though – when freezing, the liquid expands, so it is better to take a container that is larger in volume than the amount of liquid. Another idea is to pour milk or juice into ice trays, and then put them directly into the drinks.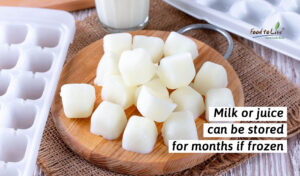 Food to Live Products that freeze well
If you're someone who prefers ordering in bulk and you don't plan on using nuts, flours, seeds, or grains right away, you can keep almost all food-to-live products in the freezer! Properly stored Food to Live dried fruit like apricots, dried mango, goji berries, prunes, strawberries, and Medjool dates can last for 1-1.5 years! The freezer will also keep almonds, walnuts, Brazil nuts, cashews, hazelnuts, and pecans fresh for quite a long time. If the water content is low, freezing won't affect the taste.
What about the flours? As long as you let the flour come to room temperature before you use it, cold won't affect the texture.
Foods That Don't Freeze Well: some dairies like sour cream, yogurt, soft cheeses, cottage cheese, mayonnaise, salad dressings, gelatin, fruit jelly, fried foods, cooked spaghetti, or rice.
The Best Way to Store Meal Prep in Freezer
Though everyone owns a freezer, not all of us use its full potential. We've gathered a few tricks to properly freeze meal prep.
Prepare freezer meal containers or zip-top bag holders thick enough to keep moisture in and freezer odors out.
Label your food – use stickers with a date indicator.
Avoid crispy and crunchy foods/meals as they may degrade when defrosted.
Always allow enough time to defrost.
Blanch greens first if you want to preserve color (especially in some green sauces like pesto). [8]
All things considered, it's always a good idea to prepare postpartum freezer meals. Moms are usually hungry after they give birth, so freezing is much healthier to nourish themselves and a lot more economical. While our lives are getting far more busy, homemade freezer meals are becoming our weeknight lifesaver.
References
1. https://extension.sdstate.edu/preparing-freezer-meals
2. https://www.loc.gov/everyday-mysteries/technology/item/who-invented-frozen-food/
3. https://vegworldmag.com/3-reasons-why-freezing-food-is-good-for-you/
4. https://www.dinnersready.com.au/benefits-of-freezing.html#/
5. https://www.easyhomemeals.com/cooking-tips-inspiration/12-reasons-frozen-foods-better/
6. https://happymoneysaver.com/homemade-easy-lasagna-recipe/
7. https://www.bbcgoodfood.com/recipes/chocolate-hazelnut-ice-cream-cheesecake
8. https://www.realsimple.com/food-recipes/shopping-storing/food/tips-for-freezing-food