October 26, 2023 · Written by Foodtolive Team
Halloween Meringue Goblins
Get ready for some spooky Halloween fun with our Homemade Meringue Goblins! These delightful treats are colored naturally using blue spirulina powder, pumpkin fruit powder, and beet root juice powder!
Prep Time: 20 min | Cook Time: 2 hours | Total Time: 2 hours 20 min | Servings: 30 "goblins"
Nutrition Facts (per 1 meringue goblin):
Calories: 14 | Total Fat: 0g | Fiber: 0g | Sugar: 3.2g | Protein: 0.2g
INGREDIENTS:
INSTRUCTIONS:
Preheat your oven to 200°F (93°C) and line a baking sheet with parchment paper.

In a clean, dry mixing bowl, whip the egg whites until they become foamy.

Add the cream of tartar and continue whipping until soft peaks form.

Gradually add the superfine sugar while whipping, until the meringue reaches stiff, glossy peaks.

Divide your meringue into three equal portions.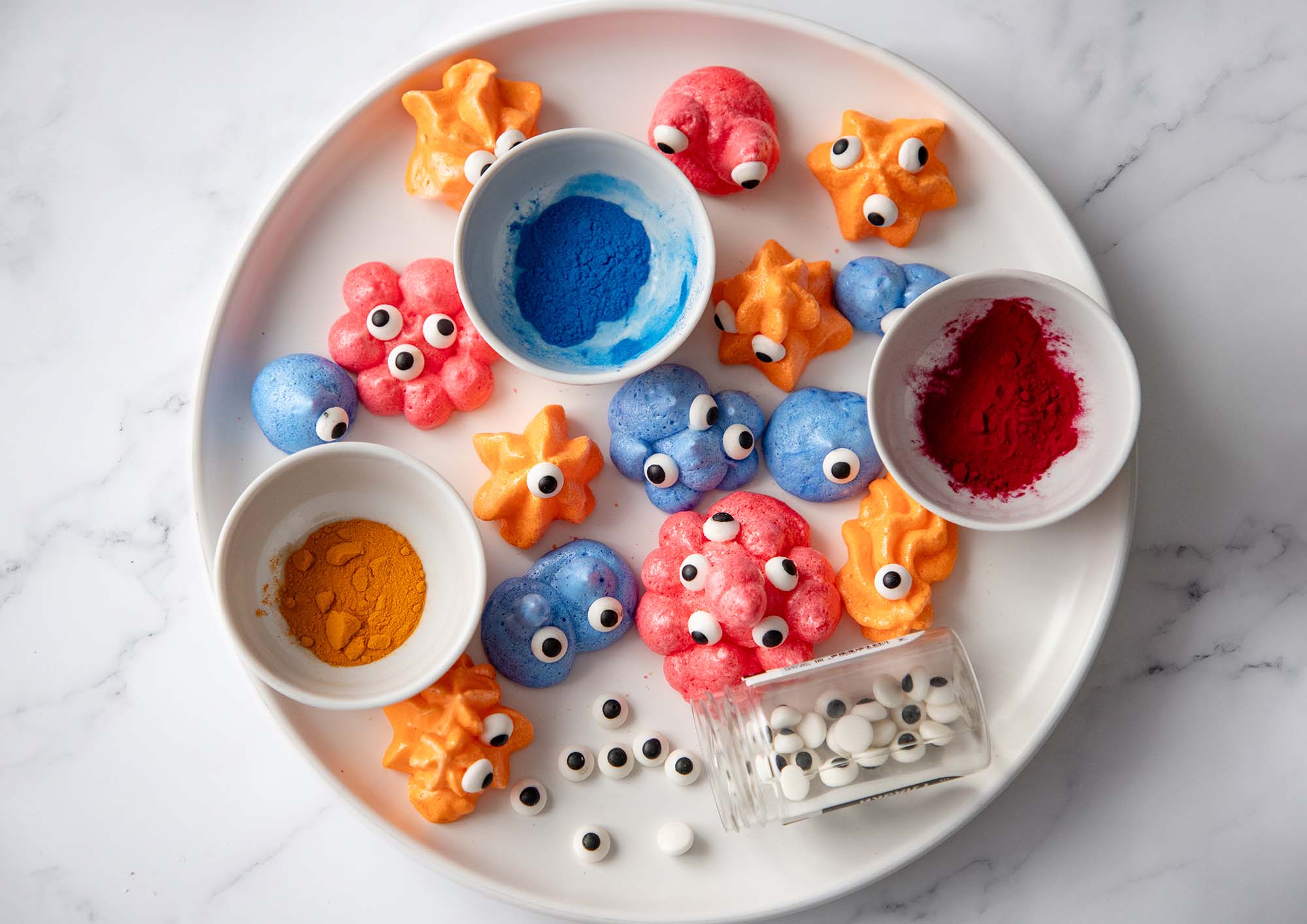 Gently fold the blue spirulina powder into one portion, the pumpkin fruit powder into another, and the beet root juice powder into the last portion. You'll have natural blue, orange, and red meringue.

Using a piping bag fitted with a large round tip, pipe various shapes and sizes of goblins onto the prepared baking sheet. Let your imagination run wild!

Place the baking sheet in the preheated oven and bake for about 1.5 to 2 hours or until the meringues are crisp and dry (make sure not to let them brown).

After baking and once your meringue goblins have cooled, it's time to add the finishing touch. Using a mixture of powdered sugar and water, 'glue' the candy eyes onto the goblins to give them their charmingly creepy appearance. Happy Halloween!
Notes:
Feel free to use different superfood powder for this recipe, like Dragon Fruit Powder, Matcha Powder, Purple Sweet Potato Powder, etc.
This recipe inspired by Club Crafted
Video recipe: