September 10, 2018 · Written by Foodtolive Team
Beet Carrot&Apple Salad
There's nothing quite like a refreshing and raw salad, and this one with beets, carrots, and apples is a real winner. You'll enjoy the vibrant colors of the beets, the satisfying crunch of the carrots, and the sweet-tartness of the apples. It's a salad that's not only bursting with texture and amazing flavors but also loaded with healthy nutritious!
Prep Time 5 minutes | Cook Time 10 minutes | Total Time 15 minutes | 6 Servings
INGREDIENTS:
2 raw beets, peeled and roughly chopped
2 carrots, roughly chopped
2 green apples, cored and roughly chopped
juice of 1/2 lemons
1 tbsp olive oil
3/4 tsp sea salt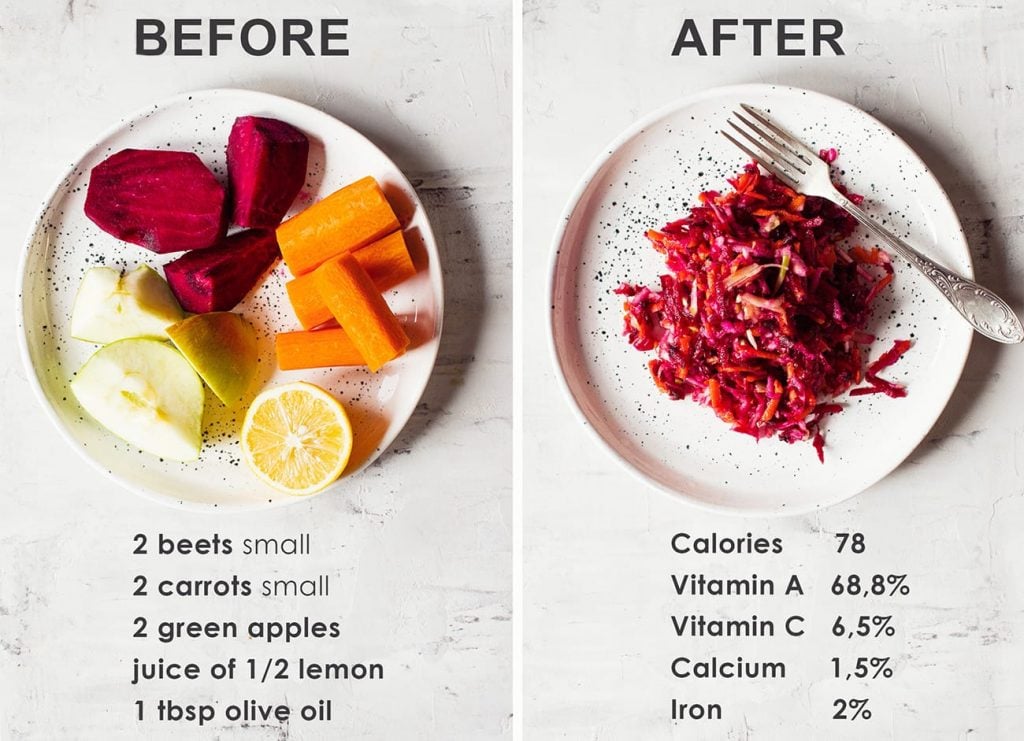 INSTRUCTIONS:
Place the chopped beets, carrots, and apples in a mixing bowl.
Squeeze the juice of half a lemon over the chopped ingredients in the bowl.
Drizzle 1 tbsp of olive oil over the salad mixture.
Sprinkle 3/4 tsp of sea salt evenly over the ingredients.
Toss the salad thoroughly to ensure all the flavors and ingredients are well combined.
Once everything is mixed well, your Beet, Carrot, and Apple Salad is ready to serve. Enjoy this colorful and nutritious salad as a healthy side dish or a refreshing snack!
This recipe slightly adapted from Stupid Easy Paleo
Video Recipe