September 19, 2022 · Written by Foodtolive Team
Super Green Smoothie Bowl
This Super Green Smoothie Bowl is extremely full of nutrients, antioxidants and flavors from superfoods such as Barley Grass Powder, Alfalfa Powder and Hemp Seeds. Top it with fresh berries, and crunchy granola and you got yourself a wholesomely nourishing and tasty breakfast! Plant-based, dairy free, vegan.

Prep Time: 5 min | Cook Time: 0 min | Total Time: 5 min | Servings: 2 bowls
Calories: 207 | Total Fat: 1.2g | Fiber: 4.6g | Sugar: 27.2g | Protein: 2g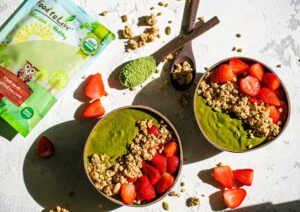 INGREDIENTS:
For the smoothie:
For the topping: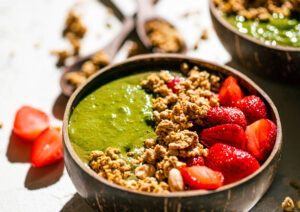 INSTRUCTIONS:
Add all smoothie ingredients into a blender and blend until creamy.

Serve in bowls, add toppings and enjoy!
This recipe inspired by Ellie's Best
Video Recipe