July 23, 2022 · Written by Foodtolive Team
Lemongrass: Benefits, Uses, Side Effects, and Recipes
Herbs are used to flavor food, however pleasant aroma and flavor aren't their only advantage. Herbs are chock-full of healthy compounds and may have numerous health benefits. This article is mainly focused on lemongrass – a herb with a lemony scent originating from Sri Lanka and South India.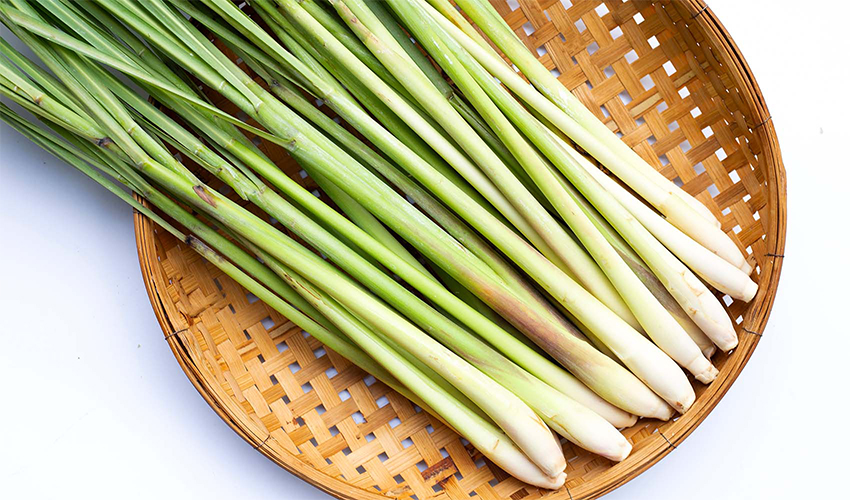 A Few Nutrition Value Facts to Fall in Love with Lemongrass
Lemongrass benefits are significant: vitamins, macro-and micronutrients like Vitamin C, sodium, iron, calcium, magnesium, and manganese. Having antibacterial and antifungal properties, it can be used as a pain reliever and fever reducer. Lemongrass activates the brain, improves concentration, and increases efficiency. The intake of lemongrass tincture strengthens ligaments and muscles, and increases endurance, activity, and overall body tone. This herb activates blood circulation, tones blood vessels, and strengthens the heart muscle. On top of that, lemongrass can:
Control blood pressure
Lemongrass is perfect for controlling blood pressure levels as it is rich in potassium. This is because proper potassium levels help in the production of urine, and promote blood circulation. Therefore, it lowers your blood pressure, and at the same time, purifies your liver! [1]
Help with digestive issues
When it comes to stomach-related issues, lemongrass can be helpful as it contains citral (a main component of citrus fruit).
Make your hair and skin healthy
Lemongrass boasts antibacterial as well as anti-fungal properties, making it a good way to cleanse your skin. It is also a source of antioxidants chlorogenic acid, swertiajaponin, and isoorientin. It's these antioxidants that play a huge role in keeping the follicles nourished and healthy; they give hair a natural shine.
Improve anemia and serves as an antidepressant
If you drink at least a cup of lemongrass tea every day for a month, it can help you to increase hemoglobin levels and the red blood cells in your body. This is because lemongrass is packed with a host of nutrients including folic acid, copper, thiamine, iron, and zinc. [1] Lemongrass cleanses the body of toxins. It is a natural antidepressant as its scent relieves fatigue.
USDA nutritious value in 1 cup (67g) based on USDA FoodData [2]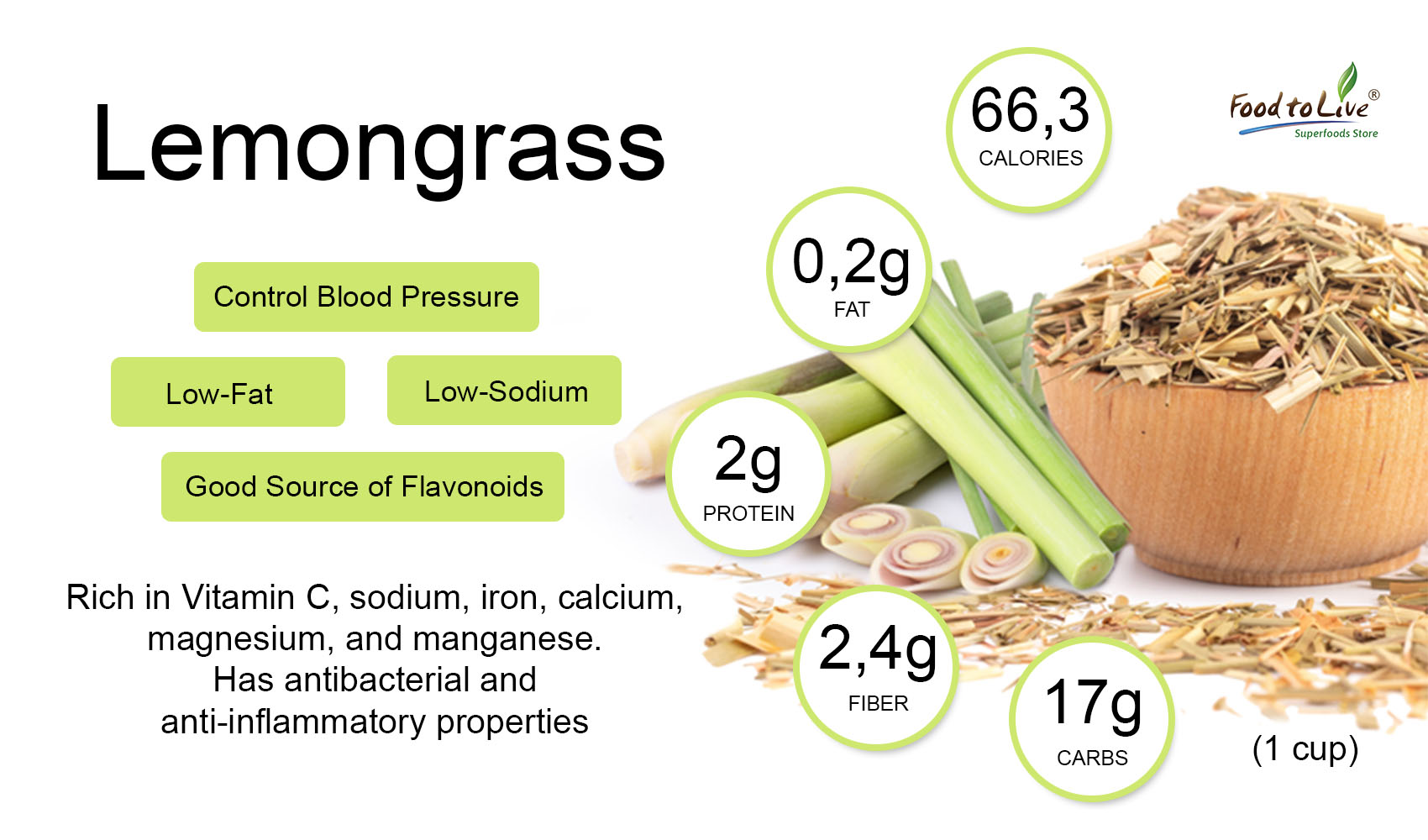 Lemongrass health benefits are significant; however, we should also consider lemongrass side effects: lemongrass can cause skin irritation. In addition, eating large amounts of lemongrass can cause nausea, dizziness, frequent urination, and increased hunger. Excessive consumption of lemongrass tea can also affect kidney function. Some people may be allergic to lemongrass. You should get emergency help if you experience allergic reaction symptoms, such as a rash, itching, rapid heart rate, and difficulty breathing. [3]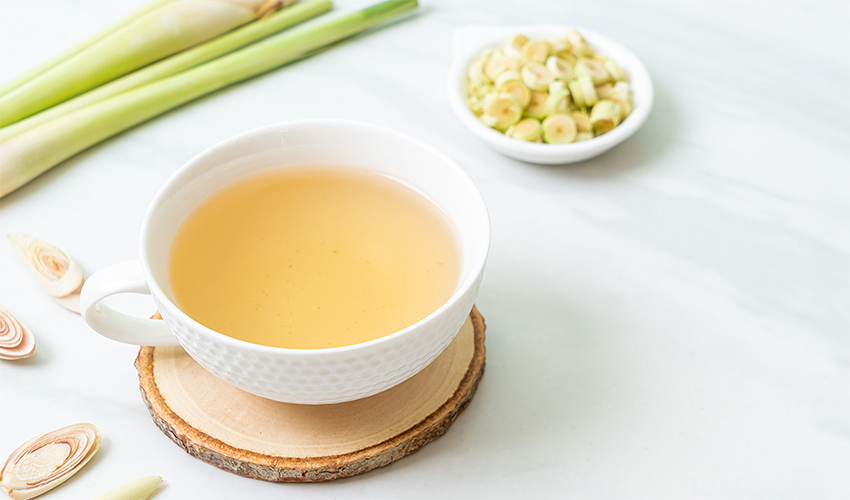 Lemongrass Uses & Effectiveness
Lemongrass goes well with meat or confectionery. Its taste resembles a mixture of mint, ginger, and lemon. In Indian culture, fresh stems are definitely part of vegetable stews and curry mix. In China and the Philippines, herbs are used as a spice to fish and chicken, and in Thailand, it is a must-have for soups and salads.
To make lemongrass tea, you should:
Pour 1 cup boiling water over 1 to 3 teaspoons of fresh or dried lemongrass.
Soak for 5 min.
Strain the tea.
Enjoy!
Lemongrass tea is useful for those who have weather sensitivity or have difficulty adjusting to different time zones.
Here are a few steps on how to cook lemongrass:
Slice off the end of the stalk.
Slice off thin leaves at the top.
Peel off 1 or 2 layers.
To make batons, slice into 2 or 3-inch sections.
Use a meat tenderizer to bash the lemongrass.
Add to soup and stew.
You can add lemongrass to sauces, dry curries, marinades, dressings, soups, and cocktails.
There hasn't been enough research so far on a recommended daily amount. To eliminate any health risk, one cup daily is the best option. You can also consult your doctor for lemongrass dosage recommendations. [4]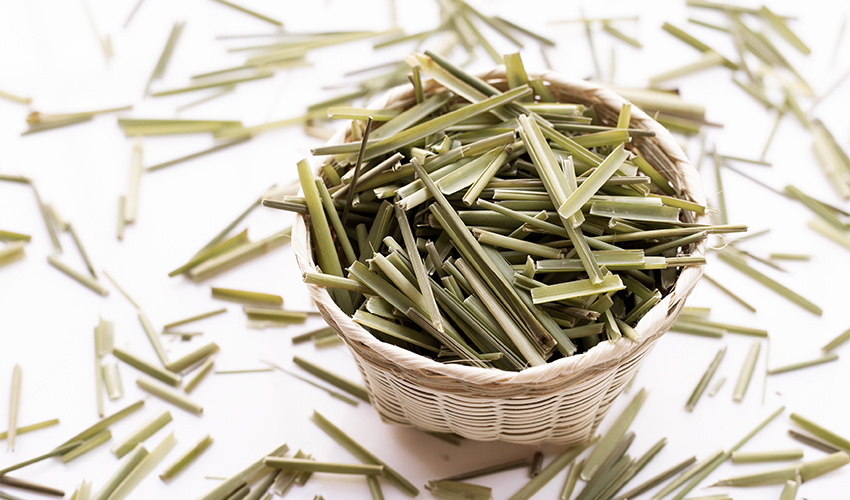 Storage Directions
Lemongrass will start to go bad in the fridge after a few weeks. Freeze the lemongrass for longer-term storage:
Peel off the outer woody leaves.
Put in a sealed bag.
Put a sealed bag in a freezer.
Nevertheless, freezing lemongrass for too long isn't recommended as keeping this herb in a freezer for a few months may result in a less distinct fragrance.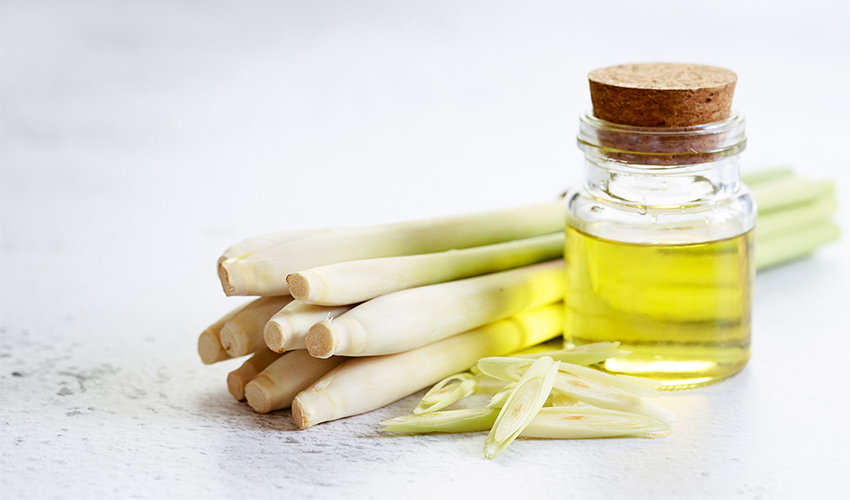 Non-Edible but No Less Useful
Lemongrass oil is considered a natural antiseptic; in addition, it is known as a natural antioxidant and a remedy for muscle and joint pains, healing wounds, lowering depression, and limiting the mycobacterial growth in the body. Lemongrass oil helps to maintain skin moisture, strengthening its elasticity, tissue repair, excretion of toxins from the skin, stimulates the lymphatic system, and removes toxins from the skin.
Lemongrass is also used in the production of cosmetic products: perfumes, waxes, shampoos, candles, and deodorants.
The findings of the research published in 2011 in the Food and Chemical Toxicology journal revealed that the essential oils in lemongrass possess anti-hyperlipidemic and anti-hypercholesterolemic properties that support healthy cholesterol levels. [6]
Based on the animal study results, lemongrass may assist in sustaining healthy levels of triglycerides and reducing LDL or bad cholesterol. This may help in preventing the accumulation of lipids in the blood vessels and promote an unobstructed flow of blood in the arteries, thereby preventing various cardiac disorders such as atherosclerosis. [6]
To sum up, lemongrass is a superfood effective both for culinary and manufacturing purposes. Its pale yellow-green stalks and unforgettable citrus flavor won't set you aside. Being packed with minerals, antioxidants, and valuable nutrients, this wonderful herb does more than just boost flavor. It improves your immune system and overall health.
Sources: