December 16
Vegan Gingerbread Cookies
These vegan gingerbread cookies use simple ingredients and are so easy to make.
Prep Time: 1 hour 30 mins | Cook Time: 10 mins | Total Time: 1 hour 40 mins | Serves: 1½ to 2 dozen cookies, depending on your cookie cutter size
INGREDIENTS:
1 flax "egg" (1 tablespoon flax seeds, freshly ground + 3 tablespoons warm water)
½ cup (1 stick) vegan butter
½ cup sugar
½ cup molasses
2⅓ cups all-purpose flour, plus extra for rolling out the dough
1tsp ground ginger
1tsp ground cinnamon
½ tsp nutmeg
½ tsp allspice
½ tsp baking soda
½ tsp baking powder
¼ tsp sea salt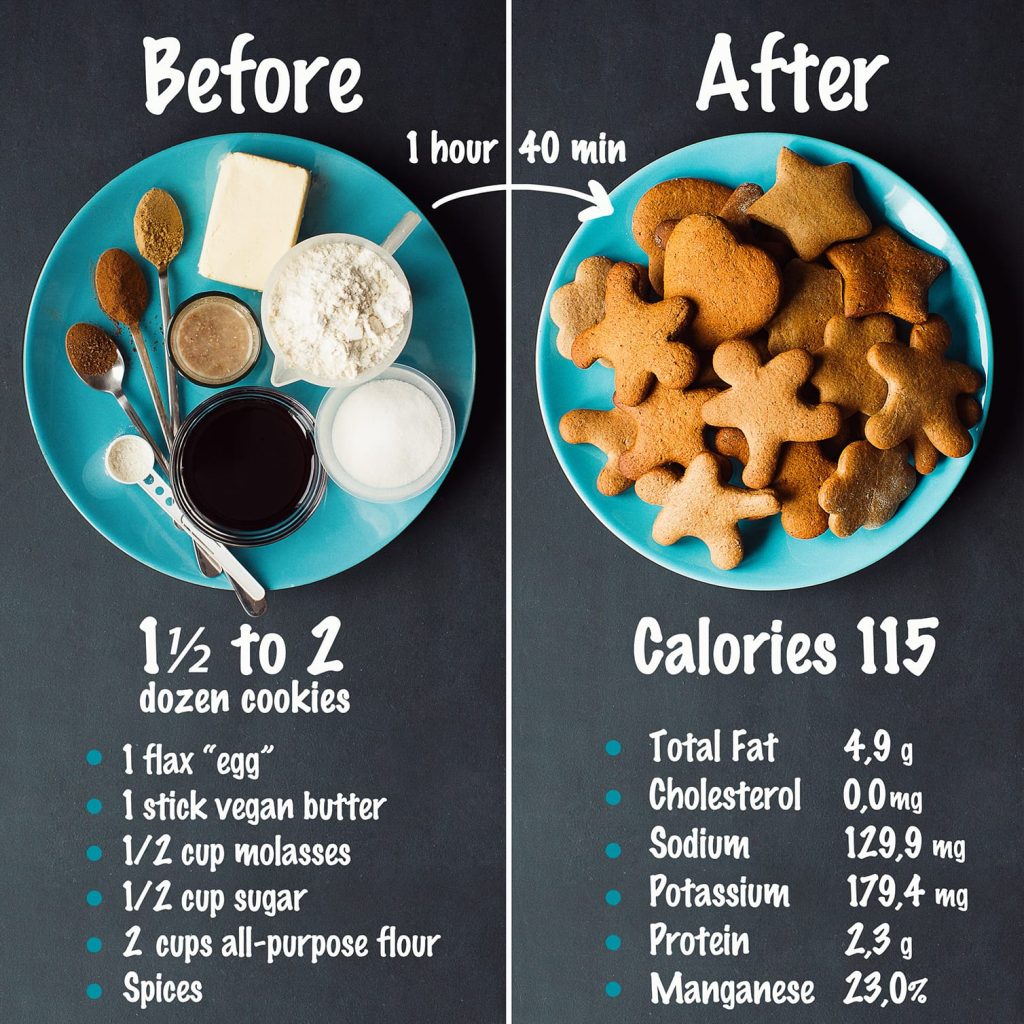 INSTRUCTIONS:
In a large bowl mix together the vegan butter, sugar, molasses, and flax "egg" until combined. Mix in the flour, ginger, cinnamon, nutmeg, allspice, baking soda, baking powder , and salt until just combined. The dough should be very thick.
Wrap the dough in plastic wrap and chill it for 1 hour in the freezer.
Once chilled, divide the dough in half and roll it. The rolled dough should be about ¼-inch thick. Cut into desired shapes and place on a parchment-lined baking sheet 2 inches apart. Chill in the freezer for 10 minutes prior to baking to help them retain their shape. While the cut dough is chilling, preheat the oven to 350˚F. Bake the cookies for 8-10 minutes, or just until the edges begin to turn a darker brown. Allow to cool on the baking sheet for 3-4 minutes, then transfer to a cooling rack to cool completely. Enjoy!
Decorate the cookies however you like (In a large mixing bowl, cream together the vegan butter and powdered sugar. Mix in the almond milk 1 tablespoon at a time until the texture is thick but pliable. Transfer the icing to a sandwich-sized sealable bag. Squeeze). Leftover cookies should be kept covered and stored at room temperature (up to a few days).