June 01, 2016 · Written by Foodtolive Team
Vegan Camp Food Ideas: Have a Delicious Camping Trip
A camping trip is a great exercise and you should be able to enjoy the experience even more if you have a delicious meal after a day of walking around the wilderness. Our vegan camp food ideas will definitely ensure that you enjoy your food cooked over the fire in the company of loved ones and friends. Some of our recipes don't even require a fire, so you'll be able to make them fast for a quick snack during one of your stops.
Vegan Camp Food Ideas: Burgers Aplenty
Grilled burgers are the 'hottest' option of vegan camp foods. They are easy to make and season to your personal flavor, which provides every person on the trip a chance to get exactly what they want. The cooking process of burgers follows the same basic rules regardless of the actual ingredients. If you plan to use them on a camping trip, you should prepare the burgers in advance so that you only need to heat them up with the buns over the fire and add other delicious ingredients and seasonings.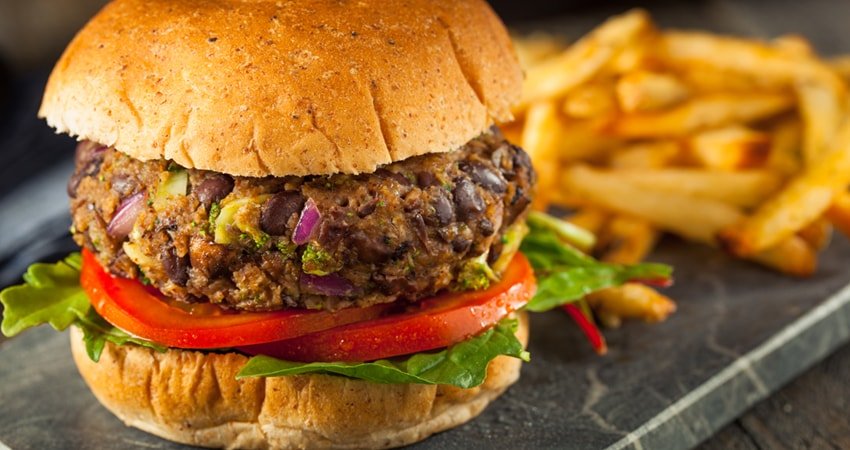 Mushroom Burgers
Mushrooms are the best alternative to meat and they make incredible burgers if mixed with some spices.
Ingredients:
¾ cup of diced mushrooms
1 onion (small)
3 diced green onions
1 clove of garlic
½ teaspoon of cumin
15 ounces of cooked or 1 can of pinto beans
1 teaspoon of parsley
Salt and pepper
1 tablespoon of vegetable oil

Sponsored by Food to live
Instructions:
Sautee garlic and onion.
Add mushrooms and green onions. Cook for 5 minutes.
Mash pinto beans in a food processor.
Combine beans with cooked mushrooms and add spices.
Shape the mix into patties and cook them about 3 minutes on each side. The burgers should be about 1 inch thick.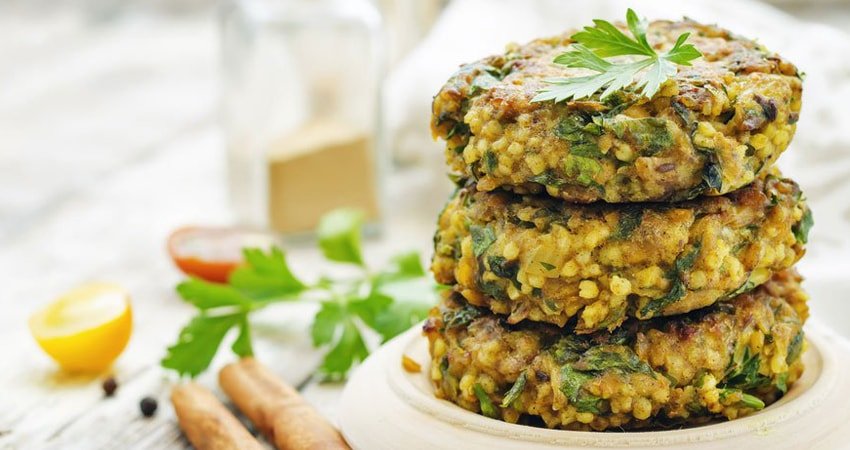 Curry Chickpea Burgers
As far as camp food ideas for burgers go, this is one of the healthiest and has an incredible flavor.
Ingredients:
1 ½ cups of cooked chickpeas
1/3 cup of chickpea flour
½ cup of rolled oats
3 minced cloves of garlic
1 teaspoon of cumin
1 teaspoon of curry powder
½ teaspoon of baking soda
1 tablespoon of peanut butter
2 tablespoons of lemon juice
4 chopped kale leaves
Raisins
1 tablespoon of olive oil
Instructions:
Mash chickpeas in a food processor and mix all ingredients in a bowl.
Form patties from the mixture.
Cook patties until they turn gold-brown on each side.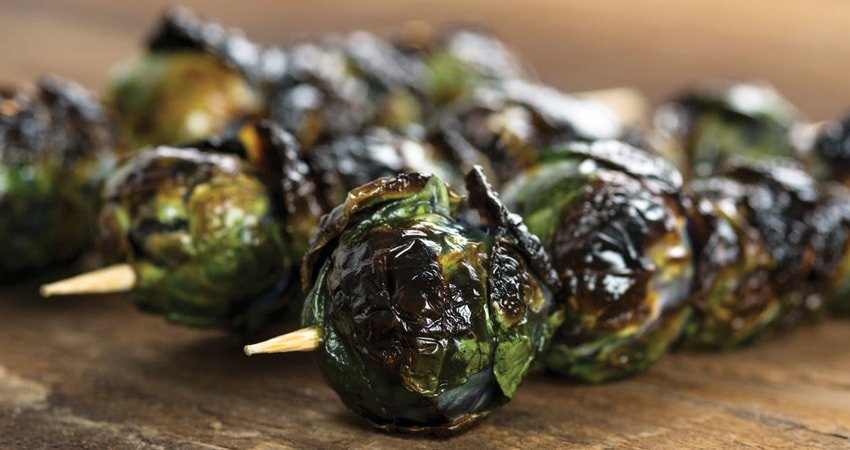 Grilled Brussels Sprouts
This amazingly simple dish is a pleasure to both cook and eat.
Ingredients:
1 pound of Brussels sprouts
2 tablespoons of olive oil
2 tablespoons of whole grain mustard
Salt and pepper
Instructions:
Bring a pan of water to a boil and cook the sprouts for about 4 minutes.
Rinse Brussels sprouts with cold water and pat them dry.
Mix olive oil with mustard and season with salt and pepper.
Marinate the sprouts in the sauce for 30 minutes.
Skewer sprouts and grill them for about 4 minutes on each side.
There are a great many other camp food ideas you can look up online, and with our special money saving tips for vegans you would be able to enjoy your trip on a budget.