December 25, 2017 · Written by Foodtolive Team
Unique Christmas Dinner for a Vegan Family: Recipes
Making a unique Christmas dinner isn't a challenge for a vegan. You only need to step away from the traditional casseroles and attempts to emulate regular holiday meals.
3 Unique Christmas Dinner Ideas Vegans Will Love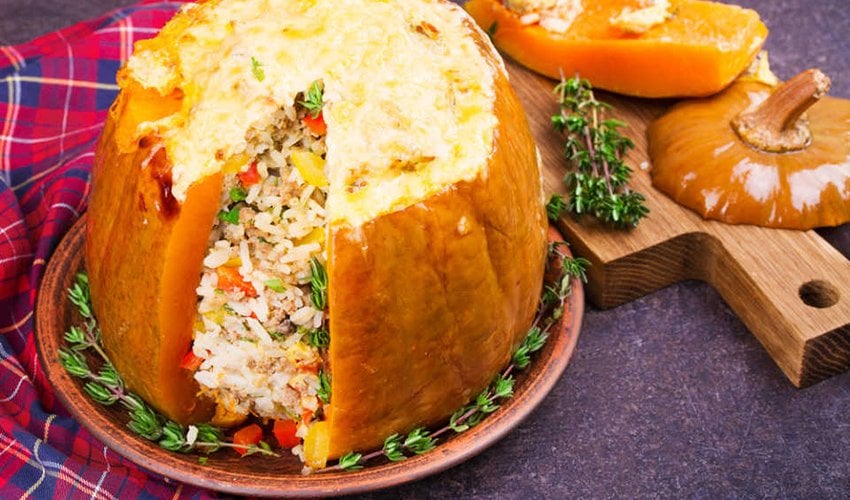 Stuffed Baked Squash
Ingredients:
1 butternut squash
1/3 cup organic basmati rice
1 red onion (diced)
1 clove garlic (minced)
1/3 cup organic dried cranberries
1 bunch fresh sage
1/3 cup chestnuts (vac-packed)
1 pinch allspice (ground)
Red wine
Olive oil
Salt and pepper to taste
Sponsored by Food to live
Instructions:
Wash and cut the squash lengthwise. Carefully scoop out the innards and a bit of flesh to make space for stuffing.
Chop the squash innards and sautee them in olive oil. Add garlic and onion.
Chop fresh sage leaves with chestnuts and dried tomatoes. Add to the frying pan and stir to combine.
Add rice, allspice, and cranberries to the pan. Stir to combine and season with pepper and salt. Add a swig of red wine (replace with cranberry juice or alcohol-free red wine if necessary).
Mix and fry for 10 minutes on medium heat.
Put the stuffing inside your squash. Pack tightly and put the halves of squash back together.
Rub a bit of salt, pepper, and oil into the squash from outside and carefully wrap it in a double layer of foil.
Bake for 2 hours at 350F in a preheated oven.
This is truly a unique Christmas dinner recipe as it allows a lot of room for creativity. Try substituting some ingredients with your favorites, like rice with chia seeds.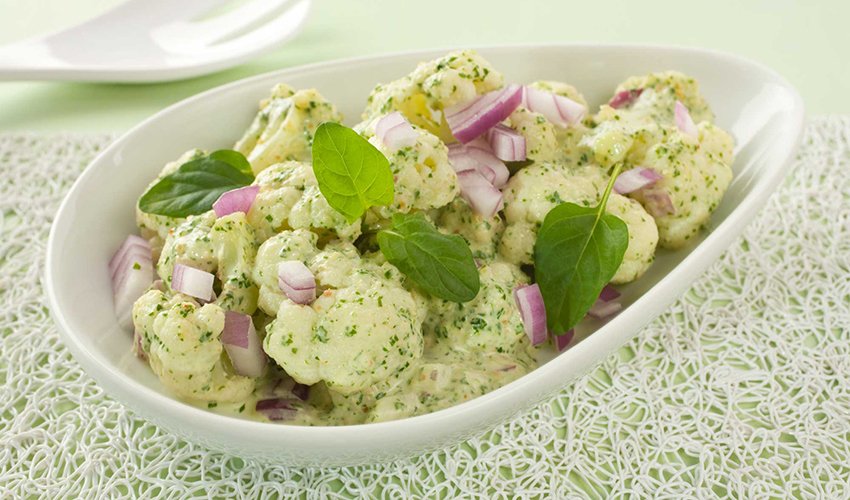 Cauliflower with Pesto
Ingredients:
1 cauliflower
1 white onion
2 14 oz. cans or an equal amount of cooked cannellini beans
1 teaspoon chili (ground)
Olive oil
Salt and pepper to taste
Ingredients for pesto:
1 ounce mixed nuts (use any you like)
Juice of 1 lemon
Herbs to taste (parsley, thyme, rosemary, etc.)
Slice onions into rings and fry them for about 15 minutes (until golden) in a fair amount of oil. Carefully remove onion rings from the pan with a slotted spoon and place them onto a paper towel.
Remove the stalk from your cauliflower.
Boil the cauliflower in salted water for 3 minutes. Drain and let cool.
Rub chili, salt, and pepper into the cauliflower and drizzle it with olive oil.
Roast nuts and make pesto in a blender.
Warm up the beans and mash them adding 1-2 tablespoons of the pesto.
Cut the cauliflower in about 4 parts and grill it for about 8 minutes.
Top grilled cauliflower with the bean-pesto mix and top with onion rings.
This is sure to be a unique Christmas dinner treat as few people use cauliflower in winter, especially as a main dish.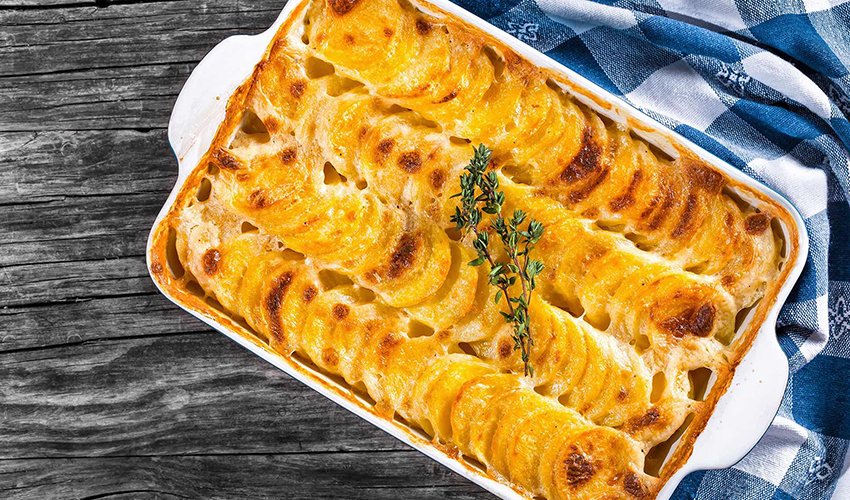 Silken Tofu Scalloped Potatoes
Ingredients:
6 large potatoes
3-ounce package silken tofu
2 tablespoons olive oil
2 onions (quartered and sliced)
½ cup unsweetened rice milk
Salt and pepper to taste
Instructions:
Wash and cook potatoes in their skins. You can either bake or microwave them for convenience.
Peel potatoes once they cool and cut into ¼ inch-thick slices.
Sautee onions in olive oil.
Pulse tofu, half of the onions, and rice milk in a blender until smooth. Transfer to a bowl.
Put potato slices into the bowl and stir to coat them in tofu mixture. Season with salt and pepper.
Transfer potatoes and sauce to an oiled baking pan and top with the remaining onions.
Bake for 30-40 minutes at 375F.