December 20, 2019 · Written by Foodtolive Team
Traditional Holiday Fruitcake
This rich, moist and boozy vegan fruit cake is perfect for the festive season.
Prep Time: 20 min | Cook Time: 30 min (+8 hours for soaking) | Total Time: 50 min | Servings: 8
INGREDIENTS:
150g raisins
50g Medjool dates, roughly chopped
150g dried apricots, roughly chopped
100g candied peel
100ml rum
50ml of lemon juice
2 tbsp ground flax seeds
175g vegan butter
150g brown sugar
60ml unsweetened plant milk
150g all-purpose flour
150g coconut flour
40g ground almonds
2 tsp ground cinnamon
2 tsp ground nutmeg
1 tsp ground allspice
1 tsp bicarbonate of soda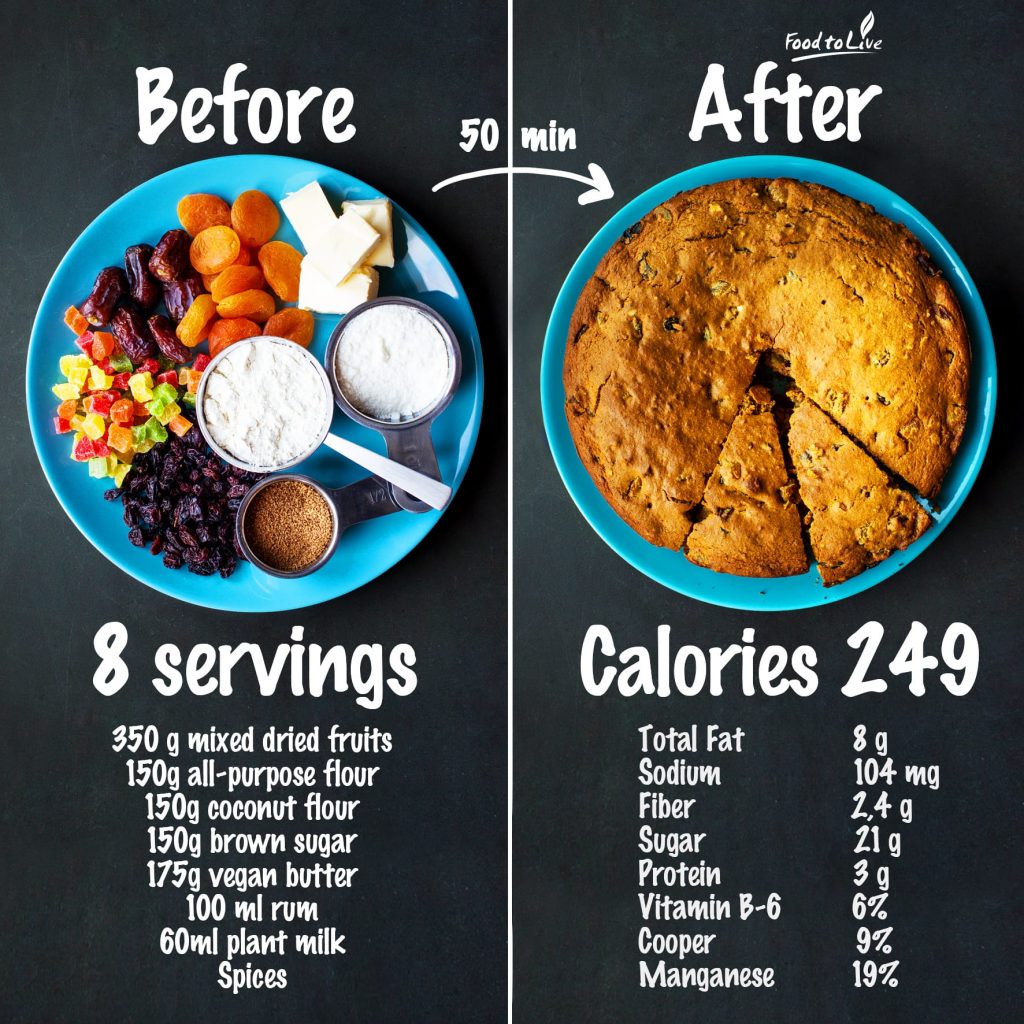 INSTRUCTIONS:
Start preparing the fruit at least the day before you want to bake the cake. Mix all of the dried fruits together in a large bowl that has a lid, add the rum and lemon juice, stir well, then cover and leave overnight.
The following day, preheat the oven to 350° (F).
Put the ground flax seeds in a small bowl and stir in 80ml water. Set aside.
In a large bowl, whisk together the melted butter and brown sugar.
In a separate bowl, sift together the all-purpose flour, coconut flour, ground almonds, bicarbonate of soda, allspice, cinnamon, and nutmeg.
Tip the dry ingredients into the butter mix, along with the flax seeds mix and milk. Stir until just combined.
Stir in the soaked dried fruits, along with any leftover liquid.
Scrape the batter into the tin and use a spatula to spread it level. Bake for 30 min.
Enjoy!