November 16, 2018 · Written by Foodtolive Team
Thanksgiving Meatless Loaf
The savory flavors of Thanksgiving combine to make this gluten-free, meatless loaf the perfect centerpiece of your holiday meal. Vegan and low-fat.
INGREDIENTS:
2 cups green lentils, cooked (about ¾ cup dry green lentils)
2 tbsp olive oil
1 medium yellow onion, diced
2 cloves garlic
½ cup carrots, diced
½ cup celery, diced
8 oz button mushrooms, sliced
2 tbsp tomato paste
½ tsp thyme
1 cup of old-fashioned oats, divided
½ cup breadcrumbs
½ cup flax meal
for the glaze
1 tbsp organic ketchup
1 tsp yellow mustard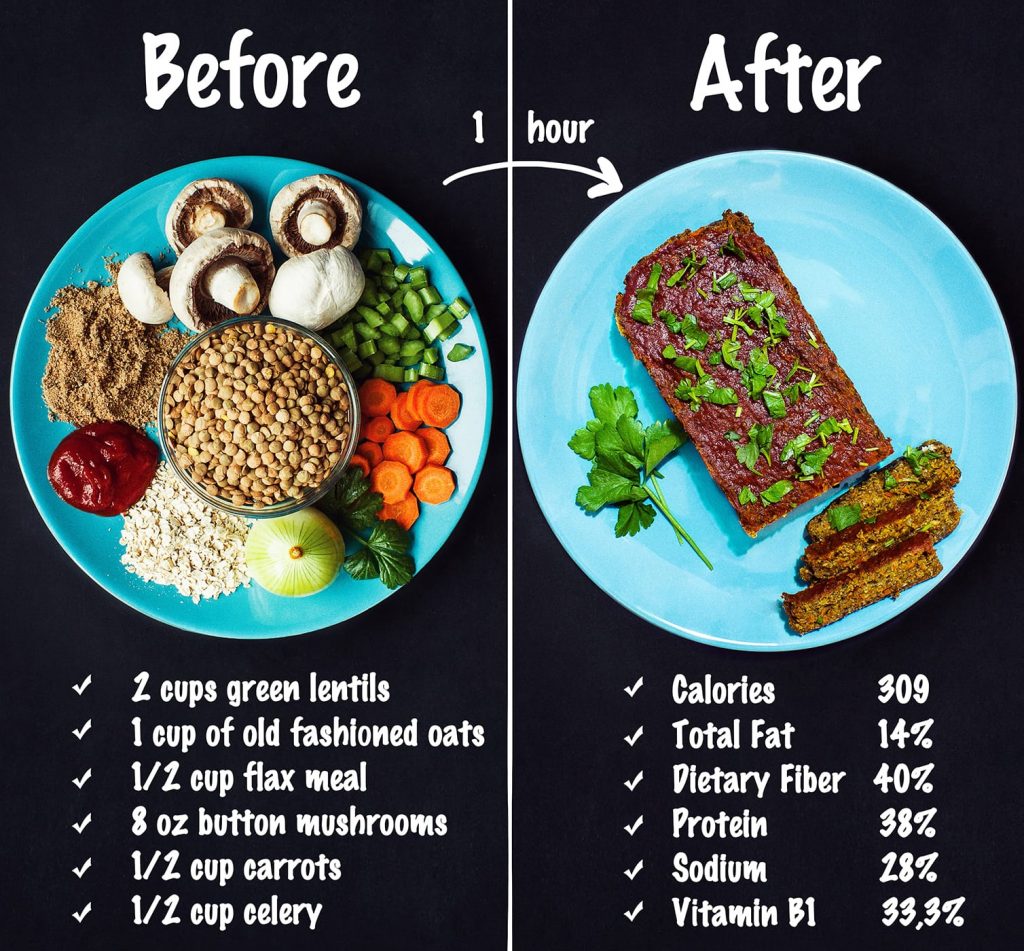 INSTRUCTIONS:
Preheat the oven to 375 degrees and cover a baking sheet in parchment paper or foil.
In a large saucepan, drizzle olive oil and sauté diced onion and garlic over medium-high heat until tender. Add in celery and carrots and cook for 5 minutes on medium heat. Add in the sliced mushrooms, all spices, tomato paste and sauté until all the vegetables are tender (5-10 minutes), then remove from heat.
Pour the cooked vegetables into a food processor with cooked lentils, oats, flax meal and breadcrumbs. Process for just a few seconds until the ingredients are combined, but not completely pureed. You want them to still have a chunky texture.
Transfer the mixture to a parchment paper-lined loaf pan and smooth the top with a spatula.
To make the glaze, combine the ketchup and mustard in a small bowl. Brush the glaze on top of the loaf.
Bake the loaf for 40 minutes, or until a fork inserted in the middle comes out clean.
Serve with fresh parsley or celery leaves. Enjoy!