June 09, 2020 · Written by Foodtolive Team
Spinach Powder Vegan Breadsticks
Light and crunchy spinach version of traditional Italian breadsticks or Italian Grissini which taste delicious and have the perfect snap.
Prep Time: 1 hour | Cook Time: 15 min | Total Time: 1 hour 15 min | Servings: 4
INGREDIENTS: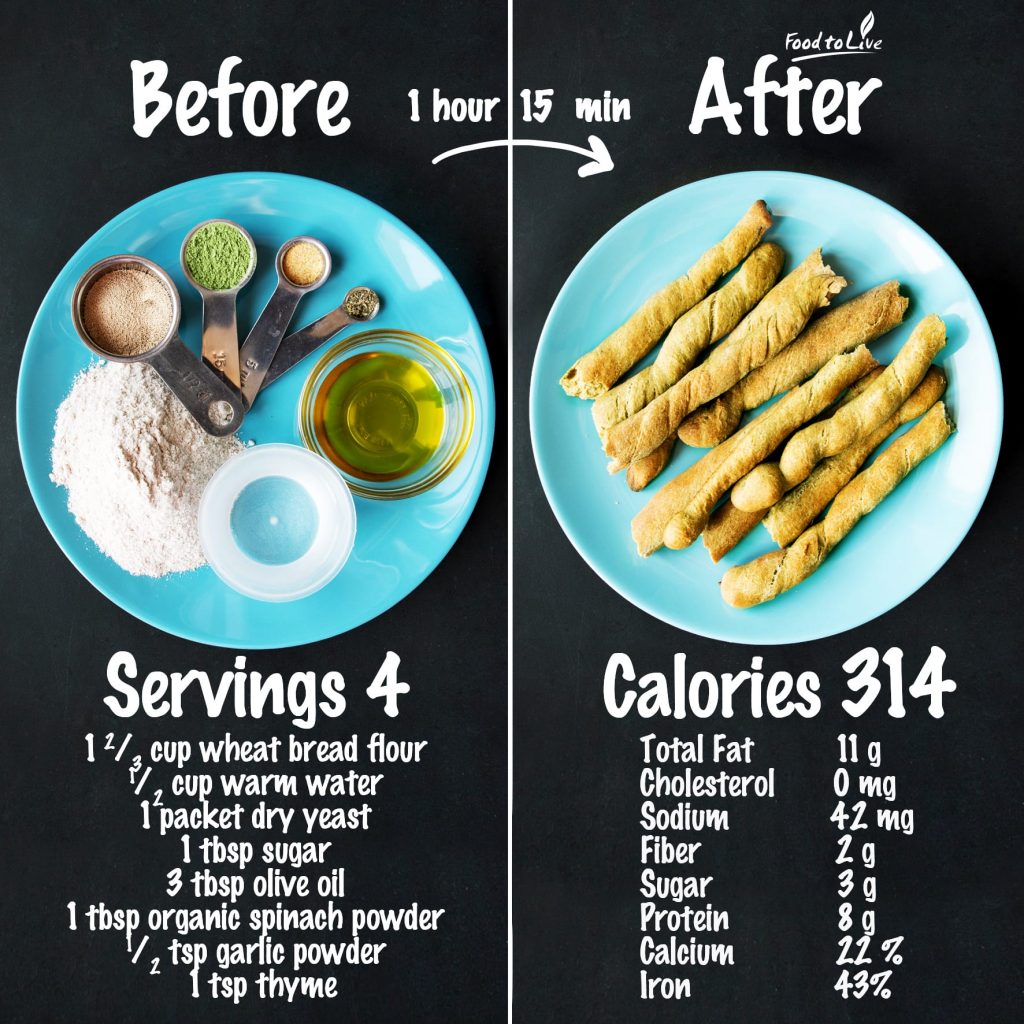 INSTRUCTIONS:
In a small bowl add the lukewarm water and mix in the sugar until dissolved. Add the sachet of active dry yeast and let it sit on top of the water for about 10 minutes.
In a larger bowl, mix in the flour, salt, spinach powder, thyme, and garlic powder. Add the olive oil and mix it into the dry ingredients. Make a well in the middle and add the yeasty water from your other bowl. Using your hands start mixing all ingredients until they become a wet paste. Transfer to a lightly floured surfaced and start kneading for about 5 minutes until your dough is non-sticky and can be shaped in a perfectly silky smooth ball.
Transfer your dough to a lightly floured bowl and cover with a damp kitchen towel. Leave it in a warm place for 40 minutes.
Preheat your over at 175 C / 350 F. Line two baking sheets with parchment paper.
Take the risen dough out of the bowl and transfer to a lightly floured surface. Divide your dough into 20 equal pieces.
Take each piece and stretch with your fingers to form long sticks.
Place the sticks on baking sheets, leaving some space in between them as they will grow slightly while in the oven. Using a kitchen brush, gently apply some olive oil over the top of the breadsticks.
Bake for approximately 15 minutes or until golden. Let it cook and serve immediately.