March 10, 2019 · Written by Foodtolive Team
Roasted Vegetable Couscous
An easy healthy and flavor-packed side dish, with sweet roasted vegetables mixed with savory, fluffy couscous.
Prep Time: 10 mins | Cook Time: 40 mins | Total Time: 50 mins | Servings:  6
INGREDIENTS:
4 tomatoes
1 zucchini
1 bell pepper
1 red onion
4 cloves garlic
2 tbsp olive oil
2 cups couscous
3 cups vegetable broth
fresh parsley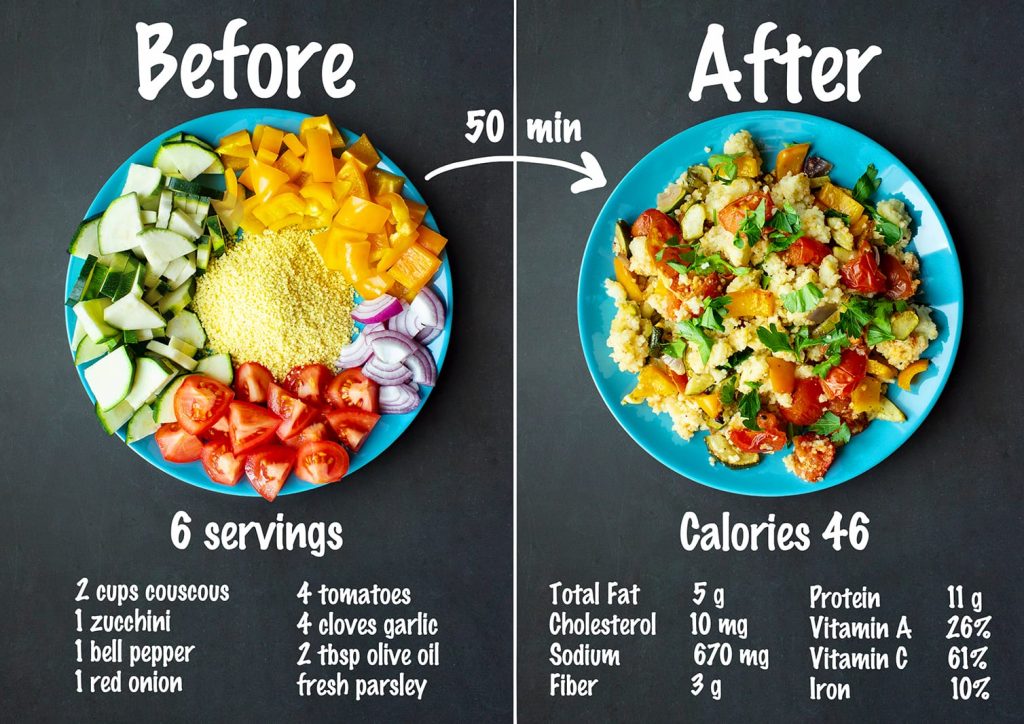 INSTRUCTIONS:
Preheat the oven to 400ºF. Wash and chop the tomatoes, zucchini, bell pepper, and red onion into 1 to 1.5-inch pieces. Peel four cloves of garlic but leave them whole.
Toss the chopped vegetables and garlic with 2 Tbsp of olive oil. Spread them out on a baking sheet so they are in a single layer. Sprinkle a couple of pinches of salt and pepper over the vegetables
Place the vegetables in the oven and roast at 400ºF for about 40 minutes, stirring twice throughout, until the vegetables are wilted and browned on the edges.
While the vegetables are roasting, cook the couscous. Add the vegetable broth to a sauce pot, place a lid on top, and bring to a boil over high heat. Once boiling, add the couscous, turn off the heat, and cover the pot with the lid once again. Let the couscous sit, undisturbed, for ten minutes. Then, fluff with a fork.
After the vegetables are finished roasting, collect the four garlic cloves, and chop them well. They will be quite soft. Also roughly chop the fresh parsley.
Combine the couscous, roasted vegetables (including garlic), and parsley in a bowl, and stir to combine. Season with more salt and pepper if desired. Serve warm or cold!