April 12, 2021 · Written by Foodtolive Team
Red Rice with Spinach and Dried Cherries
This colorful and fragrant recipe with the nutty, nutritious red rice is a delicious side dish that will make weeknight dinners a thousand times better!
Prep Time: 5 min | Cook Time: 55 min | Total Time: 1 hour | Servings: 4
INGREDIENTS:
1 cup red rice
1/2 cup dried sour cherries
1 10-ounce package baby spinach
1/2 red onion, thinly sliced
1 tsp grated peeled ginger
Juice of 1 orange
2 tbsp extra-virgin olive oil
Freshly ground pepper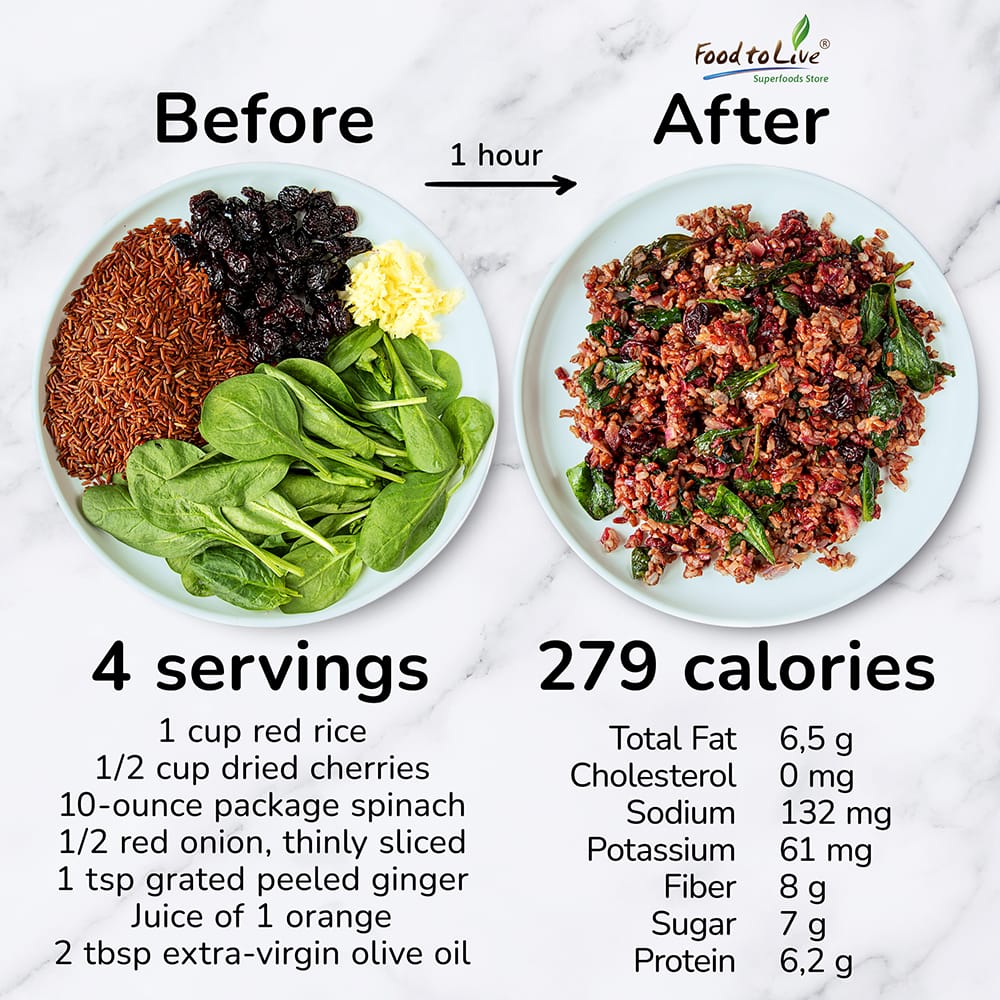 INSTRUCTIONS:
Combine the red rice, 2 cups water, and 1/2 tsp salt in a medium saucepan. Cover and bring to a simmer over medium heat. Reduce the heat to medium-low and cook until the rice is tender, about 45 minutes*.
Meanwhile, heat the olive oil in a large deep skillet over medium-high heat. Add the onion and season with salt and pepper. Cook, stirring, until the onion is soft, about 5 minutes. Add the ginger and dried cherries; cook, stirring, until the onion is golden brown, about 5 more minutes.
Stir the prepared rice into the onion mixture. Add the baby spinach and orange juice and stir until the spinach is just wilted for about 1 minute. Season with salt and pepper and enjoy!
NOTE:
* To speed up the process, you dunk the grains in a bowl with water for 12 hours; using this trick, the cooking time can be reduced by 20-25 minutes.